Enlarge Photos Online with Robust AI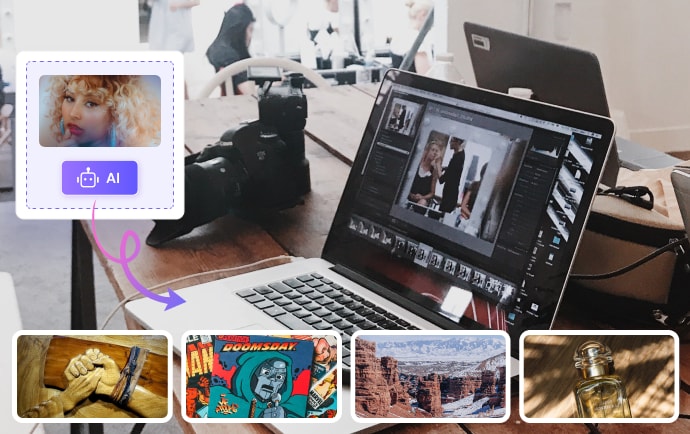 Blow Up Your Picture in No Time
Media.io offers a 1-Tap photo enlargement solution using state-of-the-art AI deep learning technology. You can quickly enlarge photos many times their original size without any distortion or piexelation. Whether you're creating eye-catching posters or printing large-scale artworks, it empowers you to amplify the visuals with ease. Just upload your small photo from your mobile or desktop browser and let the AI take care of the rest. Better yet, it's entirely free to use. So why settle for small when you can go big with Media.io?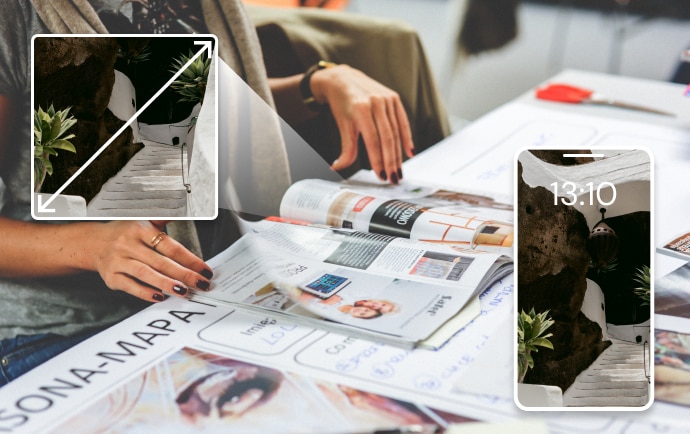 Upsize Your Photo with Best Quality
Some traditional resizing methods may averages or interpolates the existing pixels, leading to visible artifacts, jagged edges, loss of sharpness and overall degradation of the visual appeal. This is where Media.io AI image enlarger come into play. It excels at preserving fine details and enhancing every aspect of the photos during the enlargement process, so you can confidently use big images on the web, social media and beyond!
How to Enlarge Image Online?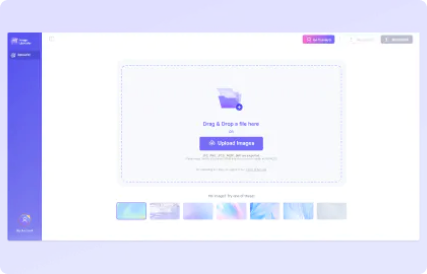 1
Upload Your Photo.
Simply click the Upload Images button and select the image you want to enlarge or upscale. JPG, PNG, JPEG and BMP are supported.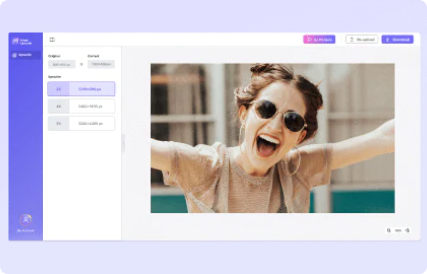 2
Choose Enlarging Multiplier.
Media.io gives you different preset enlaging scalers, such as 2x, 4x, 6x and even 8x. You can pick one or custom enlarged times as wished.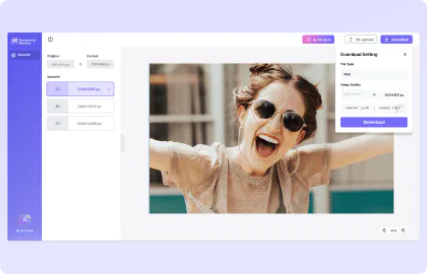 3
Enlarge & Download.
Press Upscale to preview the enlarged image with optimal quality. If satisfied with the result, you can download the processed image to your device for free.
Enlarge Images Now
Why Enlarge & Enhance Photos with Media.io?
Incredibly Easy to Handle
Our AI image enlarger boasts an intuitive interface and workflow that makes enlarging a photo a breeze, even if you're a newbie. In just one click, you will enlarge any photos that retain factual detail and never look blurry or pixelated.
Backed by AI Intelligence
Thanks to the extensive training experience, our AI has known exactly how to enlarge an image and handle any pesky noise, leaving you with stunningly clear and sharp images. It takes on the task of upscaling your images individually, saving you plenty of precious time.
100% Safe to Use
Your privacy is our priority! Rest assured, all uploaded and enlarged images disappear within 24 hours, giving you plenty of time to download them and keeping your personal data protected.
Enhance Large Photo
Media.io smart tool goes beyond just expanding your images to a preferred size. You can also poblish your pictures into a professional level by sharpening, color correcting, colorizing, details restoration, object removing or more. Upgrade your photography game today!
Enlarge Images Now Frequently Asked Questions of
AI Image Enlarger
How to enlarge an image without quality loss?

Enlarging an image is super easy with Media.io. Just upload a photo, choose a perfect scaler, hit Upscale, and watch as our AI technology works its magic to produce a bigger and clearer result!

How to make an image bigger in Photoshop?

To make an image larger in Adobe Photoshop, you can follow these simple steps:
1. Open the image on Photoshop.
2. Duplicate the layer to preserve the original.
3. Go to Image > Image Size.
4. Check "Resample" and enter the desired dimensions or percentage.
5. Ensure "Constrain Proportions" is checked.
6. Click "OK" to resize the image.
7. Optional: Apply sharpening with Filter > Sharpen > Unsharp Mask.
8. Save the enlarged image with a new name using File > Save As.
Expert tips: When enlarging an image in Photoshop, there is a risk of losing quality, especially with significant size increases. For a more reliable option that minimizes the impact on image quality, consider using Media.io. It's a fast and efficient photo editor that excels at image enlargement while maintaining high quality.

What images can be upscaled with Media.io AI Enlarger?

Almost all image types can be perfectly enlarged, including portraits, anime images, illustrations, digital art, paintings, landscape/nature photos and much more!