AI Female Voice Generator
Utilize the latest AI to auto generate natural-sounding female voice online. A wide range of professional voices in multiple languages are at your disposal. Enter or copy your text to generate a female voice instantly. Best of all, it's completely free to use.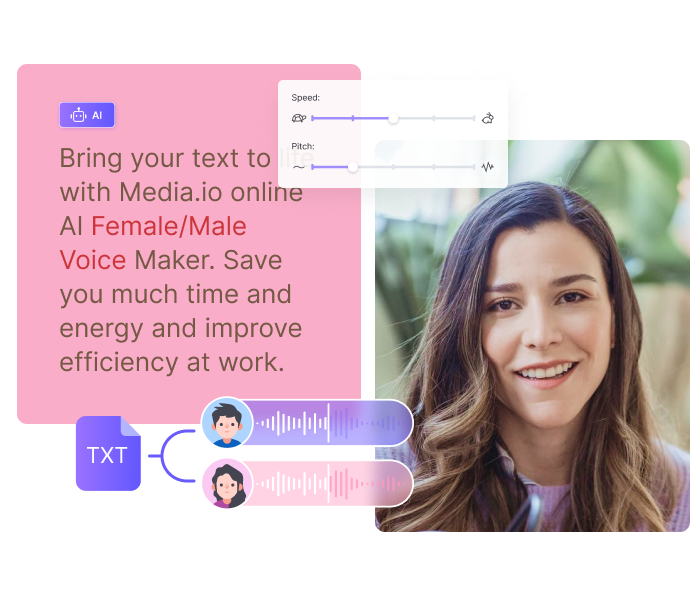 Generate AI Female Voice from Text Online
It would cost a lot of time and money to create a human-recorded voiceover audio or narration for your video ads, podcasts, online gaming, slideshows or other contents, while a top-tier AI free voice generation software like Media.io enables you to produce a quality audio that sounds remarkably natural, emotional and expressive.

All you need to do is enter your text and customize the voice gender (female or male), language, accent, speech pitch and rate. The automate voice can be created in a matter of minutes. Sounds cool? That's not all. You can also fine-tune the voice, add engaging background music, get the voice synced with your visuals and so forth. Why not give it a go?
How to Convert Text to Female Voice Online?
Step 1. Enter Text.

Simply type or paste your text into the provided text input box. (You can convert up to 1500 characters at a time.)

Step 2. Personalize AI Female Voice.

Choose the language, intonation, speech rate and other vocal characteristics based on your needs. After that, click on Generate to start the auto conversion process.

Step 3. Download or Edit Further.

The sybthesized female voice will be outputted in an MP3 audio. You can preview it or re-generate new voice by adjusting the settings. When happy with the result, hit on Download to save the audio or enter the advanced editor for more edits. Boom; you're done!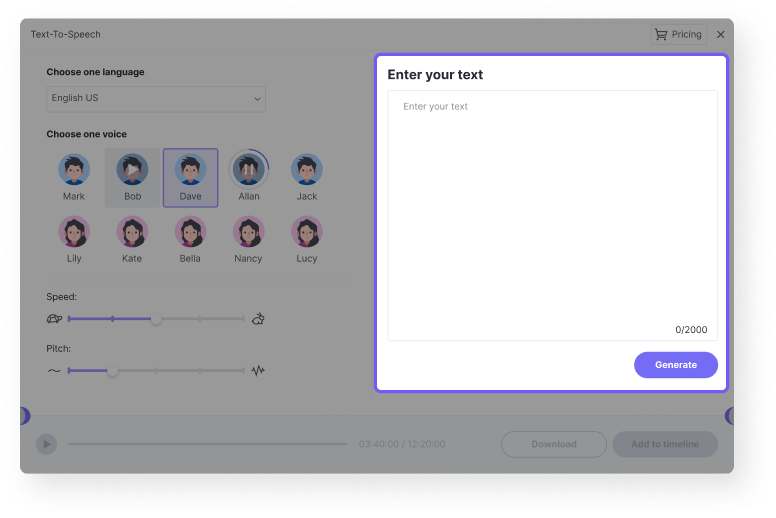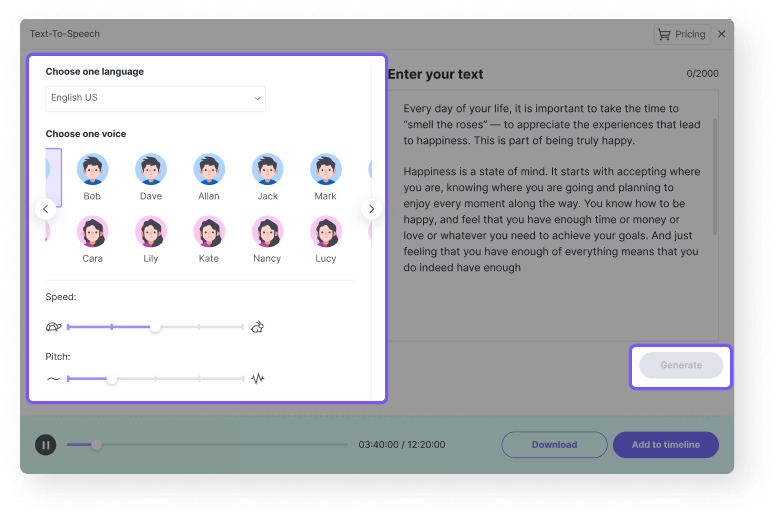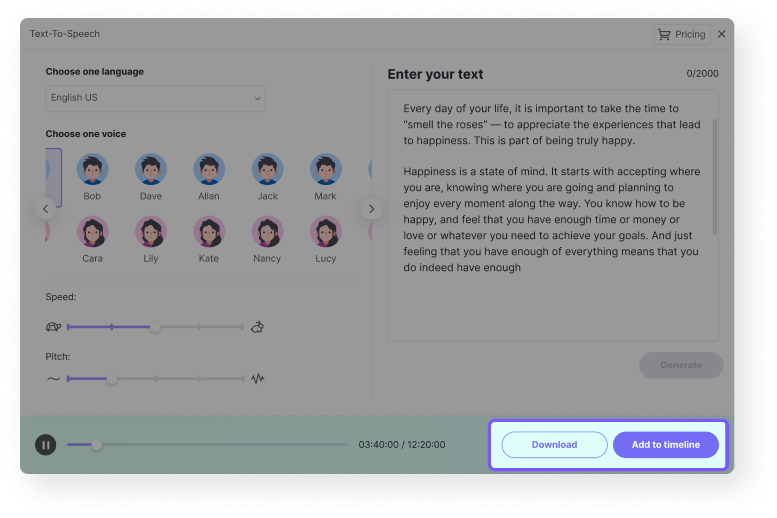 What Makes Media.io AI Voice Generator Stand Out?
Instant to Use
Creating studio-grade narrations is a a walk in the park with Media.io. There's no need to be an expert in voice acting or prepare recording gear. Simply import your text or script, select your preferred voice type and Media.io will swiftly do its magic to generate a voiceover that's indistinguishable from a real female.
AI Speech Synthesis Technology
Powered by machine deep learning, Media.io allows you to generate audio from text with realistic accents and natural intonation in real time. It continuously improves the machine learning model for a more seamless user experience.
Multi-Voice Generator
It boasts an extensive library of AI-generated voices, involving female and male voices, a diverse range of accents and languages, and different age ranges and tones. You can pick the ideal voice suited to your specific purpose, whether it's for creating unique characters in a video game or selecting multiple narrators for an audiobook.
Female Voice Effects
For a more enjoyable experience, Media.io's online voice changer allows you to spice up the generated voice by adding a voice modifier. You can select from a wide range of options such as robot, sweet girl, woman, demon, man, and many others.
Flexible Audio Controls
Before making voice from text, you can customize the output language, playback speed, and pitch. After that, you can trim, cut, split, change volume, add crossfade effects, and convert the MP3 audio format to WAV.
Sync Voice to Video
Media.io features a multitrack timeline where you can easily sync the generated voiceover to video. You can even apply auto-subtitles to the video.
FAQs - AI Woman Voice Generator
What is an AI voice maker?

An AI voice maker is a program that uses Artificial Intelligence and deep Machine Learning to analyze and convert text to neutal voices or natural sounding voices. In return, an AI voice maker is simple, fast, and accurate.

How can I quickly generate realistic voices from texts?

Media.io Text to Speech Converter allows you to generate voices from texts online quickly and automatically. Just copy and enter the text to convert, then pick a speaking style, click "Generate" to create sound. You can download the audio directly or use as video voiceover.

How can I create a TTS video without any prior experience?

Creating a TTS video is a breeze on Media.io. Assuming you've already generated audio from scripts, click "Add to timeline" and upload your video. Now edit audio and video by cutting, reordering, applying effects, auto subtitles, motion elements and so many more to enhance the whole visual look.
Limited Time Offer From KwiCut - Register For Exclusive Perks
√ Unlimited AI Transcribe, Clone, Overdub, and Voice Enhancement

√ Unlimited GPT-4.0 Accessibility to Create Talking Head Videos

√ Unlimited Cloud Storage and Export Without Watermark
This voice maker is perfect for the visually impaired. I often use it to convert text to speech with unreal accuracy. I've used multiple Play Store apps, but nothing comes close to this.
Winnie Peterson
I've been using this smart voice maker for a while now, and I've never found a word it can't recognize. This is one of the busiest apps on my laptop these days.
Neil Dart
This voice maker app has been a godsend since I lost my original voice to a throat injury. I occasionally use it to convert text to speech before adding to my videos. Thanks, guys!
Ankit S
This is the best app I've come across in 2022. It helps me convert my lecture notes to audio so that I can listen on my way home. I'm not a good reader, that it.
Sharly
I love this voice generator. It allows me to listen to my eBooks and college assignments as I do other things. I also like that I can choose my preferred language from several options. Recommended!
Dan