TikTok

to MP4

Readily convert Tiktok videos to MP4 online for free. Just enter a TT link and download the clips without watermark in high quality. View the TikTok videos offline or do more edits for seamless sharing.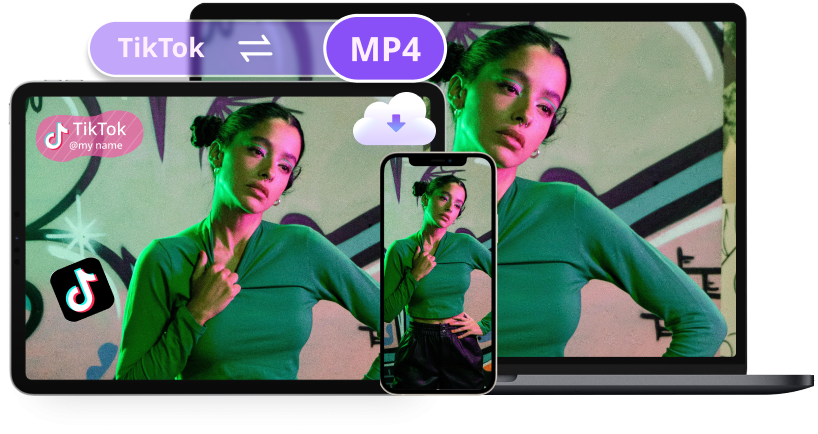 1-Click TikTok to MP4 Downloader
Media.io is the go-to online service for converting TikTok videos in widely supported MP4 format while enjoying HD quality and logo-free experience. You can download your favorite TikTok contents on any device, be it Android, iOS, Windows, MacOS, ChromeOS or Linux - all without the hassle of software installations. Just grab a TikTok link, and in seconds, Media.io transforms it into MP4 magic. Get started now - It's 100% FREE!
How to Save TikTok Video to MP4 in 3 Steps?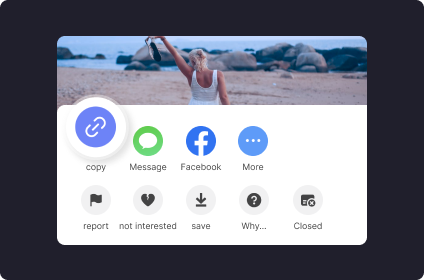 1
Step 1. Find TikTok Link.
Launch the TikTok app and locate the TikTok video(s) that you are interested in, then copy the URL by tapping Share and selecting Copy link option.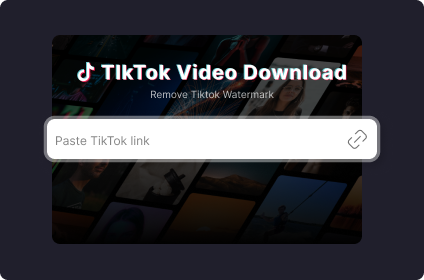 2
Step 2. Paste the Link.
Return to Media.io TikTok Downloader in a separate browser tab. Click on Paste TT Link Now button and paste the TikTok link in the provided text field.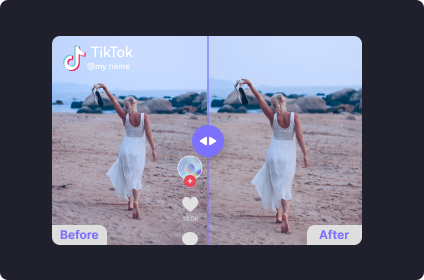 3
Step 3. Download TikTok MP4 Video.
Wait a moment for the video is ready to download. Then, hit on Download button to convert it to MP4 format. It's that easy!
Paste TT Link Now
Why Pick Media.io TikTok to MP4 Converter?
Online TikTok Converter
You can easily access the online TikTok converter through your web browser, allowing you to effortlessly download TikTok videos on your mobile, PC, or tablet. No need to install any cumbersome software; just visit Media.io TT MP4 saver directly from your web browser and convert the link to your preferred format.
Ease of Use
Featuring a straightforward TikTok link to MP4 conversion process and an intuitive interface, you can swiftly transform TikTok videos into MP4 format for offline viewing or repurposing. Media.io is crafted for a fast and user-friendly experience.
NO TikTok Watermark/Logo
Using Media.io, you can effortlessly download TikTok videos in MP4 format, free from the TT logo or user account ID appearing just like narmal TikTik downloads. If you need to remove other elements from your MP4 videos, our AniEraser tool is here to assist you. Just brush over any undesired area, click "Remove", and you're good to go!
Lossless Video Quality
Media.io's TikTok Downloader ensures exceptional MP4 video quality. It provides a full HD experience, making your TikTok videos feel as if you're watching them directly within the TikTok app. Additionally, you can take advantage of its advanced AI video enhancer to enhance TikTok videos to 4K quality.
Convert TikTok to Video/Audio
Media.io TikTok Downloader allows you to save the video as MP4 videos or MP3 audio. You can rip the TT video or share it directly via Facebook, SMS, and more.
Ads-free Experience
You will not encounter those pesky adverts when downloading TikTok videos on Media.io. This makes the video download platform more secure and transparent, as you will not mistakenly click phishing ads.
Enhanced Edits for TikTok MP4 Videos
When the TikTok to MP4 conversion is complete, infuse your videos with eye-catching Neon filters, stylish borders, futuristic cyberpunk vibes and more. Whether you're showcasing products with engaging close-ups, vlogging with charismatic monologues, or dancing with vibrant moves, these effects will make your videos stand out and create an enjoyable viewing experience.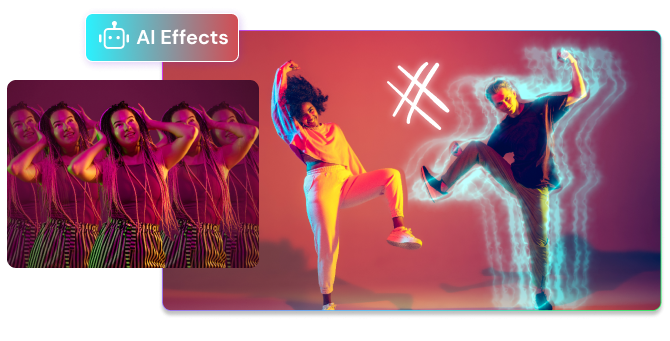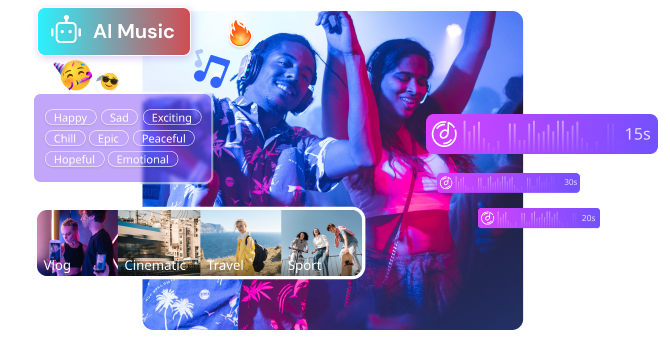 TikTok videos thrive with the right music and soundtracks. While creating your own music may seem daunting, our AI music generator makes it a breeze. You can easily craft perfect music in various moods, styles, and durations. With our extensive library of songs at your disposal, you can create your own music without copyright concerns, breaking free from TikTok's library limitations. Elevate your TikTok content with AI-generated music today. Frequently Asked Questions of
TikTok to MP4 Converter
1. How to download TikTok to MP4 without watermark?

Converting a TikTok video to MP4 without watermark is a hassle-free process. To get started, simply copy the link of the TikTok video you want to convert. Next, navigate to Media.io and insert the copied link into the specified input field. Once you've done that, hit the Download button to kickstart the fast MP4 conversion process. The result is a high quality MP4, devoid of any lingering TikTok watermark.

2. Can I convert TikTok to MP4 without limits?

Absolutely! With Media.io's TikTok to MP4 converter, there are no limitations on the quantity of videos you can convert or download. Feel free to save as many downloadable videos as you desire.

3. How to convert TikTok to MP4 with/without sound?

In addition to the default feature of extracting MP4 videos from TikTok with the original sounds, Media.io also provides the option to save TikTok videos as high-quality MP3 audio files.

4. Is it legal to download TikTok videos or audio?

There is nothing wrong with downloading TikTok videos for private entertainment. However, downloading and sharing TikTok contents on other social media apps or your blog page is considered copyright infringement. So, get the content creator's consent before downloading the video/audio.

I've got no complaints whatsoever with this free TikTok MP4 video downloader. The app is user-friendly, and I did not encounter annoying adverts while downloading videos. Recommended!
Mark Made
I have used this app for a few days, and I can highly recommend it for downloading TikTok videos no watermark. The TT videos are of excellent quality, and the download process takes a few seconds. I love it!
Clarence Ralph
This TikTok video downloader ticks most boxes on my checklist. I've used multiple mobile apps, but there is always an issue with the subscription or ads. It's a pretty great app!
Jack Walker
This is the best TikTok downloader I've ever used. I use it to download TikTok videos without watermarks and post them on my Facebook/Instagram reels. It helps me a lot!
Grace Bella
I love this TikTok converter. I've already downloaded a couple of videos, and the results are impressive. It's a lifesaver for me!
Chaitra Singh
Hear What Our Customers Are Saying
More "Tiktok to MP4" Tools