Tiktok Story

Downloader

1 tap to download tiktok stories or videos without any
watermark or quality loss. Access it directly from your
mobile or PC browser, at zero cost.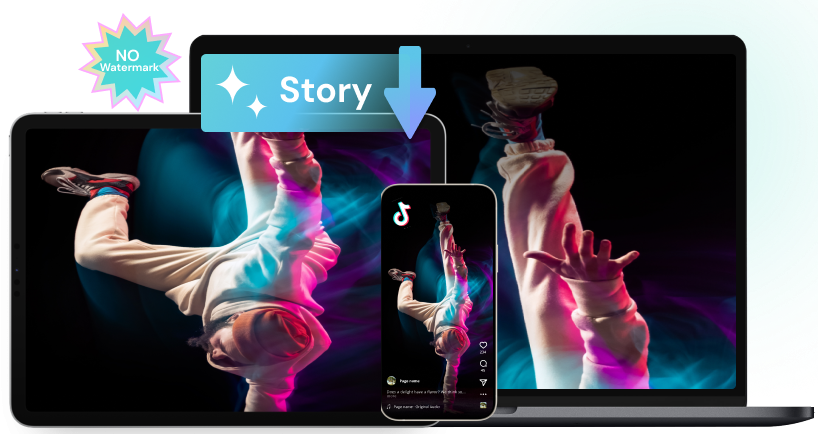 Fast TikTok Stories Saver
In the fast-pasted world of TikTok, engaging stories disappear from the follower feeds in just 24 hours. But what if you want to download or share some cherished moments from your favorite celebrities or influencers? That's where the best TikTok story downloader like Media.io comes in handy.
Media.io lets you easily save any public TikTok stories, videos or photo posts in HD for free, all online, without installing any third-party apps. Better still, it won't leave any distractive logos on the result. Plus, Media.io offers a suite of AI-enabled TikTok video editing tools, allowing you to elevate the saved stories to new creative heights. Simply input a TikTok story link to download those fleeting stories for offline viewing or edit and repurpose them to keep the magic alive beyond the 24-hour limit.
How to Download Stories from TikTok at Ease?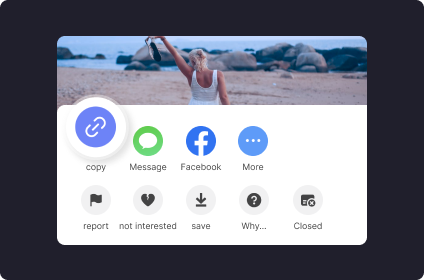 1
Step 1. Find the TikTok Story.
Go to the TikTok user profile and choose the story you wish to download, then click the Share button and select Copy link.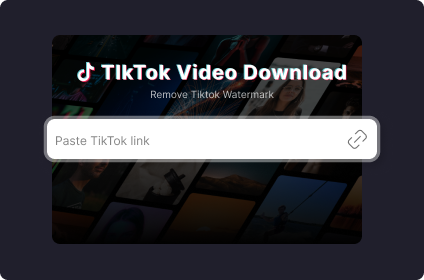 2
Step 2. Paste the Copied Link.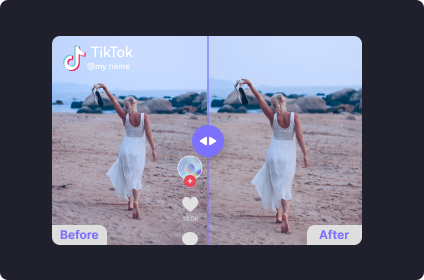 3
Step 3. Download the HD TT Story.
Simply click the Download button and Media.io will start a high-speed downloading process. When finished, save the TikTok content as either an HD MP4 video or MP3 file.
Download TT Story Now
Standout Features of Media.io TikTok Story Downloader
Save TT Stories Online
Our web-based TikTok stories saver works seamlessly on all your devices - whether you're using Windows, Mac, Linux, Chrome, iPad, iPhone, or Android. Enjoy hassle-free downloads from any platform you prefer!
Super Easy to Use
Media.io simplifies the process of downloading TikTok story videos with just a few easy steps: entering the TikTok link location and click the download button. There's no need to install complex or unreliable video downloader software to accomplish your task.
No TikTok Watermark/Logo
With Media.io, you can quickly download watermark-free TikTok stories, ensuring a seamless viewing and sharing experience. And that's not all, you can also effortlessly remove other unwelcome objects from your videos while preserving the background quality intact.
High Quality Preserved
You can download HD versions of TikTok stories, including 720p, 1080p, 2160p, or even 4K, provided the source video is in HD. Besides, Media.io features a robust video enhancer, making it an ideal choice for enhancing the quality of the downloaded videos.
Unlimited Free Downloads
Media.io doesn't limit the number of TikTok stories you can save, allowing you to download as many as you desire. Simply input the link into the web-based TT saver, and it will list the available stories for you to download. (Fast batch processing? Stay tuned, it's on its way!✨)
Ads-free Interface
Unlike some other TikTok story downloaders that have lots of intrusive ads on the pages, Media.io offers you a clean and ad-free user experience. This not only enhances the download process but also ensures a more enjoyable experience.
Set Your TikTok Stories Apart from the Ordinary Videos
Add AI Effects to TikTok Story
Enhance your next TikTok video with amazing AI-powered effects! Add eye-catching Neon filters, cool multi-screen tricks, stylish borders, glitchy effects, futuristic cyberpunk vibes, retro film filters, and more. Whether you're showcasing products, vlogging, or dancing, these effects will make your content stand out and be even more fun to watch.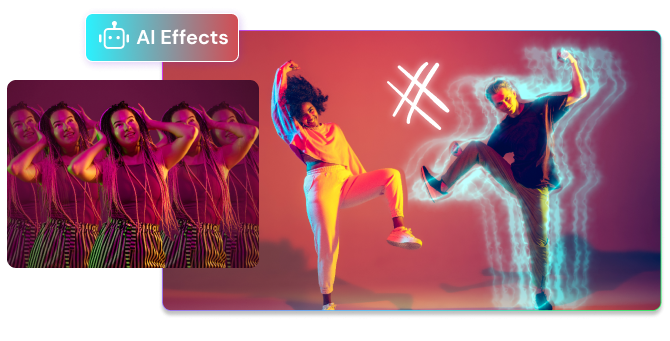 Frequently Asked Questions of
TikTok Stories Downloader
1. How to download a TikTok story without watermark in HD?

The easiest way to download a TikTok story is by utilizing Media.io's free online TikTok saver. No need to deal with cumbersome apps like SaveTT; simply copy and paste the TikTok link into Media.io, click the Download button, and effortlessly save the clip without watermark to your device.

2. Why can't I download a TikTok story?

When you face technical glitches or issues with the website or app you're using, don't get discouraged. Instead, turn to a trusted TikTok story downloader like Media.io to ensure a hassle-free and successful download. You've got this!

3. What is the best TikTok Story Downloader?

Media.io stands as a premier TikTok Story Downloader, boasting efficient downloads in high quality without watermarks. It also provides a range of AI editing tools to elevate your story for easy sharing on social media platforms like Instagram and Facebook.

I've got no complaints whatsoever with this free TikTok video downloader. The app is user-friendly, and I did not encounter annoying adverts while downloading videos. Recommended!
Mark Made
I have used this app for a few days, and I can highly recommend it for downloading TikTok videos no watermark. The TT videos are of excellent quality, and the download process takes a few seconds. I love it!
Clarence Ralph
This TikTok video downloader ticks most boxes on my checklist. I've used multiple mobile apps, but there is always an issue with the subscription or ads. It's a pretty great app!
Jack Walker
This is the best TikTok downloader I've ever used. I use it to download TikTok videos without watermarks and post them on my Facebook/Instagram reels. It helps me a lot!
Grace Bella
I love this TikTok converter. I've already downloaded a couple of videos, and the results are impressive. It's a lifesaver for me!
Chaitra Singh
Hear What Our Customers Are Saying...
More "Tiktok Downloader" Tools