How to convert MP4 video or MP3 audio to karaoke?
Are you an upcoming artist or a karaoke lover?
Therefore, use Media.io Video to Karaoke Converter to transform Videos to Karaoke with lossless quality.
Step 1. Upload Video or Audio File

Click the Upload to load a locally saved video/audio file.

Step 2. Start Extracting Karaoke.

Now, wait for the latest AI-powered program to auto separate instrumentals from vocals. This should take just a few seconds.

Step 3. Download and Save the Karaoke Track.

Do you want to download instrumentals or vocals? Select the isolated audio track you wish to extract and Download. That's it!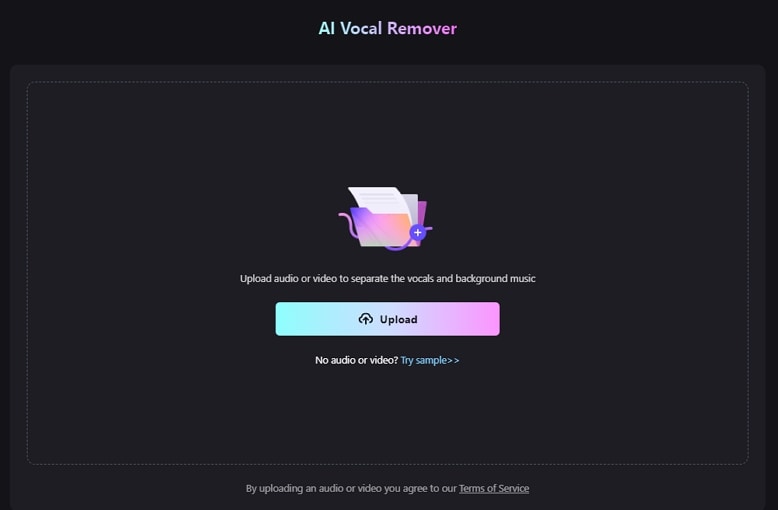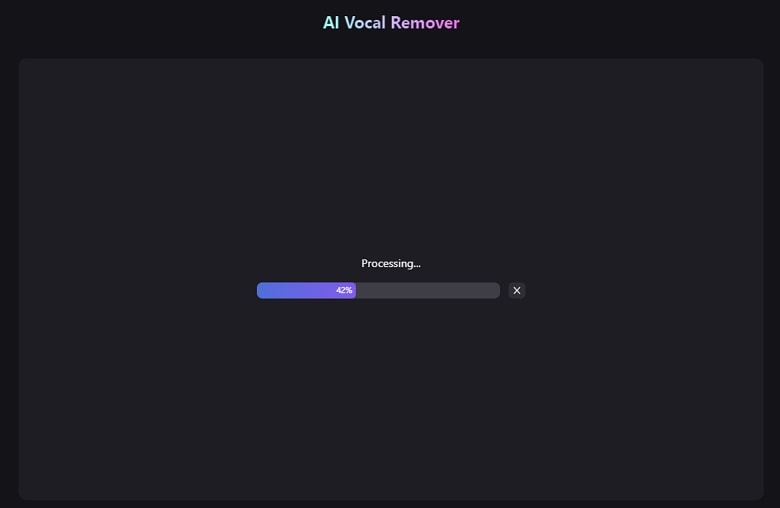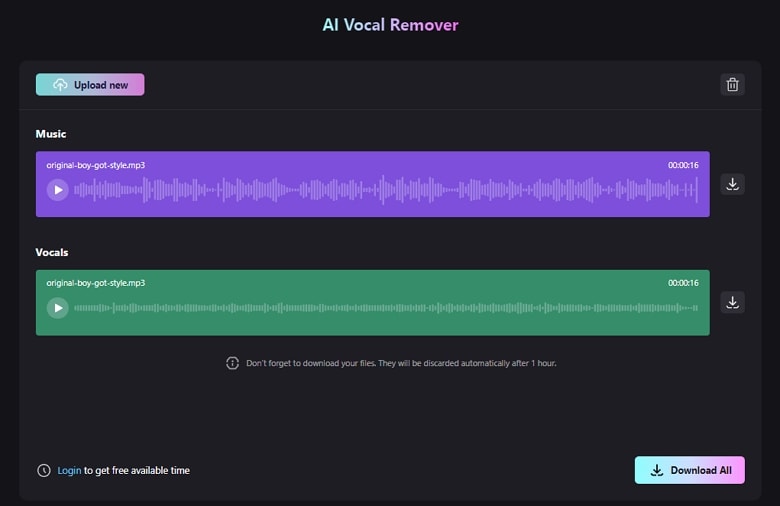 Why Choose Media.io Video to Karaoke Converter?
Fast & Simple to Use
Media.io is the simplest and fastest method to remove vocals from video. It's an AI-powered tool that splits a song into karaoke track and instrumentals automatically.
High-quality Karaoke
After removing vocals from instrumentals, Media.io Video to Karaoke Converter allows you to preview the audio track before downloading. The outputs are crisp-clear.
Compatible with multiple formats
This free karaoke maker app is compatible with all video and audio formats. It supports MP4, MOV, MTS, 3GP, MP3, OGG, FLAC, AU, and much more.
Cross-platform compatibility
It runs smoothly on any updated browser. It can convert video and audio to karaoke on iPhone, Android, Windows, Mac, and Linux.
Extra editing functions
Media.io offers extra karaoke editing features. It allows karaoke lovers to cut, join, compress, and convert karaoke to MP3.
Privacy protection
All files uploaded on Media.io for editing and conversion are deleted exactly within 24 hours. Also, the website is SSL encrypted to prevent unauthorized data sharing.
As you can see, Media.io is a capable video to acapella converter. It's fast, efficient, and produces high-quality outputs. Apart from MP4 video, this web-based tool also supports standard audio and video formats, which is a significant plus.
This vocal remover uses a powerful AI algorithm to automatically extract instrumentals and vocals from videos and audio tracks. In other words, you can just upload a video and sit back as Media.io does all the work. In addition to MP4 video, it can also extract vocals and instrumentals from MP4, AVI, MKV, FLV, VOB, MP3, FLAC, and other video and audio formats.
To make it even better, it features essential karaoke editing tools for cutting, merging, converting, and compressing, etc. It's the best free, cross-platform vocal remover you can find. You can even say Goodbye to some clunky audio editors, like Audacity. So, upload a file and try!
FAQs About Converting Video/Audio to Karaoke
How can I remove vocals from video file?

You can remove vocals from video using Media.io Video to Karaoke Converter. Follow these simple steps:
Step 1. Run Media.io Vocal Remover and then upload a video from online storage host or from your local drive.
Step 2. Media.io will analyze and separate vocals from instrumentals on the uploaded file.
Step 3. Download the Karaoke version for offline playback.

How to convert MP3 to acapella?

Media.io Vocal Remover is your top pick to convert any audio file to acapella. It supports MP3, FLAC, OGG, WAV, AAC, and other standard audio formats. Just upload an audio file and start separating vocals from instrumentals.

How to convert video to acapella?

You can easily convert video to acapella using Media.io Karaoke Generator. Just add a video, and Media.io will extract the instrumentals and vocals. Then, sing along to the extracted tune as you record yourself using your phone's camera. It's that easy!

What is the best video to karaoke converter?

Many things should be considered when choosing an incredible video to karaoke converter. For example, the perfect program should be fast, easy to use, and compatible with various OS platforms. It should also include additionals audio editing support like cutting, merging, compressing, and converter. In that regard, Media.io Video to Karaoke Converter ticks all boxes, if not more.
Jolie the Don
Media.io is simply the best. I've used it for several months to create acapella songs, and I love it.
Lloyd Divan
This is probably the best free online video editor I've ever used. There are no pesky pop-ups or hidden charges. Just pure and honest service. Keep it up!
Brown Bear
Most apps would just hide vocals when creating instrumentals but not Media.io. The output is of high quality. I also love that it can directly convert video to karaoke.
Jedi Harrison
This online vocal remover may not be a high-tech Audacity, but I still love it. Its straightforward UI is second to none.
Incan Shah
I've spent a fortune on dedicated vocal removers from App Store. But thank goodness this free online program came to my rescue. I now create quality instrumentals without bothering about those annoying monthly subscriptions.
Edit Your Audio Files Online
in Seconds.
A feature-packed online program, trusted by millions.