Record Google Meet Online for Free
Record Google Meet sessions, and edit & transcribe recordings for free online. Free, fast, and flexible.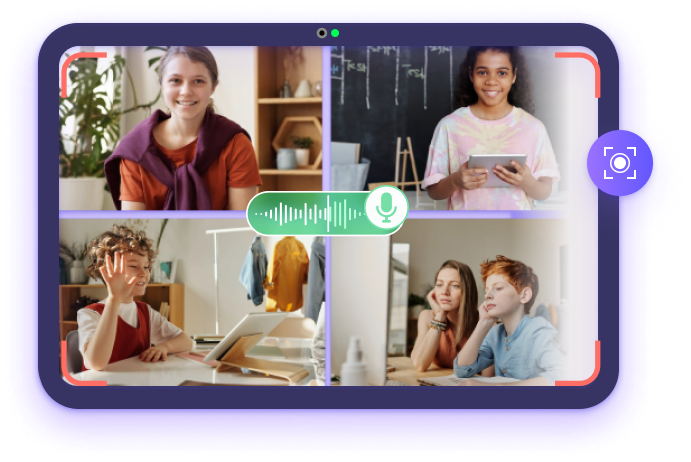 Record Google Meet Videos Calls
Nowadays, more and more organizations have brought online meets into regular practice because they are safe, less resource-intensive, and extremely cheap. Google Meet is one of the most popular services for online meetings. However, if you want to record the Google Meet sessions for watching later, you may find no Recording option on your interface since it is limited to some versions. This is where our free online screen recorder comes into play. Here, we'll tell you an easy method to record Google Meet sessions (or any such online meeting for that matter) using the Media.io screen recorder. Media.io provides the solution to record and edit the Google Meeting recordings in one place. You can trim off unnecessary portions to have actual meat that is useful to your organization and teammates and transcribe the Google Meet recordings to text for sharing as text.
How to Record Google Meet for Free?
Recording meetings on Google Meet without any limitations is easy with the Media.io screen recorder. As long as you have attended the meeting, you can record the session for free, with or without the Google Workspace plans.
Step 1: Launch Media.io Screen Recorder for G Meet

Launch Media.io Screen Recorder for Google Meet and select the desired recording mode. You can choose Screen only to record the laptop screen only, or Screen & camera to record yourself and the screen, or Audio Only to record the voice only. Ensure that the correct microphone is selected in the Recording Inputs list and click Start recording to continue.

Step 2: Define Recording Area

Switch to the Chrome Tab option and then select the opening Google Meet tab to record the ongoing sessions. Media.io allows you to record a specific Chrome tab, a specific window, or the entire screen.

Step 3: Record and Export Google Meet Video

Continue with the meeting session normally. Click Stop sharing when done. Click Download to save the Google Meet recording. Optionally, click Edit to make further modifications before exporting the recorded sessions.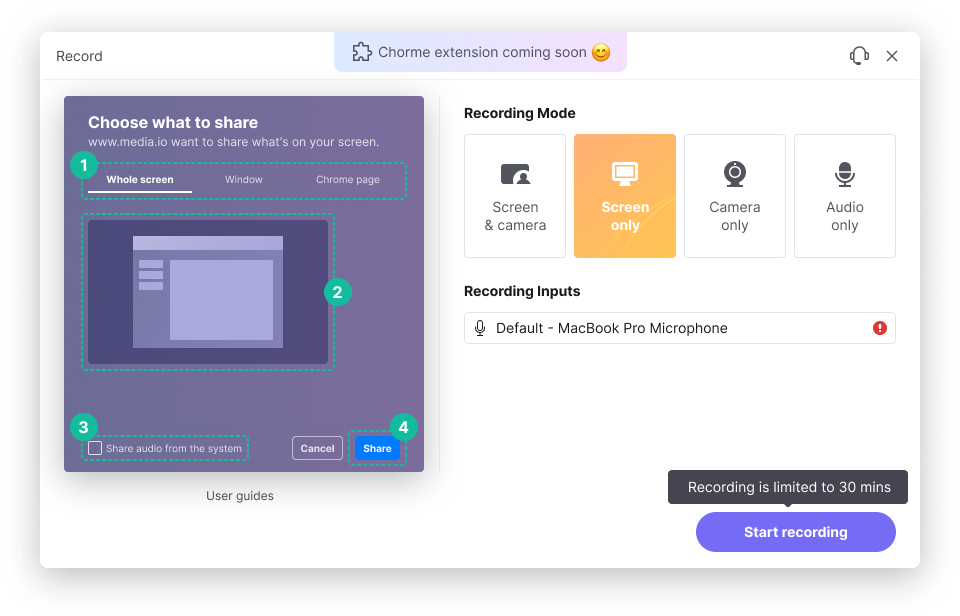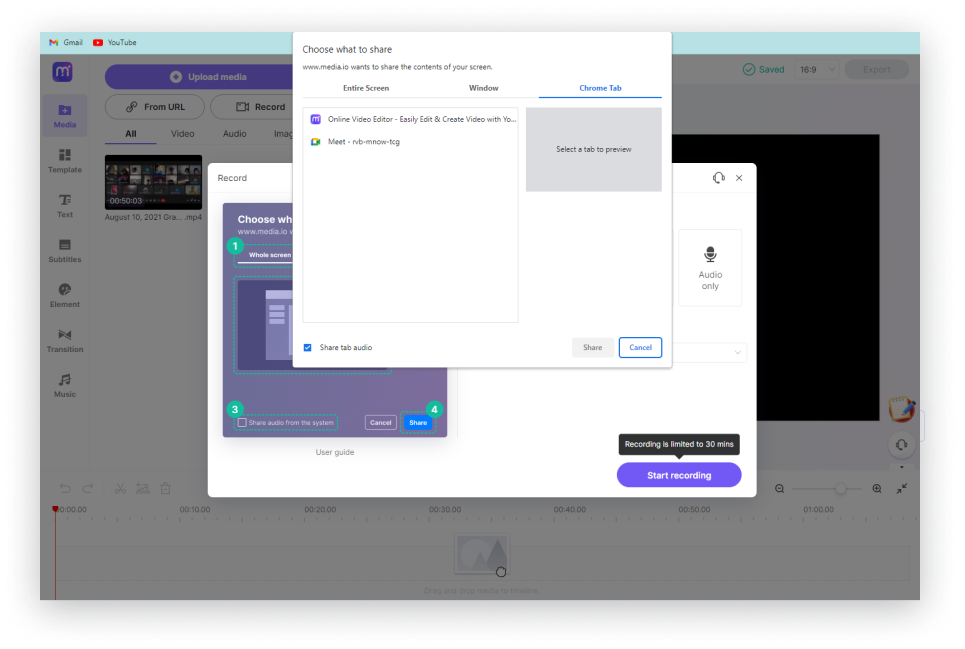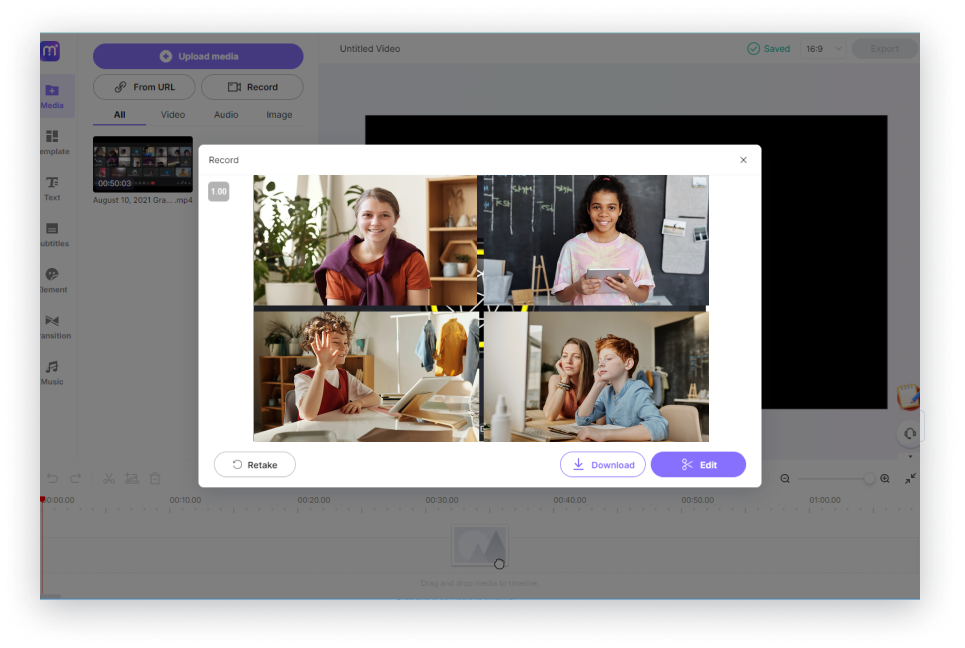 Why Use Media.io Online Transcribe Service?
Record Unlimited Google Meetings
With Media.io, you can record unlimited Google Meet meetings for free. In addition, all the recordings do not have any watermark when exported, thus making your videos eligible for professional distribution.
RRecord Google Meetings with Audio
Media.io screen recorder uses your default microphone to record Google Meet with audio. This means, no additional configuration is needed for acoustics after you initiate a recording session.
Multiple Recording Modes
Unlike the name suggests, Media.io doesn't only record Google Meet screens but can also capture footage from your web camera. You can even record both screen and camera simultaneously, thus making your meeting sessions more engaging and interactive.
Privacy and Security Guaranteed
Media.io is protected with Secure Socket Layer (SSL). This keeps your recorded Google Meet files safe from unauthorized access. All in all, you can safely trust us with your sensitive data.
Benefits of Recording Google Meet Meetings
Improve Engagements
Attending a meeting by being physically present at the conference sounds like a good idea. However, things don't go quite well if you miss an essential point discussed during the conversation. That said, when you record Google Meet meetings, you can easily navigate through the entire footage and rewatch the particular section you couldn't get. This principle also applies when some time has passed, and you cannot recall all the opinions and ideas that were discussed. The recorded session makes things much easier for you even after a few years of the event.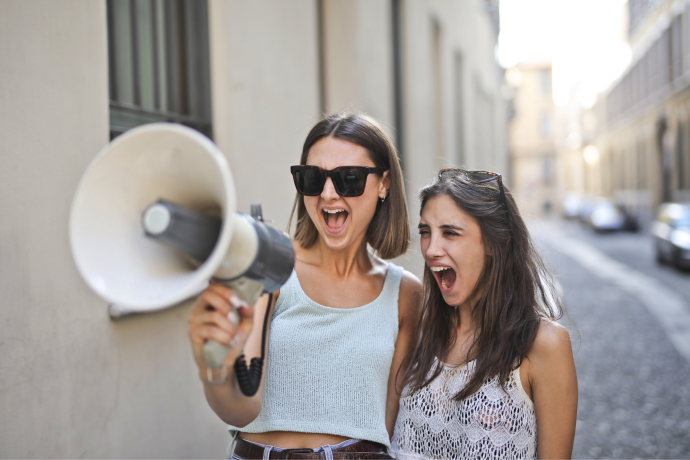 For Future References
Many meetings require you to act upon them instantaneously or after some time. What if you don't remember everything that was discussed? In such cases, you can refer to the recorded sessions and prepare your subsequent actions accordingly. Another advantage you get when you record Google Meet meetings is that you can go through these virtual conferences as often and at any time of the day you want.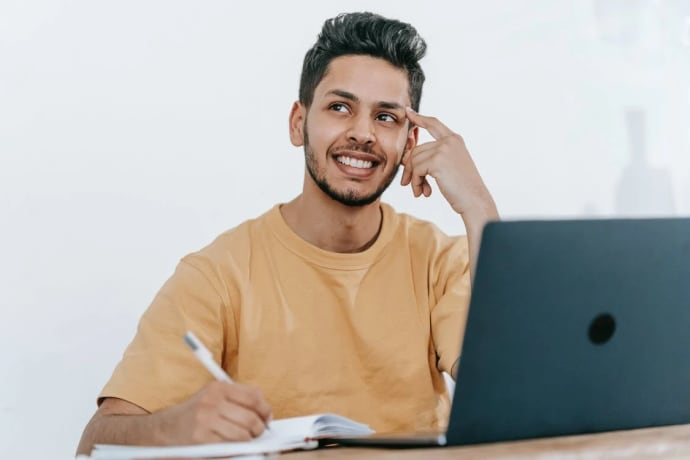 Convenient Sharing
If you know how to record Google Meet meetings, you can easily share the videos with your colleagues and friends, especially when they can't attend the conferences for some reason. Furthermore, you can even upload those meeting sessions to your Cloud storage so that everyone in your group/team can access them according to their convenience.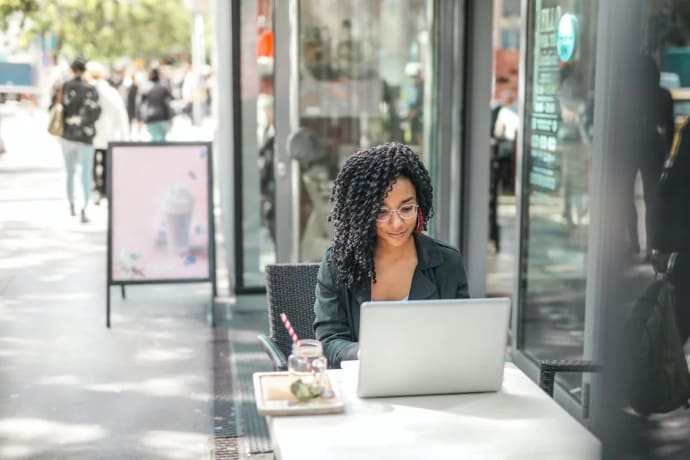 FAQs About Recording Google Meeting Videos
Who can record a Google Meet?

At the time of this writing, not everyone has an option to record Google Meet. To enable the feature, you must be either in the organization of the meeting organizer or be the meeting organizer yourself. In addition, you should also have any of the Google Workspace plans to be able to record the meetings from within the app. However, as a workaround, you can always use the Screen Recorder tool in Media.io to record Google Meet meetings.

How to record Google Meet for free?

Media.io allows you to use the Screen Recorder tool for free to record the Google Meet sessions. You can initiate the web app, select the Google Meet window, and start the recording.

How to record Google Meet without permission?

When you use the screen recorder from Media.io, the entire process remains on your devices, and you don't need any permission from anyone to record the G Meet sessions.

How to Record Google meetings on a laptop?

Why can't I record Google Meet sessions?

If you are trying to record Google Meet from within the app, you must have any Google Workspace plans, and must be the organizer of the meeting or belong to the same organization as the organizer themself. If you don't have these privileges, you won't be able to see the recording option in the Google Meet app. In such a case, your best bet would be to use the free online screen recorder tool from Media.io, which is free and doesn't add any watermark on the exported files.

How to Record Google Meet as a student?

Media.io is free for everyone and even if you are a student, you can use its screen recorder tool to record Google Meet meeting sessions for free. After recording, you can easily edit the videos using the built-in Video Editor app before exporting the final output.
Limited Time Offer From KwiCut - Register For Exclusive Perks
√ Unlimited AI Transcribe, Clone, Overdub, and Voice Enhancement

√ Unlimited GPT-4.0 Accessibility to Create Talking Head Videos

√ Unlimited Cloud Storage and Export Without Watermark
I am a company product manager and regularly conduct staff meetings to discuss several agendas. I find it quite convenient to organize virtual conferences via Google Meet. To keep everything documented, I record Google Meet, and surprisingly the Screen Recorder tool by Media.io works as a boon because I don't have to invest anything merely for the purpose.
Nigel Danson

I am a student and attend most classes online. Because I study in a small school, the management relies on free applications, so no one can record Google Meet sessions during classes. While searching the web, I stumbled upon Media.io and used its Screen Recorder tool. To my surprise, things went smoothly, and when I exported the video, there was no watermark. This is the best solution that I can ever have.
George Eads

I am a dean at the medical college. As a senior doctor, many times I have to deliver lectures related to complex medical issues. Even though people appreciate my presentations, I still prefer recording the sessions for future reference and convenient sharing. Thanks to Screen Recorder by Media.io, which made my life easier, as now I can record Google Meet sessions without paying anything.
Larison Clark

I am a psychology teacher, and during my lectures, I share a lot of illustrations and diagrams with the students. Most of the time, I draw them on the whiteboard and suggest the scholars to capture the photos or draw them for future reference. Once I started to record Google Meet sessions using Screen Recorder from Media.io, I don't have to pause during my classes merely to give time to the students so they could copy everything on the board. I record the sessions and share them with everyone in the course via email. The best thing I can have for life.
Nick Jonas

Unfortunately, my boss has a problem with remembering, so I have to keep everything on record. With Screen Recorder by Media.io, I can easily record Google Meeting sessions with my boss and share them with him immediately so he can use them for future references, especially while discussing things in more detail.
Mary Hung

Convert, compress and edit files online
in minutes.
Make video editing easy like never before!