Free Magic Avatar Maker Online
Generate 3D avatars and profile selfies in various styles from photos. Share them with your friends, or use them as your profile photo!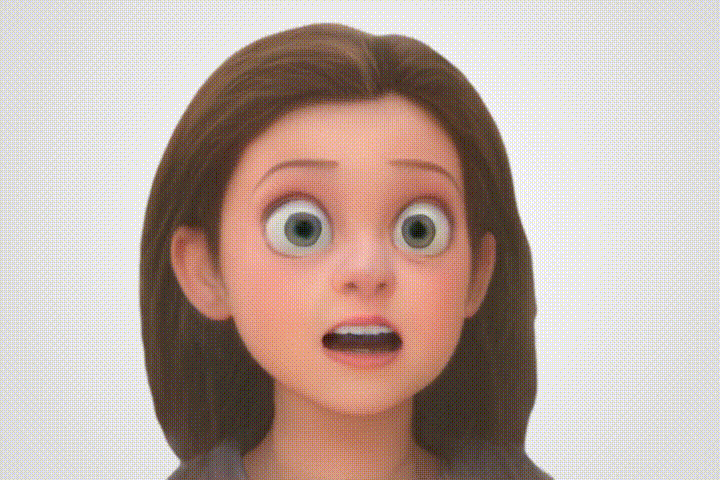 Virtual Avatar Is Taking over on Social Media
Though artificial intelligence (AI) is most often associated with robotics and scientific and medical breakthroughs, anybody can now use it to create photos that seem like an artist created them. You might have noticed that Lensa AI Magic Avatar and AI Time Machine pictures have become a trend nowadays on Instagram and TikTok, which allow you to
turn regular profile pictures into different styles of artwork
, like anime and pop art, in a different historical period. However, if you don't want to install apps on your device or upload 10-25 images to an unfamiliar platform, you can try some free online tools, such as the
free avatar creators
from Wondershare AI Lab. These
free avatar makers
allow you to create a magic cartoon avatar photo with happy, sad, angry, or surprise expressions of different ages and genders, make a
retro avatar
in one click, and then share it across social media platforms.
Create Avatars of Different Ages or Opposite Gender
If you want to create an avatar with another age of your portrait picture, you can try the free Aging filter from Wondershare AI Lab. This filter provides a magic way to predict the past or the future looks, from the age of 1 to 100. If you want to create an avatar of a younger you or an older you, don't miss this tool: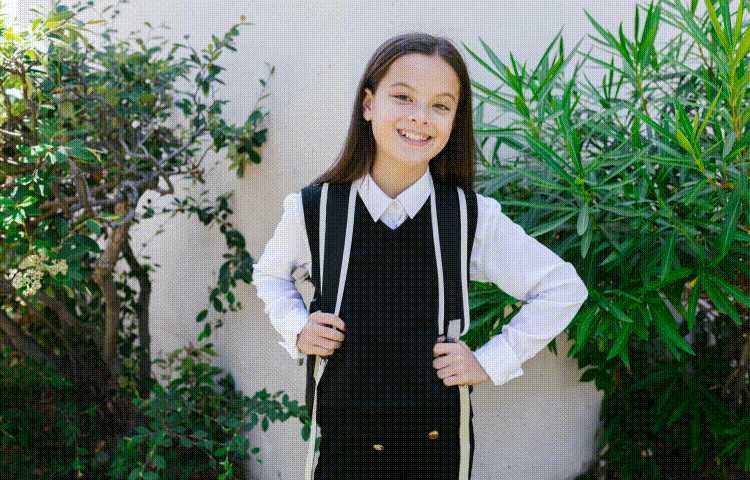 1
Upload the Source Profile Picture
Click the
Add Images
icon to import the profile picture in JPG, PNG, or JFIF format from your local drive. However, if your image is larger than 5MB, you may need to compress it to a smaller size with the
free online Image Compressor
before uploading.
By default, the age will be set up to 50. You can use the Age slider to set up a younger or older age for the profile picture. Click the Start to Process to start the aging conversion.
3
Download the Avatar with A Different Age
Generating the profile picture with another age may take a few seconds. After the image has turned into an aging filter avatar, you can preview and download the file to save it on your device directly.
Try out this Gender Filter in AILab if you're interested in the current popularity of the Gender Face Challenge or if you desire to see what you look like inhabiting a different body. Build fictitious computer-generated avatars (images) of an individual to represent how they can have appeared at various ages or if they were of the other gender.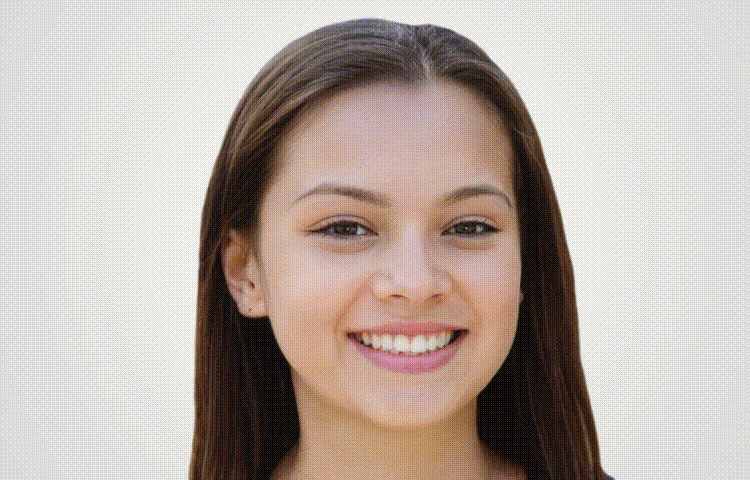 1
Upload the Profile Picture
Click the Local file button to locate and import the profile photo you want to swap the gender.
2
Generate Female Avatar Automatically
By default, this free AI Gender Swap tool will generate a female profile automatically once the profile photo is uploaded successfully. Click the Download button to save the generated avatar profile.
3
Change Avatar Gender and Save
Switch the gender to Male if you don't satisfy the female profile, and then click the Start to Process button to generate a male profile. Preview it and then save it by clicking the Download button.
Create 3D Cartoon Avatar in Multiple Styles with Mood
If you want to create avatars in 3D cartoon style, you can use the free 3D Cartoon Face Maker to generate cartoon avatars in Comics, Disney, or Barbie styles. Moreover, you can create cartoon avatars with different facial expressions, such as happy, surprised, angry, fearful, or disgusting.
Step 1: Upload Original Profile Photo

Visit the 3D Cartoon Avatar Maker on your browser, and then click on the Local File to choose the profile photo from your device.

Step 2: Generate 3D Cartoon Avatars in Multiple Styles

The Avatar creator will generate a Comic style cartoon avatar with the same facial expression as the profile by default. Click the Setting button to switch to Barbie or Disney style if needed.

Step 3: Choose Mood and Save Cartoon Avatar

Next, you can choose another 6 facial expressions to generate, such as Happy, Sad, Fear, Surprise, and Angry. Finally, click the Start to process to continue and tap Download to save the generated avatars.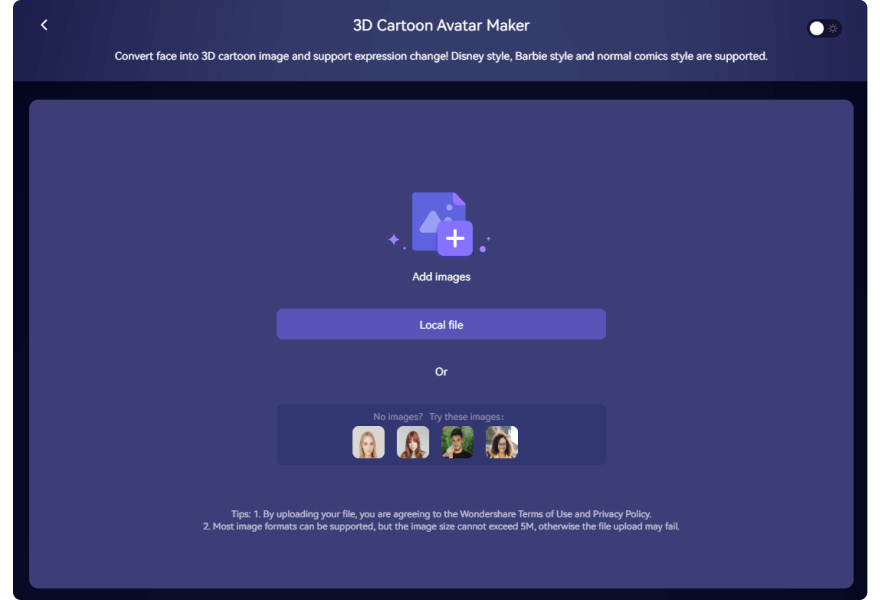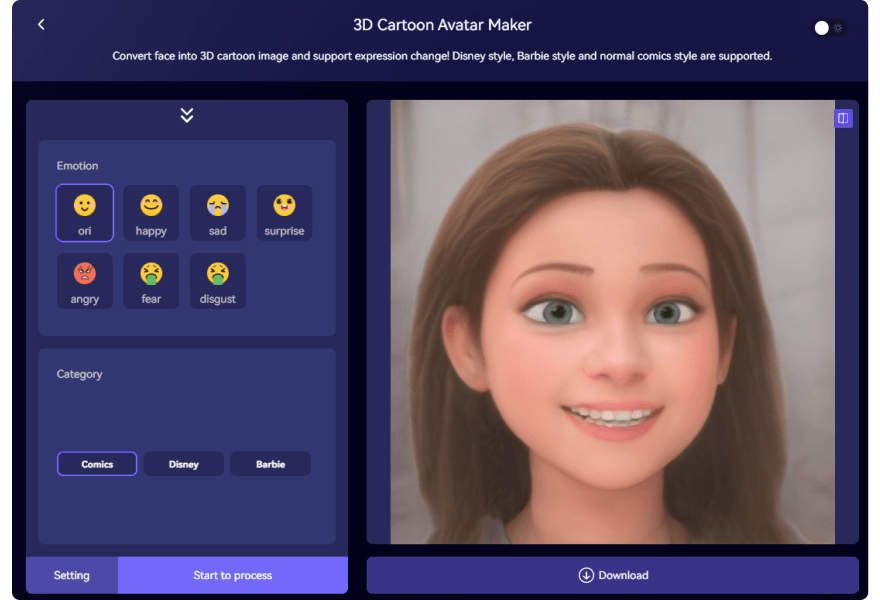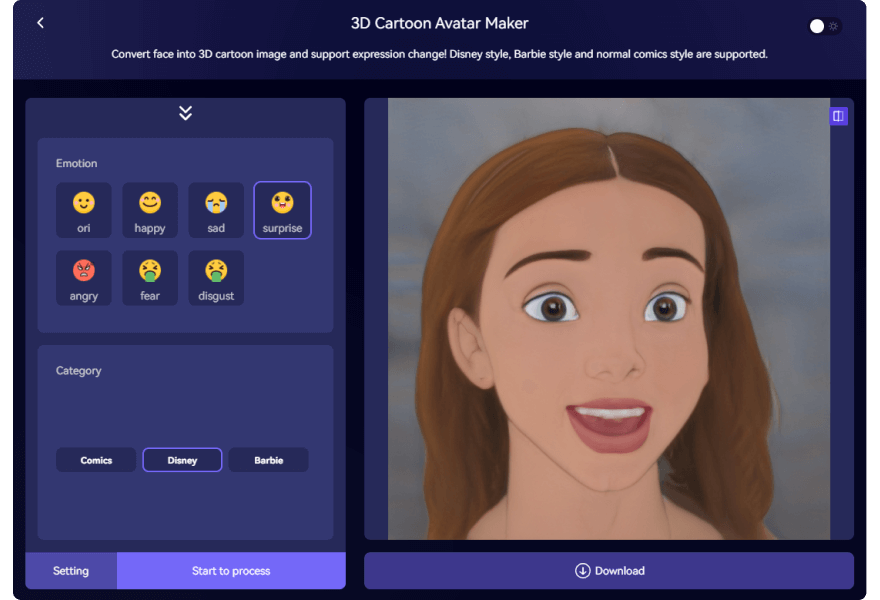 Benefits of Using AI Lab Online Magic Avatar Creator
FREE Avatar Creator
The avatar maker apps from Wondershare AI Lab are free and available on the web for everyone. The will be no watermark on the exported avatar photos.
Create Avatars on the Go
The Wondershare AI Lab apps are web-based, which means you can use them on the browser on any device as long as you have an internet connection.
Various Avatar Styles
Create avatars in multiple styles, such as 3D comics style, Barbie style, Disney style, American animation style, sketch style, or retro style. Even change the gender or age of your avatar.
More than Avatar Makers
Wondershare AI Lab offers excellent tools for image, audio, video, and effects content creators. You can automatically remove the image or video background and match colors in different pictures. And much more.
Create Avatar Compilation Videos Online
Now you have several avatars in different styles, why don't you move further and make a compilation video of those generated avatars and share it on Instagram or TikTok? The good news is that Media.io provides a simple-to-use online video editor that allows you to create a montage-style video easily. It's recommended to open it on a Chrome browser to get the best experience.
Step 1: Upload Avatar Images

Click the Upload media button on the Media.io Video Editor interface to import the generated avatar images you want to use. Note: You need to change the project aspect ratio to 9:16 or 1:1, accordingly to the platform requirement, if you are sharing on TikTok and Ins.

Step 2: Edit Video In Your Way

Now, place all the avatar images in the timeline in order, choose the background music or the sound effects, and add stickers, elements, texts, or transitions to the avatar photos. You can even record your voice to narrate.

Step 3: Save and Share

Preview the result and do further editing if needed. After everything looks fine, you can click the Export button to follow the instruction to save and share the video directly. Note: You may need to subscribe to remove the watermark on the video.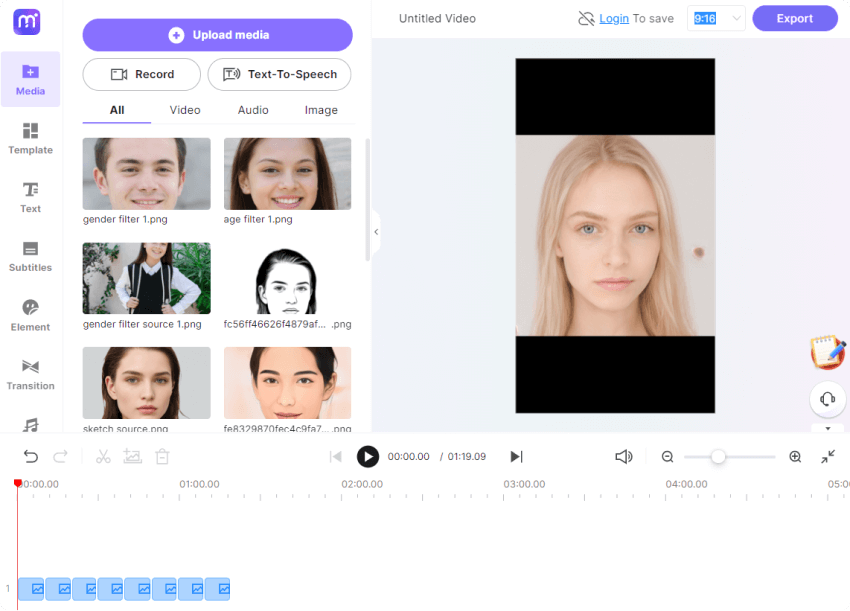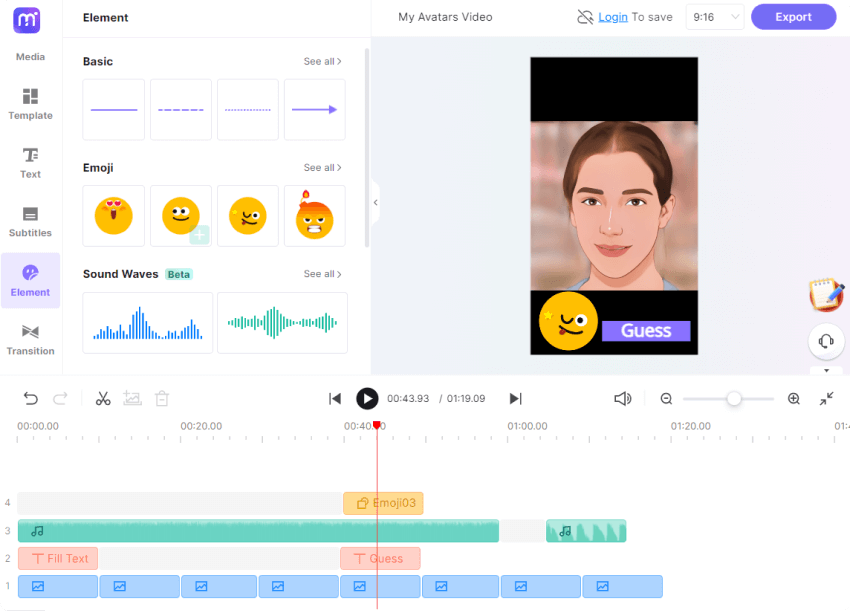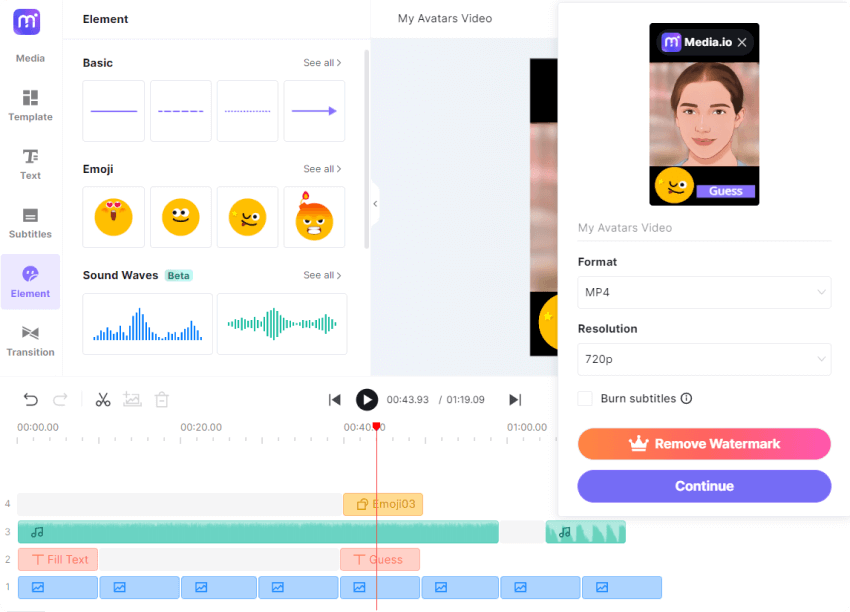 Frequently Asked Questions About Creating Wonderful Avatars
How many photos should I upload when generating a magic avatar with AI Lab 3D Cartoon Maker?
Unlike the AI Time Machine from myheritage.com or the Magic Avatar app from Lensa AI, which ask users to submit 10–20 photographs of themselves to begin utilizing the
AI avatar generator
, the 3D Cartoon Maker from Wondershare AI Lab will need one profile only to create a unique magic cartoon avatar in comics, Disney style or Barbie style.
How can I make my photo look younger or older with AI Lab Aging Filter?
You can use the Aging Filter in Wondershare AI Lab to predict portraits from age 1 to 100. You can use this tool to generate a photo of your baby at 30 years old or generate a photo of your grandpa at 10 years old. Just visit the Aging Filter tool on your browser and upload a profile picture from your device, specify the age and tap Start to Process to start the aging conversion.
Will Wondershare AI Lab save my generated avatar photos?
No, Wondershare AI Lab will not save any of your photos once you turn them into avatars. It will delete the source image you uploaded from the database after completing your request. There is no need to worry about the privacy issue at all.
Will there be a watermark on the generated Avatar?
No, there will not be any watermark on the generated Avatar on any picture or video you produce using Wondershare AI Lab. The online tool is completely free to use for all audiences at the time of writing.
What images work best when using AI Lab Aging Filter, Gender Filter, and Cartoon Maker?
You should use the best upper body photos and profile pictures with clear backgrounds. If you have a photo of your whole body, that would not be the ideal choice since the tool works best with pictures with more of the body's facial side.
Reach New Audiences Like We Met You


Amelia

I love making avatars of different styles. Recently, I came across Wondershare AI Lab, which has it all. I could turn all my selfies into stylistic avatars without any hassle. I like the retro avatar style very much! The result is amazing, and it won't generate any improper and weird avatars from my selfie profile picture!

Joseph

I don't want to upload my real avatar photo to some websites, but sometimes I have to upload an avatar. This website has a lot of tools that can be used to make different styles of avatars. I usually use the Aging Filter, then the Swap Gender Filter, and finally make it into a manga style with the 3D cartoon maker. Perfect!

Olivia

I love that the Wondershare AI Lab is free to use. It's hard to find something like this today that is such cost-efficient. I see many amazing avatars on Instagram posts nowadays, and I want to create such kinds of avatars too! I used the 3D cartoon avatar maker to get want I wanted since I like cartoon style! The free magic avatar maker allows me to create avatars in comics, Barbie style, and even Disney styles!