Convert MOV to AVI
Online UniConverter is a free online MOV to AVI converter to convert your MOV video files to AVI in seconds.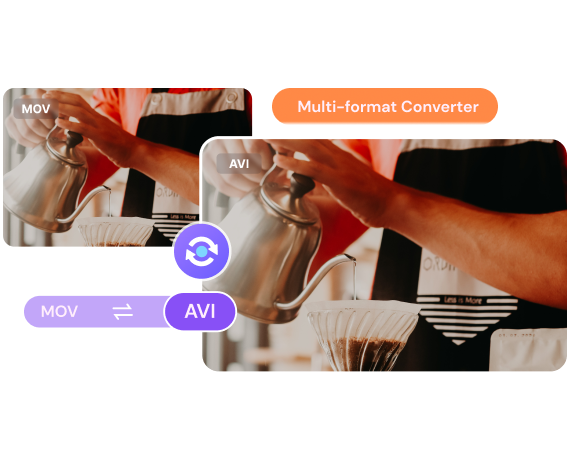 How to convert MOV to AVI?
Step 1
Upload MOV File
Add MOV file(s) that you want to convert to AVI or any other format.
Step 2
Convert MOV to AVI Free
Select AVI as the output format you want to convert MOV file(s) to.
Step 3
Download Your AVI File
When the conversion process is complete, click the Download button to save the AVI file.
Information about MOV and AVI file formats
File Extension
.mov MOV Converter
Description
MOV is a MPEG-4 digital video container format used on Apple's QuickTime Player. It was developed in 1998 by Apple as the proprietary video format for Macintosh. On top of video data, MOV format can also store audio and text data, such as subtitles. It can open easily on both Macs and PCs, although Windows require 3vix codec.
Associated Programs
Apple QuickTime Player
Power DVD
VLC Media Player
Adobe Flash
Developed By
Apple Inc.
MIME Type
video/quicktime
Useful Links from Wikipedia
What is a MOV file
File Extension
.avi AVI Converter
Description
AVI (Audio Video Interleave) is a digital multimedia container format developed by Microsoft in 1992 for its Video for Windows project. This file format saves both video and audio data in its container that supports synchronous audio-with-video playback, and like DVD format, AVI allows multiple audio and video streaming as well.
Associated Programs
Apple QuickTime Player
VLC Media Player
Adobe Premier Pro 2020
Windows Media Player
Developed By
Microsoft
MIME Type
video/x-msvideo, video/avi
Useful Links from Wikipedia
What is an AVI file
People also ask about MOV and AVI
How to convert MOV to AVI and vice versa effortlessly
Originally developed by Apple for the Quicktime videos, MOV is a popularly used format among the Mac users. If you want to play MOV files on Windows platform, you would need to install compatible software. Moreover, MOV files cannot be uploaded to online sites and cannot be played on some mobile devices. Thus, to overcome all these issues, converting videos to a compatible format is the best option. AVI is one of the popular multimedia container formats that can be played on almost all types of devices and players. Using a professional video converter MOV to AVI like Wondershare UniConverter (originally Wondershare Video Converter Ultimate) makes the task easy and without compromising on the quality. With support of more than 1000 format, the software also facilitates AVI to MOV or other format conversion. Additional features include video download, screen recording, DVD burning, video editing and others.
Though there are a number of free MOV to AVI converters available, using a professional tool like Wondershare UniConverter (originally Wondershare Video Converter Ultimate) offers altogether a different experience. The process is simple, quick, and without size limitation.
MOV to AVI conversion

quality rating:
You have to convert and download at least 1 file to rate!
We've already converted
xxx ,xxx ,xxx
files with a total size of
10,124
TB