Add Subtitles to Video
Create subtitles or captions for your video manually or automatically. Adding subtitles to video is a piece of cake with Media.io online subtitle maker.
👇🏻New Registers Enjoy a 7-Day Free Trial with Full Access!(Sept. 25th - Oct. 7th)
Easy Subtitle Generator
Most people research how to add subtitles to a video. This is especially true if you're constantly churning out content on YouTube, Vimeo, Dailymotion, Facebook, etc. The thing is that not all your target audience can speak or read English. Some might even have hearing problems altogether. And, of course, subtitled videos are fun and engaging to watch. That's why this guidepost introduces you to the best online method to add captions to a video. With Media.io Online Subtitle Maker, you can add powerful captions and subtitles with fun color effects, fonts, size, etc. Not only that, but this program also features an AI-supported auto-subtitle generator to automatically transcribe videos or audio to popular languages like Arabic, English, German, Hindi, Spanish, Hindi, etc. Upload a video and try!
How to Add Subtitles to a Video?
Step 1: Upload Your Video File

Launch Media.io Subtitle Generator online, then drag and drop your video file from local storage to generate subtitles from your video. The AI software will begin transcribing your video instantly.

Step 2: Automatically Add Subtitles to Your Video

Easily add automatic subtitles and captions to your video by toggling on the automatic subtitle switch at the top left corner of the video preview screen.
Media.io will take care of the rest, accurately detecting subtitles and seamlessly syncing them with your video.

Step 3: Edit Automatic Subtitles and Download Your Video

After loading the subtitle track, further edit the text to correct minor errors. Once satisfied, select your target aspect ratio and click "Export" to save your video with subtitles.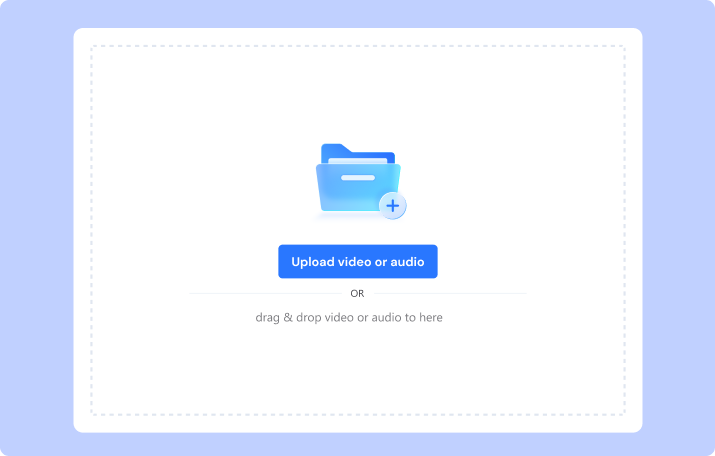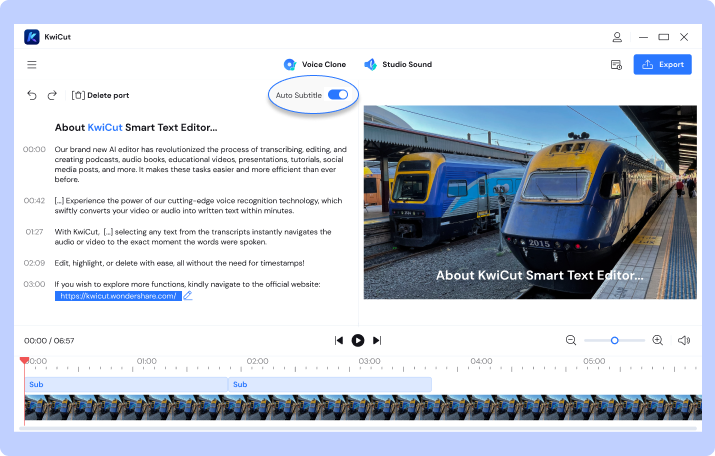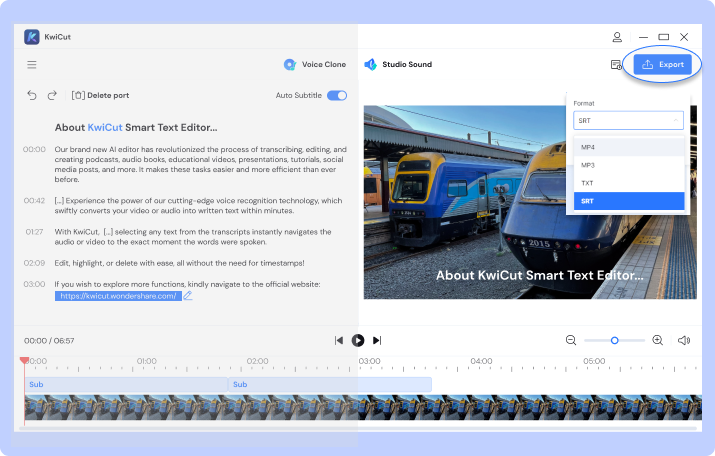 Why Choose Media.io Subtitle Maker?
100% Online Subtitle Adder
With Media.io Online Subtitle Generator, you don't need to download and install any extras on your computer, tablet or mobile phone. Instead, fire it up and create!
Sync Subs with Video Easily
Worried about subtle syncing? Worry no more because Media.io's drag-and-drop timeline lets you resize subtitle tracks in real-time.
Flexible Options to Create Subtitles
With Media.io, you can add subtitles to a video manually by adding a customized subtitle track. Alternatively, you can use the AI-powered Auto Subtitle Generator to transcribe video narrations to text, which certainly saves your much time and efforts.
Any Video? We Accept!
Media.io is compatible with any video format you throw at it. You can add subtitles for MP4, MKV, MOV, AVI, 3GP, 3G2, MPG, WebM, etc.
Customize and Retouch Subtitles
You can make your subtitles look catchy and well-organized by adding unique fonts, text size, borders, and repositioning the subtitle track.
More than a Video Subtitle Adder
Media.io does more than just letting you add subtitles to video online. You can trim, split, cut, crop, add background audio, and other quick edits. You can also export the video to HD 1080P for free and share on all leading social platforms, like YouTube, TikTok, Facebook, Pinterest, WhatsApp, or Instagram.
Any Benefits of Adding Subtitles to Video?
Improve Comprehension for the "Deaf"
This is a mistake that most YouTubers and content creators make. When you release your video content out there, it becomes available to everyone, including the deaf or those with hearing problems. So, to cater to this particular group of people, be nice and add subtitles to your video. Then, the views and likes will start increasing like never before.
Maximize Your Video Engagement.
Did you know that around 85% of all videos on Facebook are watched on mute? Yes, most viewers find those ums and uhs on your video unnecessary to listen to. Therefore, they opt to mute the video while watching. Fortunately, you can save them this stress by adding well-crafted subtitles and captions. Research shows that videos with subtitles have more dwell time than those without.  
Improve Your Video's SEO Ranking.
As said before, adding subtitles to your video will improve the dwell time. And you know what happens? Improved SEO ranking! It won't take long before YouTube and Google notice that your channel or videos have low bounce rates together with thousands of views every day. In return, your content will rank higher when someone searches for a related keyword.
FAQs about Subtitling Video
How to add subtitles to a video online?

You can quickly and easily create subtitles for a video using Media.io Online Subtitle Maker. Below are the quick steps.
Step 1. Upload a video on Media.io by clicking the Upload media tab.
Step 2. Press the + icon on your video to add it to the timeline or drag and drop it there.
Step 3. Select the video and then press the Text tab on the left pane. Then, choose the text type and trim or resize the text track on the timeline to sync with the video narration.
Step 4. Enter the subtitle text on the preview screen and reposition it to avoid distracting the viewers.
Step 5. Click Export to name your video and create.

How do I add subtitles to YouTube, MP4, and MKV videos?

Media.io is the perfect tool for adding subtitles to any video format. You can add subtitles to MKV, MP4, MOV, MTS, DV, and other digital video formats. You can also directly import a YouTube video and add subtitles to it.

How do I add subtitles to a video permanently?

There are many tools to add subtitles to a video permanently. However, I recommend Media.io based on some impressive points: it's simple and supports adding subtitles to any video that you may have. You can also customize your subtitles to make them more attractive.

How do I auto add subtitles to video?

Auto-adding subtitles to a video can save you lots of precious time. Here is how to use Media.io Auto Subtitle Generator to extract subtitles from video narrations:
Step 1. Launch Media.io Auto Subtitle Generator and tap Upload media to browse and load your video or audio.
Step 2. Add the video to the timeline and select it. Then, click the Subtitles tab and then choose a subtitle language. You can also retouch the font type, size, color, casing, etc.
Step 3. Click the Start auto-subtitle button to begin transcribing your video narrations automatically.
Step 4. Tap Export to save the video.

How to merge subtitles with video online?

If you want to combine subtitles with a video online, use Media.io Subtitle Generator. Here, you can add subtitles to any video format without restrictions.

What is the best subtitle maker?

Media.io is the best subtitle generator by a country mile.
First, it's simple and offers cross-platform compatibility on Windows or Mac browsers.
Second, it allows users to add custom subtitles manually or automatically using the AI-supported auto-subtitle adder.
Also, it boasts other editing tools for cutting, trimming, cropping, adding background music, etc.
Finally, and most importantly, content creators can export the subtitled video to Full HD 1080P without any watermarks.
I've only used this online subtitle generator for a few weeks, and I find it to be a fantastic way to add custom subtitles to videos. I can edit and personalize the subtitles how I wish.
Jason Nice

This is a great subtitle maker. I especially love that it allows me to transcribe video narrations to text subtitles with great accuracy. You should try it!
Sam P

It's a simple subtitle generator with very helpful support. I mistakenly made a double payment, and the support team was at hand to give me a refund almost immediately. So far, I'm happy!
Jay Sandy

An excellent application for creating subtitles and captions for YouTube videos. The video editor is also intuitive enough for any green hand out there.
Anushka Patel

I was initially skeptical when my friend introduced me to this online video editor. But it's a few months now and I love everything about it. So simple, effective, and it's online!
Liam Carlo