Make Effective
Training Videos
Use Media.io video editor to create a solution-based training presentation, an employee-onboarding training video, or an on-brand training video in minutes.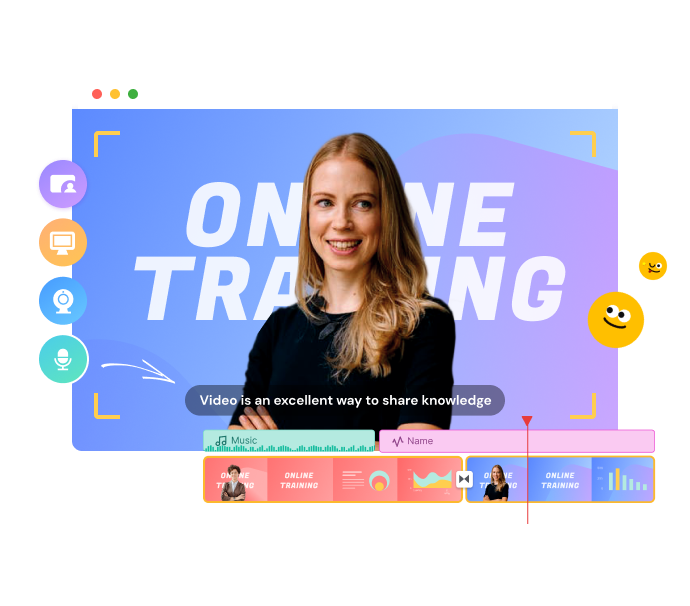 Create Training Videos to Keep Viewer's Attention
Expert says that video is a more common and effective way to retain information. As per statistics, more than 95% of the information can be retained from any knowledgeable video compared to the 10% when reading the text— that's why the training videos can deliver more quality content when needed! Training video, a piece of content that teaches someone how to do something, is an educational presentation or depiction to teach any skill or deliver the knowledge. Media.io brings the best tools and features to create training videos to keep the viewer's attention.
Most Popular Types of Training Video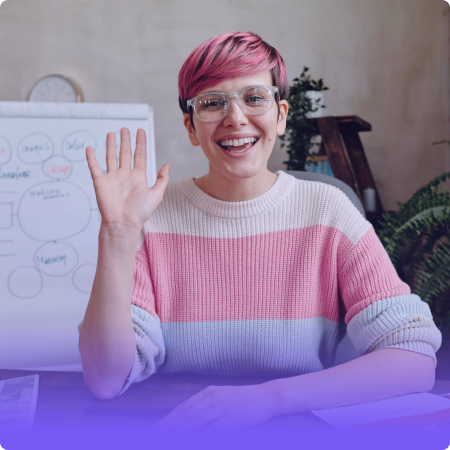 Instructor-Led Videos
Instructor-Led Videos
The instructor-led or talking head training video is a video version of in-person training. These videos involve a person or a presenter who explains things by speaking all the facts. These videos are based on the instructor's expertise, allowing the businesses and organizations to demonstrate the content.
Businesses and organizations can use instructor-led training videos if they have an in-house expert.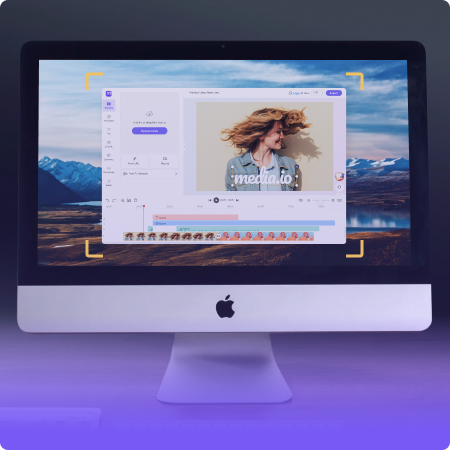 Screencast Videos
Screencast Videos
Want to train your employees or general audience for a particular software? Screencast videos can serve the best! Recording the screen videos (in terms of tutorials and demos) with a narration (by recording voice-over) is what we call the screencast training video.
The software-related companies utilize this video type to help customers learn the features.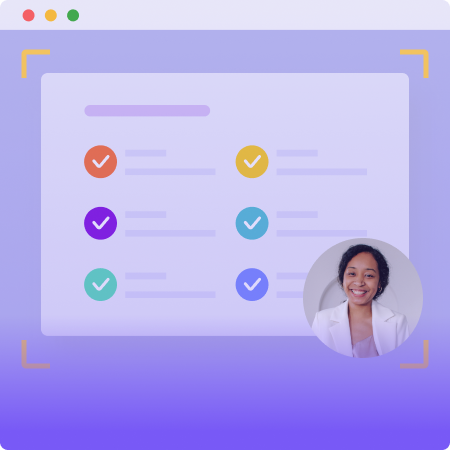 How-to Videos
How-to Videos
Guiding users through a process or demonstrating a particular task is what a How-tto video is all about! Social media platforms have more how-to videos where the audience search, learn and train themselves by seeing the instructor.
A How-to video can be on any topic, demonstrating the step-by-step process to guide the learners.
Make a Great Training Video with Media.io
1. Record Video with Narrations

Open the Media.io video editor and click the Record button. Choose the desired recording mode from the pop-up window, such as camera, audio, screen, or screen & camera. Hit the Start button to continue. Once you're done, click on the Stop Sharing button to stop recording your training video. Now, you'll be able to download that video, record another video or edit the video directly.

2. Edit/Customize the Recorded Training Video

Click on Edit, and the video will automatically be imported to the timeline. From here, you can split, trim and cut the video. You can also add subtitles/captions to the video with the Auto-Subtitle generator to increase engagement and comprehension. You can also add the background music to the videos from the music library or local storage and apply the fade-in/out transitions.

3. Preview and Export

Preview the result and then click on Export to download the training video. You can set the format and resolution before downloading the video to a local drive. You can save the training video without watermark in mp4 format in 480p, 720p, or 1080p. You can also save the video in mp3 format to share on the podcast platforms.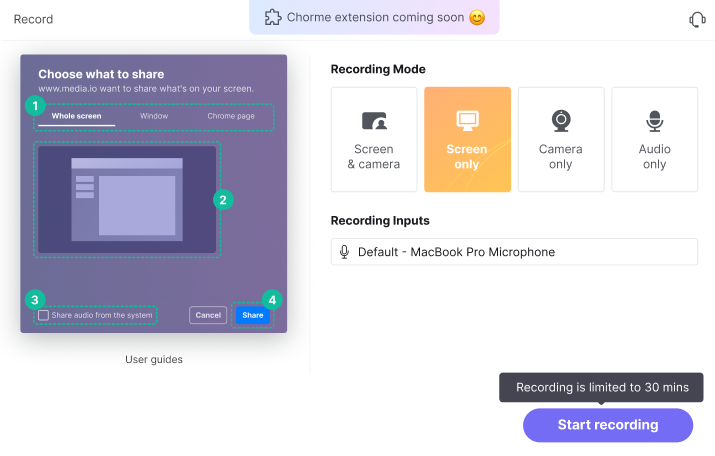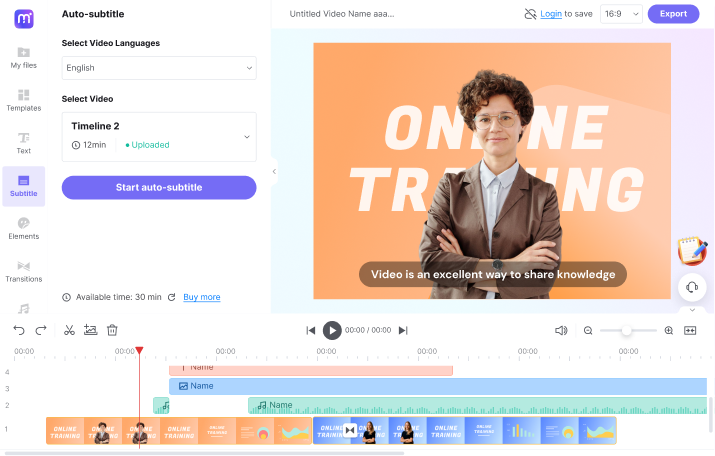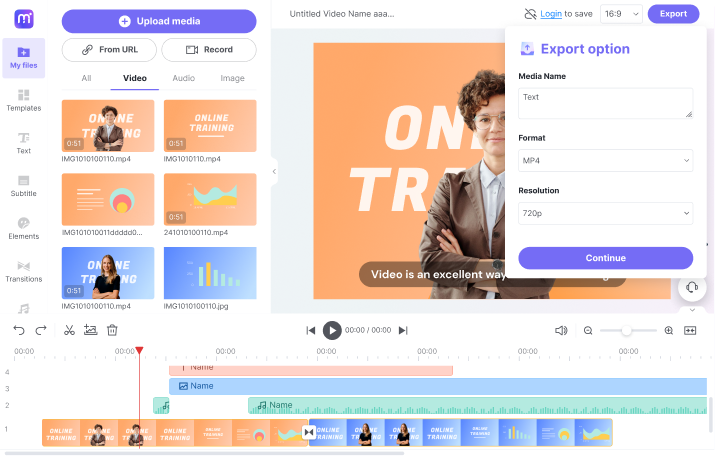 Note: Media.io has multiple recording modes where you can either record yourself and the screen video using the screen & camera mode. In addition, you can also use the camera-only mode for recording the webcam with audio only, the screen-only for capturing the screen, or the microphone-only mode for recording the voice narration.
Top Perks of Media.io Free Online Training Video Maker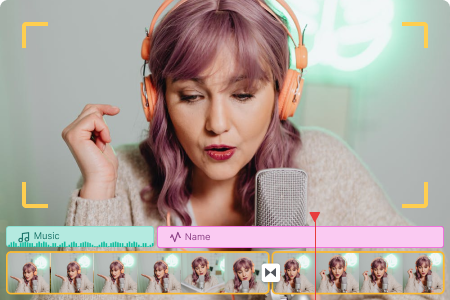 Record and Edit in One Place
There is no need to use multiple tools to record and edit training videos— Media.io has got you covered! Record, trim, add titles and elements, edit and publish your training videos in simple steps.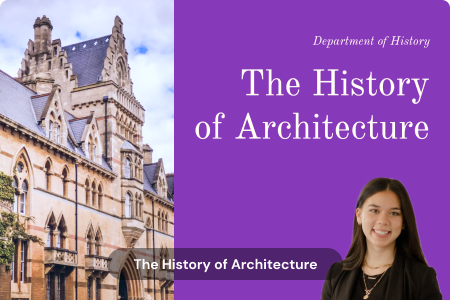 Generate Subtitles Automatically
Generate captions/subtitles for your training videos for increased comprehension and understanding with the auto-subtitle generator. No need to type the subtitles manually— saving your valuable time.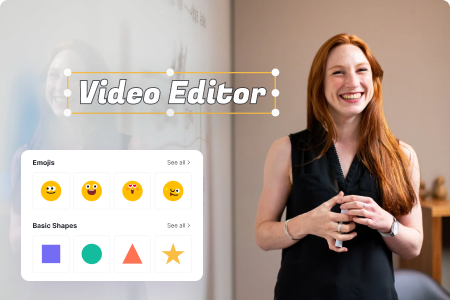 Craft with Texts and Shapes
You can add additional texts, elements, and shapes to craft your training videos more appealingly. No need to switch between the tools to avoid annoyance.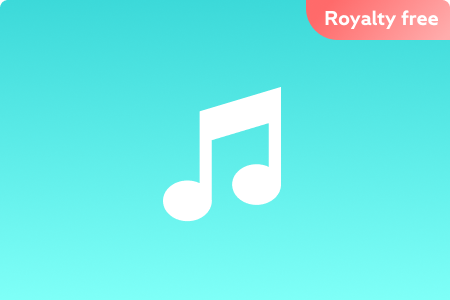 Royalty-Free Background Music
Give your training videos a touch of music to make them sound more appealing. You can add royalty-free background music from the music library or local storage.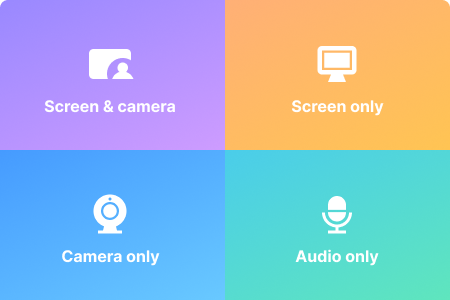 Multiple Recording Modes
Media.io offers multiple modes to record the training videos, including the screen & camera, screencast, camera only, and microphone. You can use all these modes for talking head, how-to, screencast tutorials, and training videos.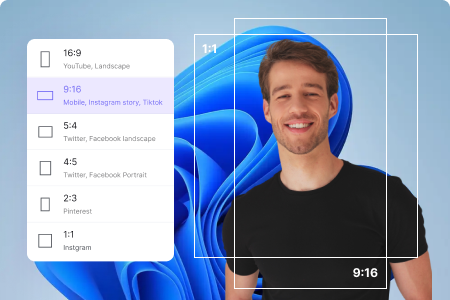 Create for Multiple Platforms
Media.io video editor provides different aspect ratio presets so that you can create training videos for social media platforms such as Facebook, TikTok, or Twitter.
Benefits of Creating a Training Video
Save Money and Resources
In-person or physical training can cost you a lot of resources, and that's where the training videos come into play! Training employees online and providing them in-depth knowledge via training videos will cost you nothing. The video will be recorded, edited, and shared online so employees can free consume the content each year.
Increase Information Retention
In-person training can be tedious, and people usually don't like attending the training workshops. Training videos can help increase engagement and have more attention from the users. Moreover, viewers can watch the content conveniently and rewind when necessary. As a result, the retention rate for visually appealing training videos can increase to 65%.
More Accessible and Flexible
Training videos can be used anywhere, anytime! In-person training and physical workshops can have time conflicts, but online training videos crafted to provide in-depth knowledge to the viewers are more flexible and accessible.
Flawless and Refined Content
Refine your content by re-shooting the parts in which you think you can do better! You can craft the training videos in the best way to deliver the complete details.
Bonus Tips for Making Impressive Training Videos
Tip 1. The shorter, the better [for introduction]

Attention spans and bounce rates are critical factors you need to consider. Keep the introduction shorter and more engaging; the overall video length must be less than 6 minutes.

Tip 2. Add Text & Subtitles & Annotations to Your Training Video

To grab the users' attention, you can add text, subtitles, captions, and annotations! Moreover, the crawlers of search engines also process the keywords in text to increase the video's engagement.

Tip 3. Cleaner Backgrounds are More Catchy

Unnecessary colors and distorting backgrounds can cause users to lose attention. Instead, keep the background clean by selecting solid colors and avoiding reflective elements.

Tip 4. Segment Your Videos

The optimal video length is 6 minutes, above which the users will not be able to pay attention and comprehend anything in the video.

Tip 5. Connect with your learners

An emotional connection with the viewers will help you win more attention and a better overall engagement. Know your audience's interest and present the knowledge more friendly way.
I belong to the HR team of an organization, and we have to train the beginners before assigning them required duties. Media.io has eased the work a lot by offering all the tools.
Alya

What's best about Media.io is that the software offers all the tools and features to craft the training videos in one place!
William

Connecting with the viewers and building an emotional attachment is necessary for the training video, and Media.io offers sound effects, elements, transition, and subtitles options to do that perfectly.
Johanson

In-person training can be hectic and have time conflicts. Media.io has changed the way by offering tools to craft online training videos in multiple modes.
Luke

Media.io offers multiple screen and camera modes to design training videos so that you can create videos in the how-to and talking head category. How amazing is that
Tiffany

Not Just a Training Video Maker ...
Edit, convert, and compress media files online
in minutes.
Make video editing easy like never before!
Edit Now