Chromebook Video Editor
Want to create a video with the best video editor for Chromebook? Media.io is your answer. With this online video editor, you can easily create, edit and share videos.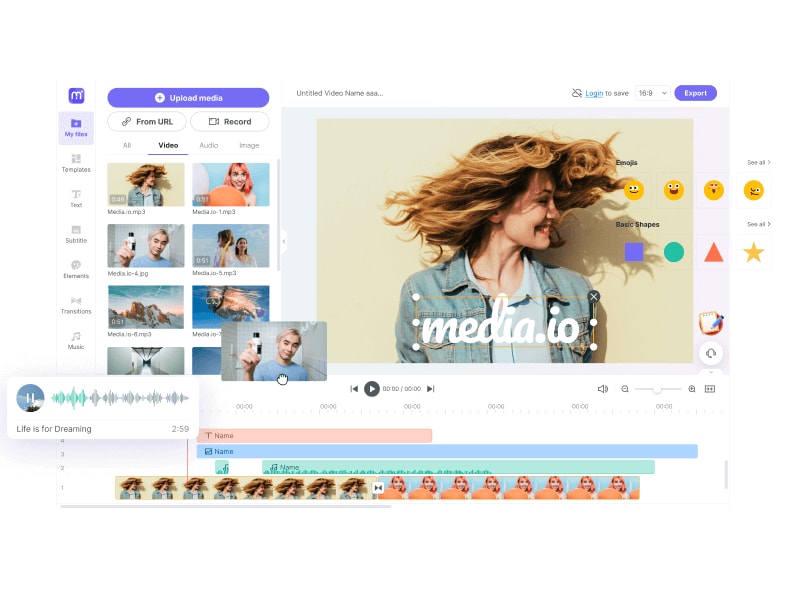 Best Online Video Editing Software for Chromebook
Chromebooks are more than just web browsers; they can accomplish many of the same things that Windows and macOS do. For example, video editing has become a common need for Chromebook users in the current world. Since the content keeps varying from gaming to how-to guides for content creators, finding good software for each task is difficult. However, with the Media.io video editor, you can create and edit videos professionally without downloading any software on your Chromebook.
How to Edit Videos with Media.io Chromebook Video Editor?
Media.io is an easy-to-use online video editor that allows you to record, edit and share videos professionally.
Step 1: Upload Your Media

Launch Media.io online video editor on your favorite browser (for example, Chrome), and set up the aspect ratio accordingly. And then, import the media you wish to edit on the Chromebook by clicking the Upload Media button. Note: You can record a screen or webcam video on your Chromebook or upload the video from your already posted YouTube video.

Step 2: Start Editing

Now, drag your media clip to the timeline and start editing the video according to your needs. You can use the Auto-Subtitle to generate texts automatically and add transitions, effects, stickers, emojis, and elements to your video.

Step 3: Export the Video

Preview the result and then click the Export button to get it ready for download. After that, download the video on your Chromebook in high-quality resolution. You can also save the video in MP3 format without any watermark.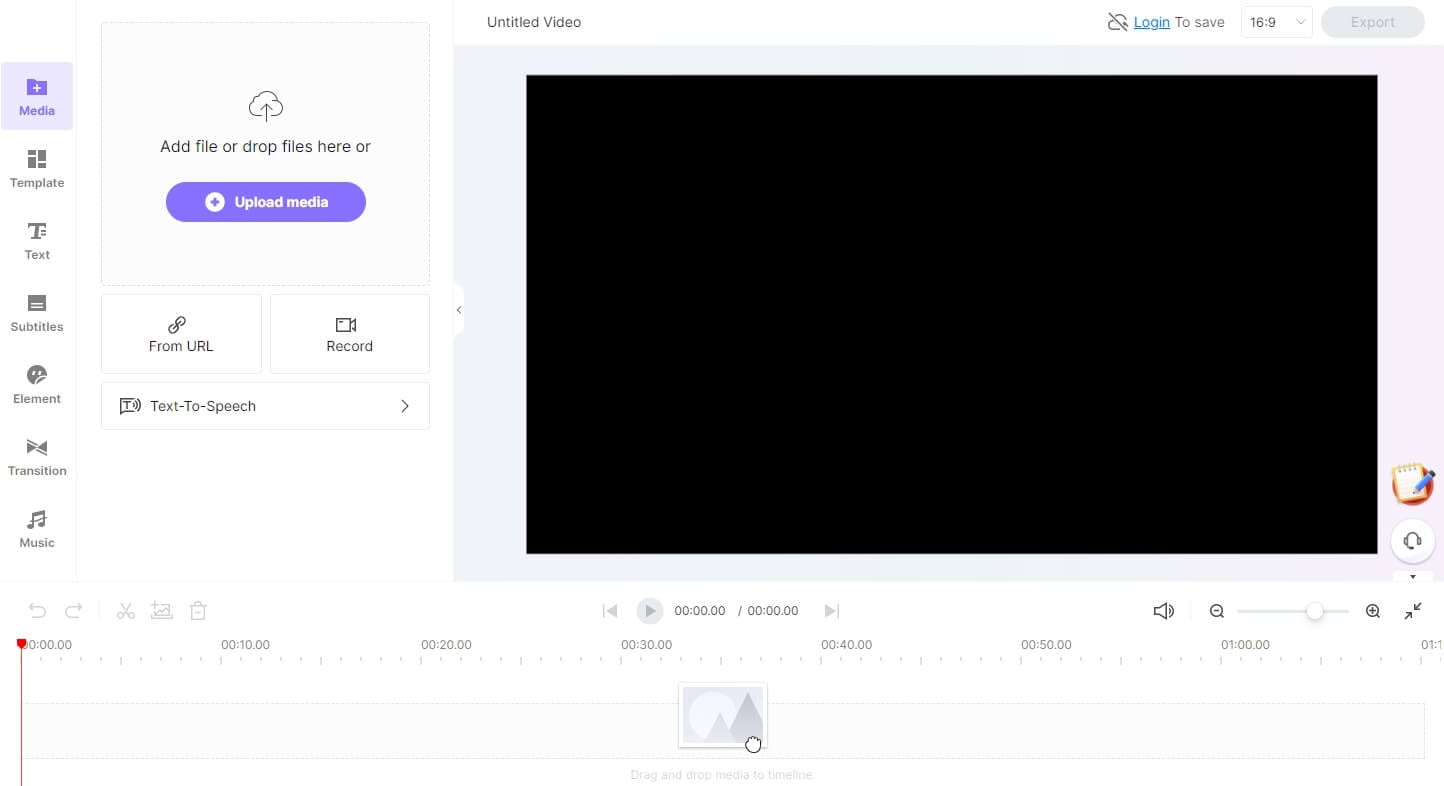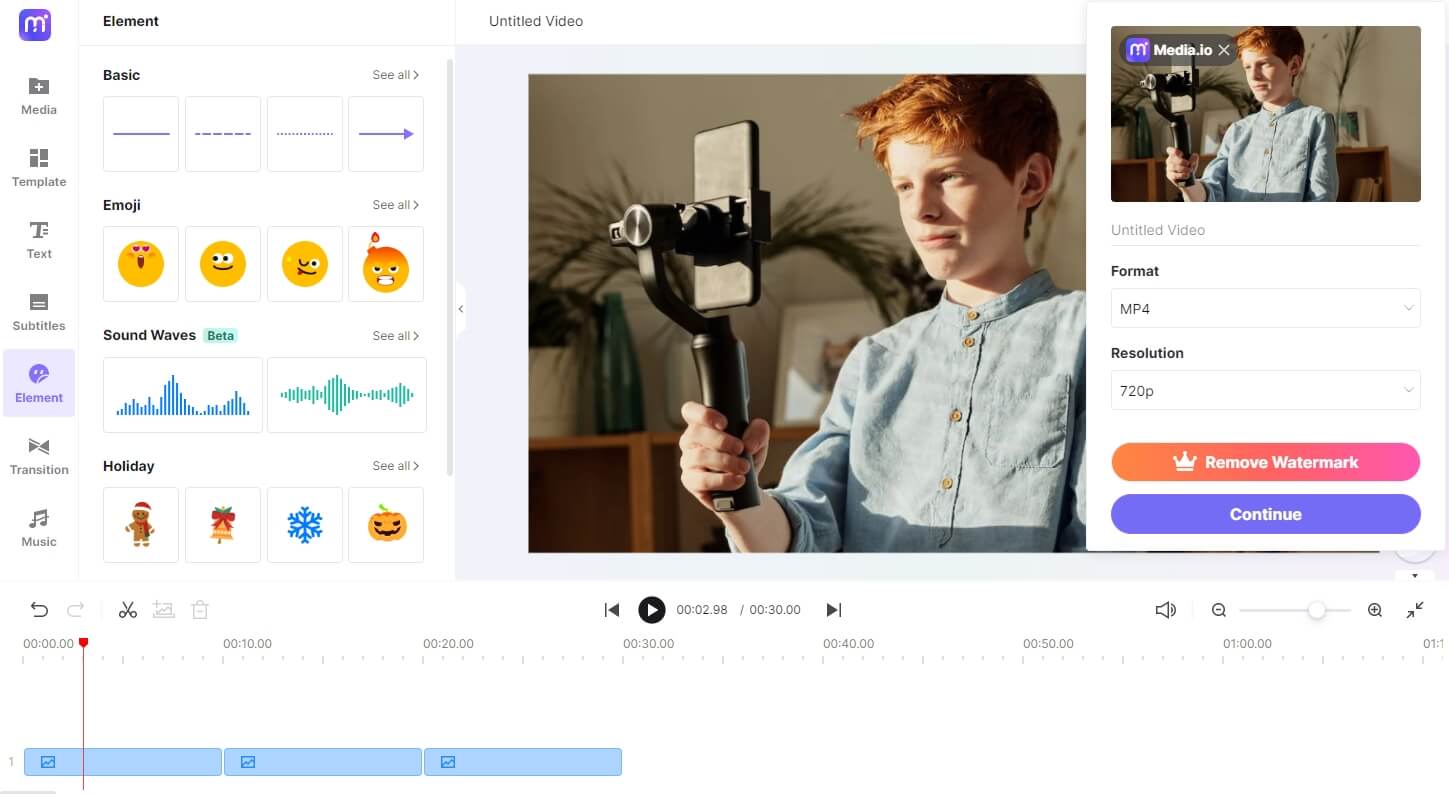 Why Use Media.io Online Video Editor for Chromebook?
Built-in professional template library
Are you looking for some intro and outro templates for your video? No more research since Media.io provides professionally designed, customizable video templates tailored to your industry. So YouTubers, marketers, gamers, and podcasters, come here.
Share videos on social media easily
Whether you are making a YouTube video, a TikTok video, or an Instagram video, Media.io gets everything covered. You can easily create videos for different social media platforms with the aspect ratio presets and resize tools.
Elements, emojis and stickers on your hand
Want your video to be more fun and attractive? Then, you can add some stickers, emojis, and elements to make your video stand out. After that, all you have to do to customize them is resize and place them.
Record everything on your Chromebook
Are you creating a presentation video with your Chromebook? No worries! You can quickly record yourself and your screen in Media.io with our online video recorder and edit the clip on the fly.
Convert speech to text or versa vice
It lets you accurately transcribe your voices and speech to text or generate voice from the text. Moreover, you can save the transcripts in different formats or embed them into video automatically.
Edit video on your web browser
Media.io is an online video editor for Chromebook that lets you create and edit videos without downloading and installing software; you can record and edit your video all on the web.
Most Popular Types of Video Content for Chromebook Video Editor
Media.io offers various customization options and extensive possibilities for producing high-quality marketing videos. You can incorporate social media updates, add transitions, modify your movies, and embellish your photographs.
Presentation video
You should present your thoughts engagingly, demonstrating a fluidity of thinking. Create films for your presentation using our Chromebook-compatible video editor. Videos that have everyone in your workplace talking about them. You may quickly share them with your co-workers and the rest of the world on social media.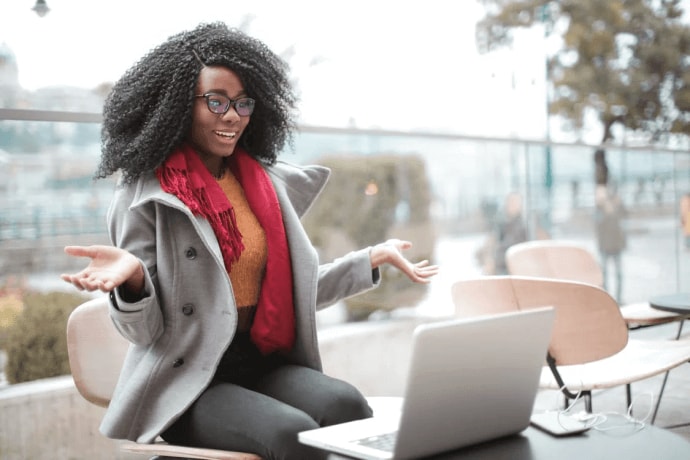 How To Guides and Tutorials
While making how-to guides and tutorials will always be difficult, it is the ideal medium for people who like both visual and audio learning experiences. You may use the Media.io video editor to make well-structured how-to videos and tutorials that will assist others in carrying out a tasty task.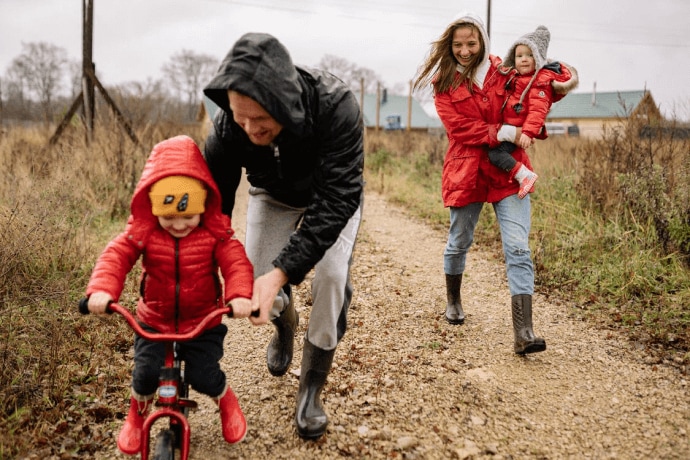 Vlog
Vlogs are short for video blogs, and the concept behind them is, to some degree, comparable to that of the traditional blog. They are essentially a video version of your previous journal entries. You can effectively edit your vlogs with Media.io online video editor and make them look more pleasing to your audience.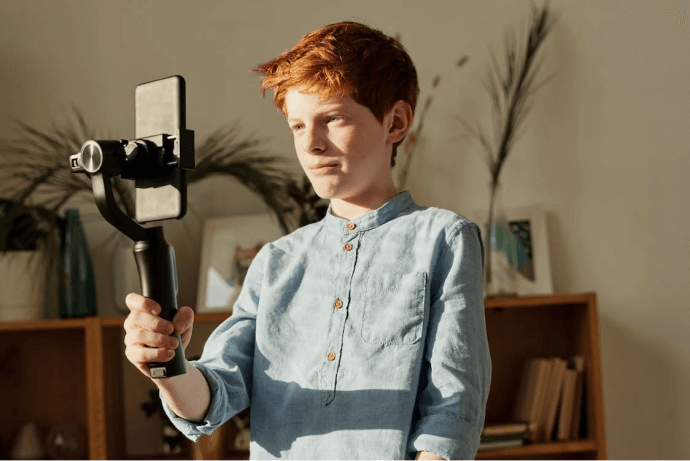 FAQs about Chromebook Video Editor
Can you get iMovie on a Chromebook?

No, iMovie is not available for Chromebook. However, it helps you to be more creative when utilizing photos, movies, and music on your iPad, iPhone, and Macbooks.

Can you do video editing on a Chromebook?

Yes, you can easily do video editing on Chromebook. You only need an online video editor, just like Media.io, which allows you to record, edit and repurpose your video content easily and effectively.

How do you trim a video on a Chromebook?

To trim a video using Media.io, follow these steps: Step 1: Upload your media file to the Media.io video editor Step 2: Trim the video using the Trim feature available. Step 3: After, click on Export to export the video.

How to Share the created video on Chromebook with Media.io?

Here are several ways to share the created video on Media.io. Besides clicking the Export button in the video editor interface to download the produced video to your Chromebook, you can also save the video to MP3 formats and share it on your podcast. Moreover, you can even copy the auto-generated video link to share it, so your viewers don't need to download it when watching.

How to Add Texts to Video on Chromebook?

To add text to a video on Chromebook using Media.io, follow these steps: Step 1: Upload the media file from your library to the Media.io video editor Step 2: Add text to the video using the Text feature available. Step 3: Then, hit the Export button to export the video.

Is the TTS and STT feature available on Chromebook in the Media.io video editor?

Yes, TTS and STT feature is available on Media.io, even if you're using a Chromebook. In addition, you can generate human-like voice from texts and convert audio to texts using the Media.io video editor on Chromebook.
If you're searching for essential tools, Media.io has you covered there, too. GIF creation, video cutting or merging, text or music addition, and stock footage can do all these things and more.
Suraj

Media.io provides many tools to convert, compress, and edit files online in minutes. I like this online video editor from its UI design, its interface, and how its features layout. For example, I can record a tutorial video and edit it in one place without switching from A to B.
Emma

The Media.io video editor simplifies any editing process. Using this adaptable content creator, I can create a lesson, slideshow, commercial, invitation card, or a handsome clip documenting key life events.
Larson

How effortlessly it interacts with the Chromebook, the ability to send links directly with the client, the option to export in popular video formats, and the ability to edit on-site while being VERY SIMPLE.
Adam

Because there is no need to download or install anything, Media.io's audio-to-text tool is one of my favorites. I just need to upload the file, and the program will give all of the features that a video editor needs.
Eve

Simplified
Online Video Editing Solution
Record, edit, and share video on Chromebook easily.