Video Enhancer
Enhance your video quality and get it more aestheic.
No software installation required.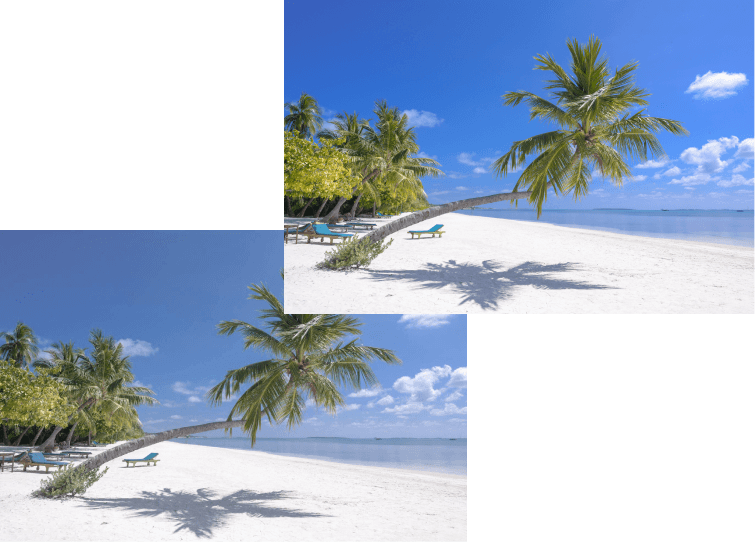 Online Video Enhancer
A video enhancer is a tool that any vlogger or social media enthusiast should have. Look at it this way; you've just shot nice-looking footage using your camera. However, you realize that the video might need a little post-processing before sharing it online. For example, you might want to trim and crop out unwanted scenes and objects. You might also need to remove background noises, sharpen videos by color modification, and more if you're an advanced editor.
If so, don't hesitate to use Media.io to enhance videos quickly and easily. It's a free video enhancer online for customizing any video file, including MP4, MOV, 3GP, WMV, AVI, and many others. After uploading the video, you can adjust the contrast, brightness, and saturation. You can also flip the video vertically or horizontally, rotate clockwise or anticlockwise, crop, and trim. Then, you can export the improved video to any format of your choice. Upload a video and edit it for free!
How to Enhance a Video Online in Minutes?
Step 1. Upload Video to Enhance.

Visit Media.io Video Adjuster and tap the Choose Files button to open a video file on the program. Alternatively, open the video file and drag and drop it on Media.io. It lets you upload any video format or file size.

Step 2. Enhance the Video Effect.

Next up, customize the video brightness, contrast, and saturation. You'll also see trimming, cropping, rotating, and flipping tabs.

Step 3. Download the Enhanced Video.

Have you done enough editing? If yes, tap the format drop-down menu and choose a target video format. Then, click Start to process your video and download it.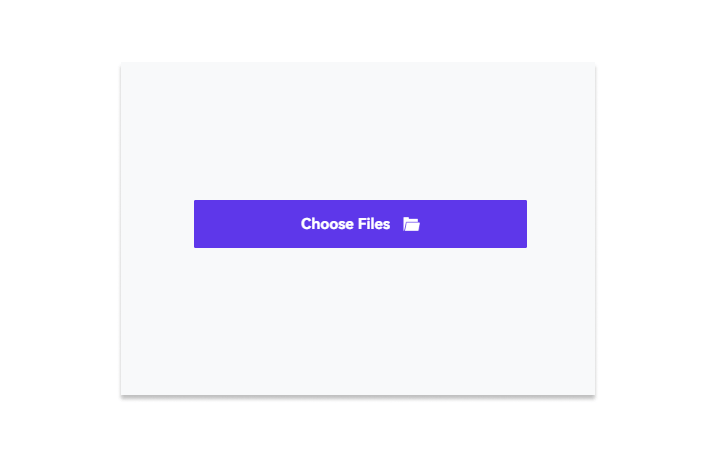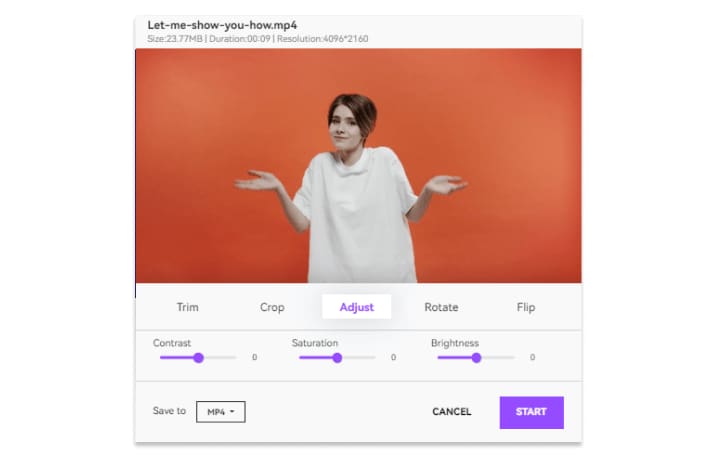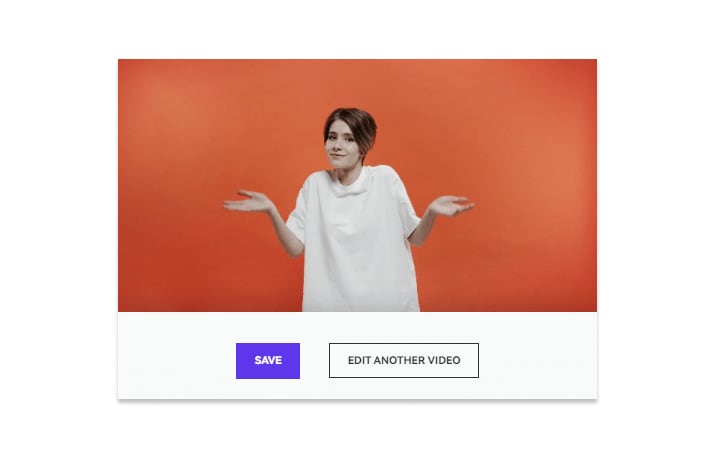 Why is Media.io Free Video Enhancer?
Improve Video Quality Online
Media.io is a 100% video quality enhancer online. In other words, you don't need to install any app or browser plug-in to enhance videos. Plus, users don't need to register to process and download videos.
Real-Time Preview
Media.io Video Enhancer users enjoy real-time previews while editing videos. You'll see the new video while adjusting the contrast, brightness, and saturation sliders.
Basic Edits Included
Besides adjusting video effects, Media.io also comes with basic post-production tools. You can trim, crop, flip, and rotate videos.
Various Video Formats
Media.io Video Enhancer supports multiple input and output formats. It's compatible with MP4, MKV, WMV, 3GP, MOV, AVI, FLV, and other video formats.
Noise Reduction
If a noisy background messes up your high-quality video, use Media.io Noise Reduction to eliminate the background noises. It's an AI feature that allows you to eliminate noises like human voices, wind sounds, etc.
All-Round Video Editor
With Media.io, you'll get an all-in-one video editor. You can upload local videos, record the screen/webcam, or load a YouTube URL. Then, proceed to customize the video with free fonts, texts, background audio, and other elements. Also, you can add subtitles to a video using the AI auto-subtitle tool before downloading the .srt file. Moreover, you can convert text or transcripts to audio.
Evidently, Media.io is the perfect video enhancer app for beginners. You can improve quality of a video without any prior video editing skills. Another thing, don't forget to check out the brand-new Media.io Video Editor to edit videos with AI support effortlessly.
FAQs Regarding Video Enhancer
The Best Video Enhancer Online

If you're struggling to find the best video enhancer for Android, iPhone, Windows, and Mac, pick Media.io. It's beginner-friendly and allows you to enhance any video format. You only need an updated browser.

How can I enhance video quality?

There are many methods to enhance video quality. Besides trimming, cropping, and rotating, you can improve video effects like saturation, brightness, and contrast. You can also customize your video with texts, background audio, filters, and more. Fortunately, you can get all video enhancement tools on Media.io Editor.

Can I enhance a 4K video online?

Yes, use Media.io video enhancer to enhance 4K videos online. Besides 4K, you can also edit 2K, Full HD 1080P, HD 720P, and other video resolutions.

How can I color grade my video?

Color grading is a post-production process where you'll edit the video's colour scheme. In short, you'll focus on the visual tone and atmosphere. Often, colorists perform color correction by adjusting contrast, saturation, white balance, and brightness. While you'll get all these features on professional desktop softwares like Adobe Premiere Pro and Final Cut Pro, you'll find it pretty simple to use Media.io to change the video color grade.

How to change video resolution quickly?

If you want to adjust the video resolution without breaking a sweat, use Media.io Video Converter. As the name suggests, this online tool will help you convert between all standard video formats. But before converting, you can adjust the resolution to UHD 4K (4096*2160) for better video quality. You can also trim and adjust the video encoder, bitrate, and frame rate.
This app is intuitively easy to use. I often use it to apply visuals to my short blog videos. I also like that I can edit and export any video format.
Carl Dustin

Here is the best free online video editor. I've been using it for free for years, and it gets the job done pretty well. However, I suggest you use the Media.io video editor app if you need something more professional and well-rounded.
Jessica Rock

Media.io is an excellent app for those who find it insanely challenging to edit videos using desktop editors. The simple design is tailor-made for beginners, thanks to the clearly marked tools. I love it!
Martin Hernandez

This is an excellent video enhancement app. My main compliment is the smooth video enhancement sliders. It's generally simple to set the contrast, brightness, and saturation.
Murphy J

This is the most straightforward video enhancer I've ever used. Although it doesn't pack a whole lot of features, it still comes in handy when I want to make quick edits to my video. And it's free and ad-free.
Cheryl M

Create High-quality Video Online.
Media.io gives you limitless video editing experience!