Video Compressor
Free video compressor allows you to compress and reduce video file size online in batches without losing quality. Online compress MP4, MOV, AVI, or other large HD video sizes in 3 steps.
*Tips: Click to learn how to compress audio files >>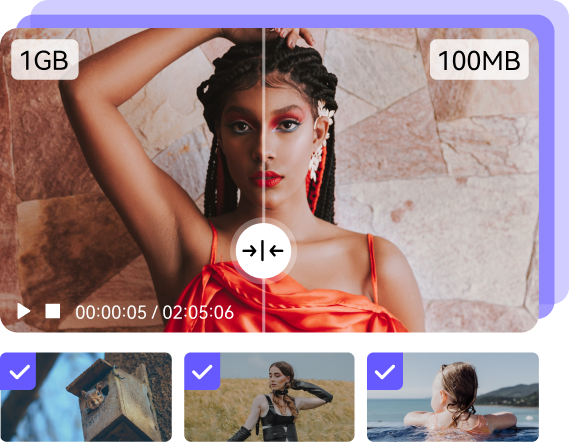 How to compress video without reduction in visual quality?
Pro Tip: Choose More Settings to compress video to a certain size or flexible size without losing quality.
Step 1: Add Video Files

Click Choose Files button to upload video file(s) from your computer or network disk.

Step 2: Reduce Video Size Online

Custom video resolution, size, bitrate and output format as needed, and then click the bottom Compress button to compress video.

Step 3: Save Compressed Video(s)

Hit the Download option to save the final video(s) locally or to your Dropbox or Google Drive.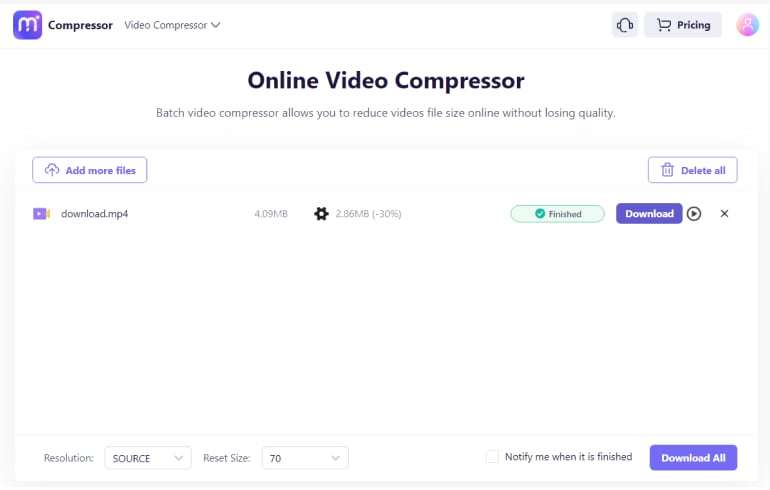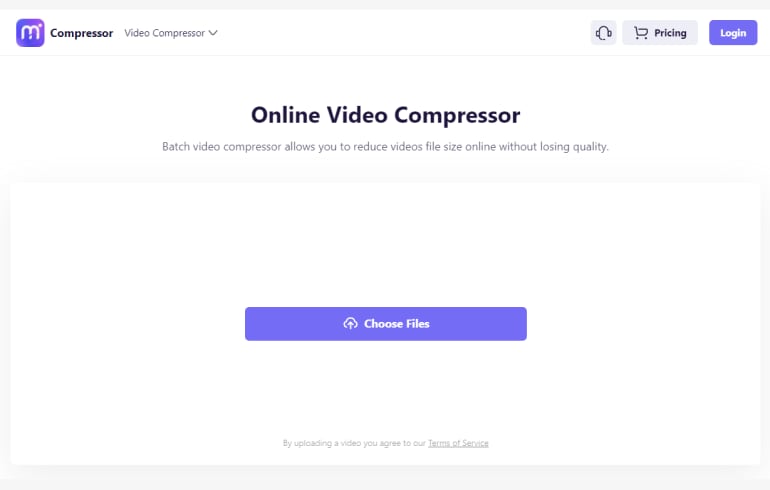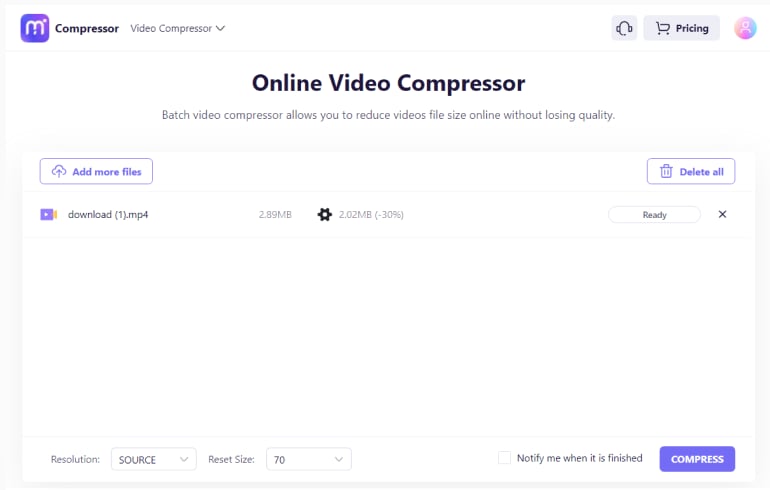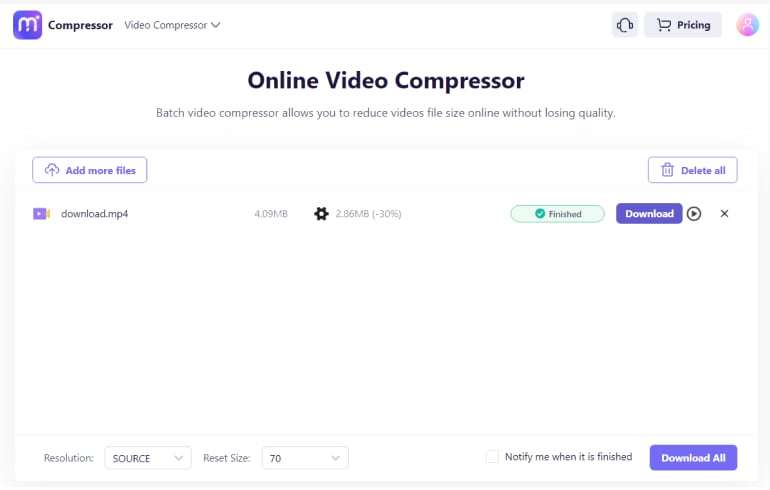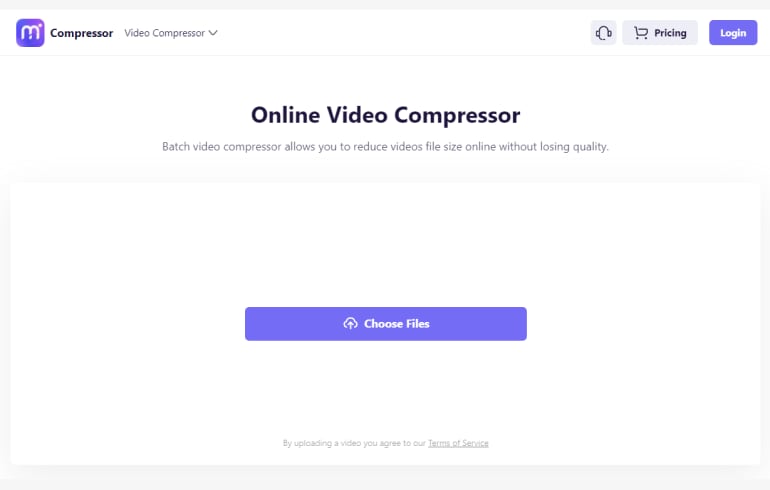 Why choose the best video size reducer - Media.io
UniConverter has been renamed to Media.io, start to compress video size online with the brand new Media.io.
No Watermark & No File Limits
Reduce video size without any watermark added. You can shrink video file size one by one without quantity limit after signing up. Works without any software or app download.
Video Resolution & Format Supported
You can compress video online free in any resolution including 1080p, 720p, 480p, 360p, 240p, and other non-standard options. Video formats like MP4, WEBM, MOV, AVI, MKV, WMV can be compressed online.
Smart Output Settings
Smart video file size shrinker helps free up your limited space with one click, and further customization like video resolution, output size, and format are also available. It's bound to be a reliable way to reduce video size without losing quality!
Easy to Use & Convenient to Share
Compress MP4 or other videos of any format online just via a web browser on Windows/PC, Mac, Linux, iOS, Android directly. Save the compressed video to Dropbox and share on WhatsApp, Instagram, Facebook, etc. or for sending via Email.
Privacy Security & Remove After Upload
Media.io is an absolutely secure HTTPS (SSL) connection website, all the uploaded and compressed files are automatically removed from our servers within 24 hours, we promise! You can upload your files without extra safety worries.
Fast Video Compression Speed
This robust video compressor is designed to quickly yet correctly reconstruct your file's original data. Your demand for efficiency is our pursuit!
Reduce Video File Size for Effortless Sharing
Compressing videos for better experience
Do you often encounter a shortage of storage space due to large-sized videos? Media.io Video Compressor enables efficient storage by reducing video file size, allowing more videos to be stored within limited storage capacities.
Also, it conserves bandwidth during transmission, ensuring smoother streaming experiences and accommodating low-bandwidth networks. Compressed videos ensure compatibility across different devices and platforms, allowing users to access and play videos seamlessly.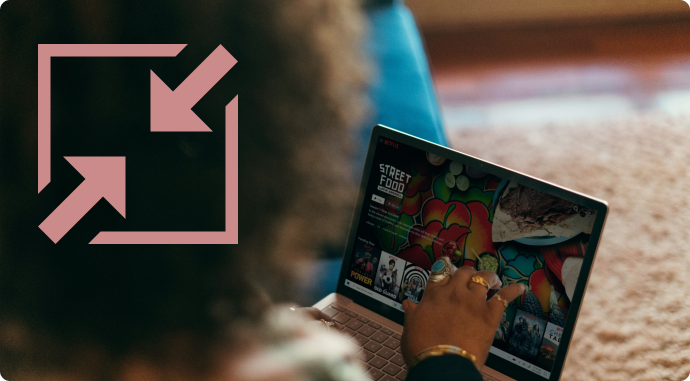 Online Video Compressor on all platforms
Finding it hard to send videos on WhatsApp, Facebook, YouTube, TikTok, or Instagram due to the video size limit? It would help if you had an online video compressor to easily reduce video file size.
Free to compress video online without losing video quality and resolution. The compressed videos ensure compatibility across different devices and platforms. Shrink video file size under the format of MP4, WEBM, MOV, AVI, MKV, WMV and more with fast video compression speed. Try Media.io Video File Compressor to make a video file smaller.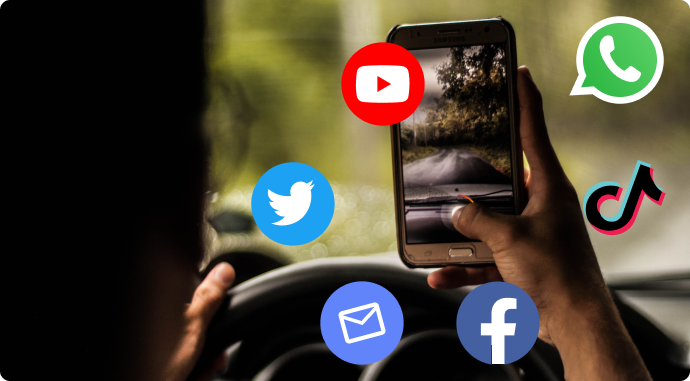 FAQ about Online Video Compressor
1. How to compress large video files to small size online free?

You're enabled to compress large MP4 video files with Media.io (Online UniConverter) with 3 easy steps.

1. Add your MP4 files to the online MP4 compressor by clicking the Choose Files button or uploading from Google Drive/Dropbox.
2. Choose the target preset like resolution and shrink rate from 30% to 100%, or select More Settings to adjust certain video file size or variable bitrate. Next, click Compress button to start batch video compression.
3. Download the compressed MP4 file to local computer or Google Drive/Dropbox. If you want to compress MP4 files without internet speed limitation, you can try Wondershare UniConverter desktop version - a video compressor for pc to compress MP4 offline.

Now start to reduce large HD video size with ease without losing quality.

2. How to reduce video size without losing quality?

Technically speaking, a video file size is largely related to video length, frame rate, bitrate, resolution and encoding settings.

Basically, there are 2 simple ways to make your video smaller with high visual quality.
1. Cut short the large video.
2. Utilize a handy online HD video compressor, with which you can smartly setting compression parameters or apply its best default settings, to get the video minimized with original quality.

Read more: How to make my video shorter with free online video editor?

3. How to reduce video file sizes with an online video compressor?

You only need to find a right online video compressor like Media.io, a trustworthy video MB reducer, via which you can compress a video file online with hassle-free steps.
Please be noted that when choosing the best video compressor, it's more than vital to make sure it's an ad-free site without viruses.

4. How to compress a video on Mac?

As for online file compressor, there is no double that Media.io (Online UniConverter) is one of the best video compressors. It can compress video, audio, image files easily without ads and sign-up. Concerning desktop solution, Wondershare UniConverter is the best video compressor without quality loss.

5. How to compress video for Email on all platforms?

In order to make a video smaller to email, you might be told to Zip it on Windows, shorten the video via iMovie on Mac, or download and install a video converter or compressor app on your Android/iPhone and so forth, to reach your goal. But! Here, good news for you: Media.io Online Video Compressor is the quickest and easiest way to help you eliminate any inconvenience. The free cross-platform video size reducer can make your large video smaller without altering its quality. Moreover, it includes simple and advanced settings for you to adjust specific parameters of files. It's amazing!

Here is a simple guide to compress video file to email on Windows/Mac/Android/iPhone:
Step 1: Visit Media.io Video Compressor and upload your large video.
Step 2: Choose a compressing mode and certain parameter to reduce size in good quality.
Step 3: Download the compressed video locally to send email or save to Dropbox/Google Drive and directly copy the link as attachment in Email.

6. Are there any better methods available for compressing video?

Yes, there are several advanced methods to reduce the size of a video. Here are a few notable techniques:
1. High-Efficiency Video Coding (HEVC): The video compression standard HEVC or H.265 provides considerable enhancements. over its predecessor, H.264. HEVC achieves higher compression ratios while maintaining similar video quality. It achieves this using more advanced encoding techniques, such as larger block sizes, more efficient motion compensation, and enhanced entropy coding.
2. Context-Based Adaptive Binary Arithmetic Coding (CABAC): CABAC is an entropy coding technique commonly used in video compression standards like H.264 and H.265. It analyzes the statistical properties of the video data and assigns shorter codes to frequently occurring patterns and more extended principles to less common ones. By adapting the encoding based on the context, CABAC achieves more efficient compression than more straightforward entropy coding methods.
3. Motion Estimation and Compensation: Video compression often takes advantage of temporal redundancy, which refers to similarities between consecutive frames. Motion estimation and compensation techniques identify the motion vectors between frames and encode the differences instead of storing complete frames. By representing the motion information efficiently, these techniques reduce the required quantity of data to represent the video sequence.
These are just a few examples of advanced video compression methods. The field of video compression continues to evolve, with ongoing research and development efforts focused on improving compression efficiency while maintaining high-quality video playback.

More Tips and Tricks for Media Compressing
I found media.io video compressor extremely helpful! It compressed my large video files quickly and efficiently, without any noticeable loss in quality. The user interface was intuitive, making it easy to navigate and customize compression settings. I highly recommend media.io for anyone looking for a reliable and user-friendly video compressor.
Benjamin Lee

Media.io video compressor saved me a lot of storage space on my device. It was simple to use, and I appreciated the option to customize the compression settings according to my requirements. The compressed videos retained decent quality, and I could easily share them or upload them to various platforms without any issues. I'm glad I discovered media.io for compressing my videos.
Emma Johnson

I had a great experience with media.io video compressor. It was incredibly fast in compressing my videos, and the resulting file sizes were significantly reduced while maintaining good video quality. The website was simple to use, allowing me to upload and compress videos without any hassle. I'm impressed with the overall performance and effectiveness of media.io.
Olivia Martinez

More than a video compressor ...
Compress, convert and edit files online
in minutes.
Make video editing easy like never before!