What is the BMP FILE?
BMP is a raster graphics image format that is majorly used for storing the bitmap digital images. These files are large in size with no loss of quality. To edit and convert the BMP format, a number of professional programs are available. Know in detail about what is BMP image and converting BMP file.
Part 1. BMP Online Free Converter Tool
URL: https://www.media.io/image-converter.html
BMP file is a mainstream image format, so the demand for BMP converter is vast. Online UniConverter is one of the online image converters could satisfy your desire to convert photos to BMP or convert BMP to JPG, TIFF, or PNG format. Below you can try the conversion BMP right away.
Advantages:
It has a modern and straightforward interface.
Free to use all the features, such as image, video, and audio converter.
It supports the most majority browsers.
---
Part 2. Best Software for Edit and Convert BMP
With a myriad of options available for image editing and conversion programs, choosing the right one is important so that you get high-quality files. Wondershare Unconverted Ultimate is a professional tool that supports converting your BMP file format to popular other like JPG, PNG, and TIFF. Multiple files at a time can be added to the interface and processed in a hassle-free manner. Option to edit the file size and quality is also there. A number of other editing features are also supported by the software. The software is available for all latest versions of Windows and Mac system.
Wondershare UniConverter
· Allows converting BMP format to JPG, PNG, GIF, and TIFF.
· Supports batch processing for converting multiple files at a time.
· Allows to edit the BMP picture size and the quality.
· Facilitates cropping the BMP photo to get rid of the unwanted parts.
· Watermark can be added to the BMP pictures. Brightness, contrast, and saturation can also be adjusted as needed.
Pros and Cons of Wondershare UniConverter Ultimate
Pros:
Lossless quality image conversion.
Supports batch processing.
Allows file editing and conversion in a hassle-free manner.
Con:
It is a desktop-based software that needs to be downloaded and installed.
Paid software.
BMP Image Format Convert and Edit Steps in Wondershare UniConverter
Step 1. Free download Wondershare UniConverter, install and run it.
Step 2. Select the Toolbox from the top menu bar, and choose Image Converter section.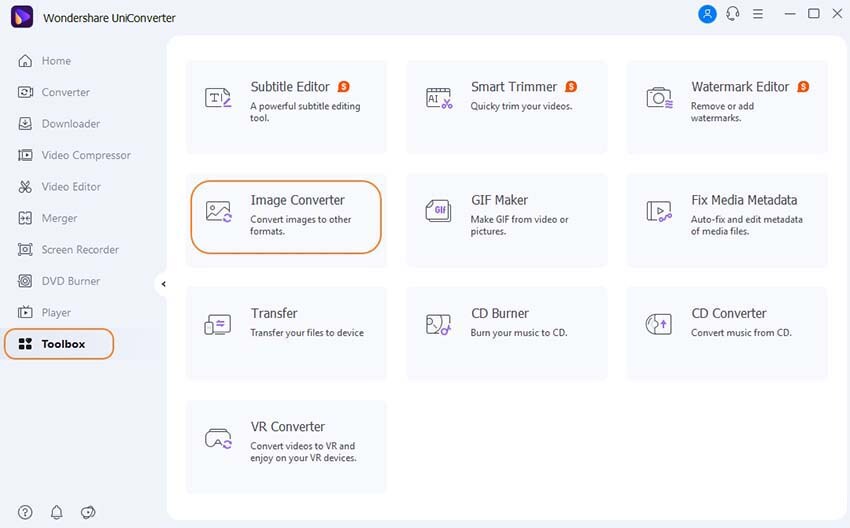 Step 3. Upload BMP image files and select the output format as well, then click the Convert button to finish convert.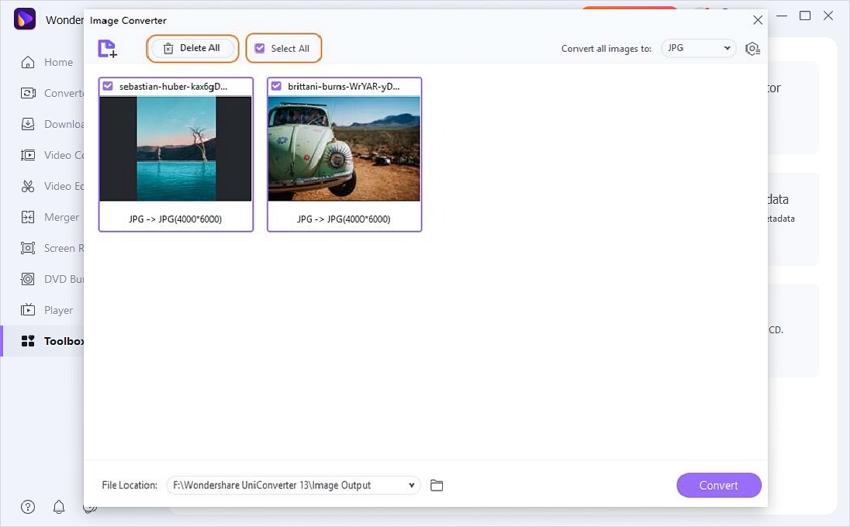 Step 4. Here is an optional step, before you start to convert the images, you could crop, add effect, add watermark, and resize your image as you need.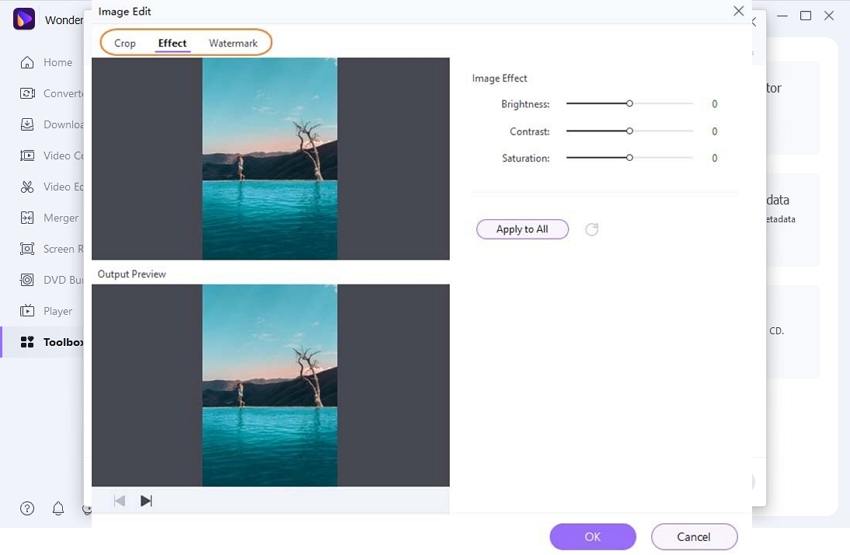 Easy to download and install Wondershare UniConverter, Windows and Mac version as below.
Part 3. More Information about BMP
a. How to Open BMP File Type?
There are a number of programs that can be used for opening the BMP file on Windows and Mac system. On Windows, the default Windows Photos and on Mac, the Apple Preview or Apple Photos can be used for opening the BMP file. Other commonly used programs to access and open BMP file are Adobe Photoshop, ACD Systems Canvas, Microsoft Paint, MacPhun ColorStrokes, and others.
b. What is the BMP Format?
Standing for Bitmap Image File, BMP is a raster graphics format that contains bitmap graphics data. The file format is device independent and there is no requirement for any graphics adapter to display the files. The BMP file format is generally uncompressed and thus large in size. An array of color depths, color profiles, alpha channels, and other optional compression data is supported by the format.
c. What is BMP File Used for?
BMP files are not much in use these days owing to its uncompressed nature and large size. In the earlier versions of the Windows devices, the BMP format was used as standard graphic image format. The format was earlier used for allowing the apps to use the graphics as well as the formatted text on video and printer.
Thus with compressed, smaller size, and an array of other formats available, BMP is no longer used.
d. When to Use BMP?
As we have discussed above, BMP is no longer in use. Still, if required, a BMP file can be used for creating Windows wallpaper. The large size of the format makes it unsuitable for internet and other use in today's time.