WebP is a modern image format that provides superior lossless and lossy compression web developers can create smaller, richer images that make the web Faster-Using WebP. Lossless WebP supports transparency (also known as alpha channel) at a cost of just 22% additional bytes. For cases when lossy RGB compression is acceptable, lossy WebP also supports transparency, typically providing 3× smaller file sizes compared to PNG.
Part 1. Best 5 Converters for WebP to JPG Online
Pros:
Upload files and conversion speed fast.
It supports JPG/PNG/BMP/TIFF output format.
Convert + Compress feature.
Con:
Free register for unlimited conversion.
5MB upload limitation before you sign in.
---
URL: https://ezgif.com/webp-to-jpg
Ezgif is simple online GIF maker and toolset for basic animated GIF editing. Here you can create, resize, crop, reverse, optimize, and apply some effects to GIFs.
Pros:
Con:
Limited color depth
Longer to load on web pages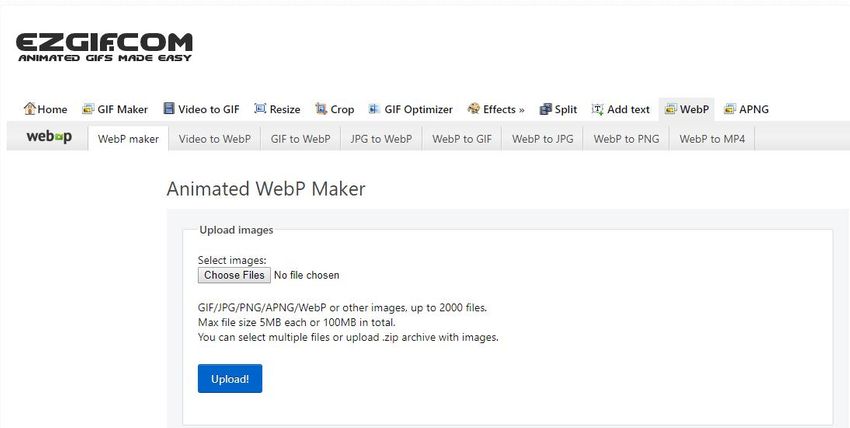 URL: https://cloudconvert.com/webp-to-jpg
It can convert more than 200 different audios, videos, documents, images, etc. Cloudconvert is technically secured by the SSL encryption. It has also an App for IOS app on the I phone/ I pad, where you can save the converted files and customize them.
Pros:
218 formats supported
Advanced features
File conversion in the cloud
Powerful API
Con:
Limited free Version
Difficult to use it for the first time

URL: https://www.iloveimg.com/convert-to-jpg/webp-to-jpg
It is one of the most popular converters used for converting images, documents, videos, etc. It converts or modifies in seconds for free. It also converts PNG to jpg and vice versa.
Pros:
Compress image
Resize image
Crop image
Con:
Limited file size on the free version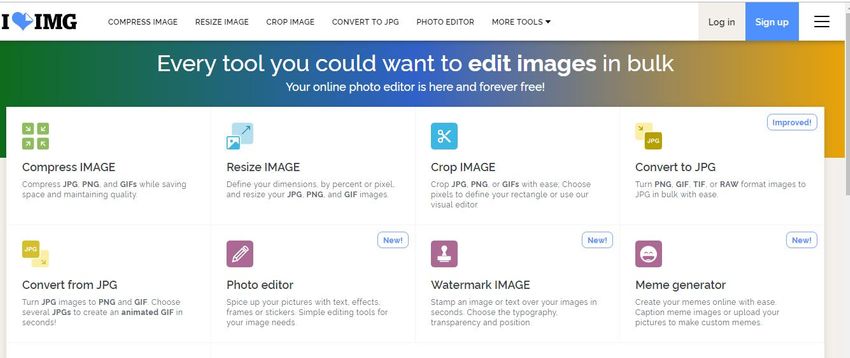 URL: https://image.online-convert.com/convert/webp-to-jpg
Online image converts to a variety of target formats. You can also apply effects or enhance images during conversion. Just select your format you want to convert to, upload your image file and optionally select filters. Your image will be converted instantly and you can download the result after only a couple of seconds.
Pros:
Free Service to use
Easy to use
Con:
Long waiting time
Low File size limit
Let's you convert your images to the WebP format from Google. Upload your file/provide a link to an image and click Convert file. The file will be converted.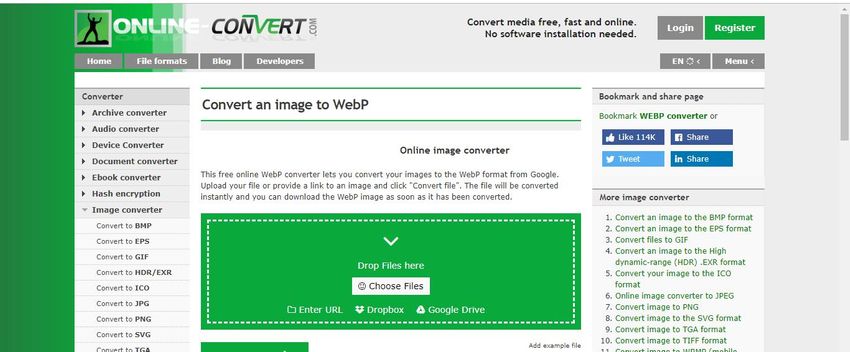 URL: https://convertio.co/webp-jpg/
It can convert more than 285 different files, documents, images, spreadsheets, presentations, audios, etc. This software allows you to upload files and convert them. It can be downloaded on your Google account and Drop box.
Pros:
Instant Email
Video Downloader
Con: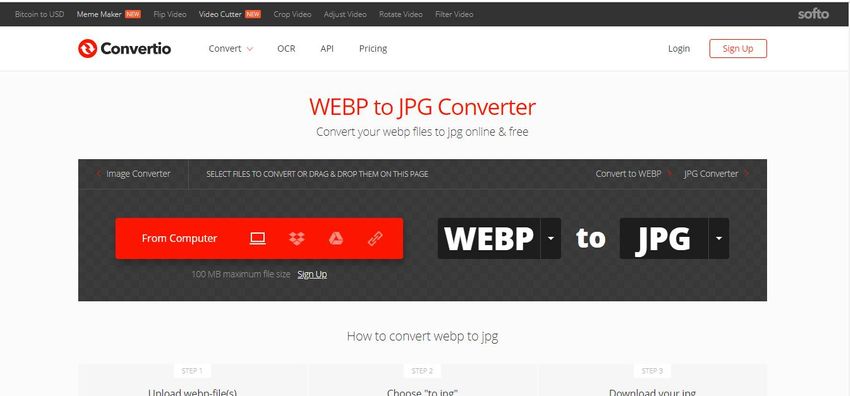 Part 2. The Best WebP Converter Software: How to Convert WebP to JPG in UniConverter
UniConverter works as an image converter which can change images format in batch and without losing quality. For example, you can convert PNG to JPG or any other formats and vice versa. You're also allowed to resize images by changing the image width and height or edit images with cropping, rotating, adding effects and watermarks.
Supported Input Formats: APNG, BMP, DPX, GIF, JPEG (.jpeg, .jpg, .jp2, .jls), Netpbm formats (.pam, .pbm, .pgm, .ppm), PCX, PNG, PTX, RAW formats (3FR, ARW, BAY, BMQ, CINE, CR2, CRW, CS1, DC2, DCR, DNG, ERF, FFF, HDR, IA, K25, KC2, KDC, MDC, MEF, MOS, MRW, NEF, NRW, ORF, PEF, PXN, QTK, RAF, RAW, RDC, RW2, RWL, SR2, SRF, SRW, STI, X3F), SGI, TGA, TIFF, WebP, XBM, XWD.
Supported Output Formats: JPG, PNG, BMP, TIFF.
Wondershare UniConverter
· Support batch processing of pictures conversion.
· Convert image to over 1000 formats, including JPG, PNG, BMP, TIFF, GIF, and others.
· Convert images to JPG or specific devices formats without any trouble.
· Transfer converted files from PC/Mac to external devices easily via a USB cable.
· Versatile toolbox combines Image Converter, GIF maker, video compressor and screen recorder, and others.
Step by Step Tutorial on How to Convert WebP to JPG in Uniconverter
Step 1. Launch Wondershare Image Converter
Download, install and launch UniConverter. Go to the Toolbox section and choose the Image Converter option to start.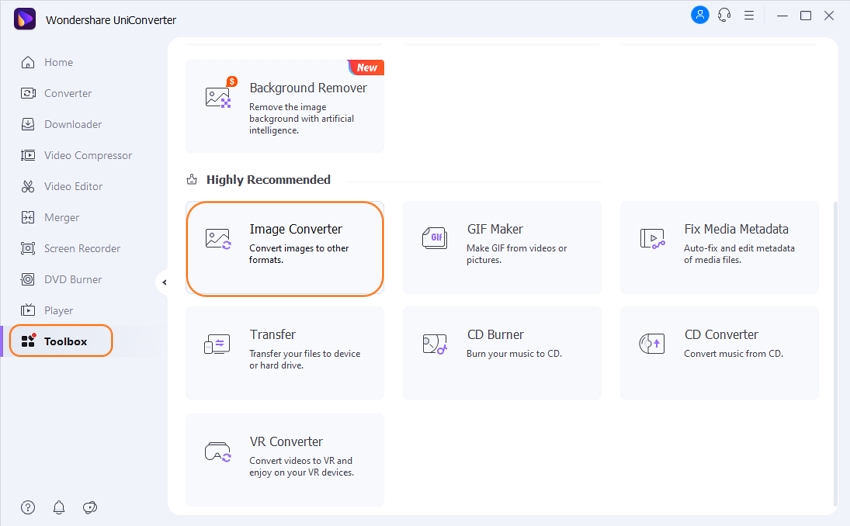 Step 2. Add WebP Images File to Convert
Once you will get a new window named Image Converter. Click the + icon or the + Add Images button on the left-top corner to select the image files you want to convert. The drag-and-drop method also works here, and you can add multiple pictures at a time.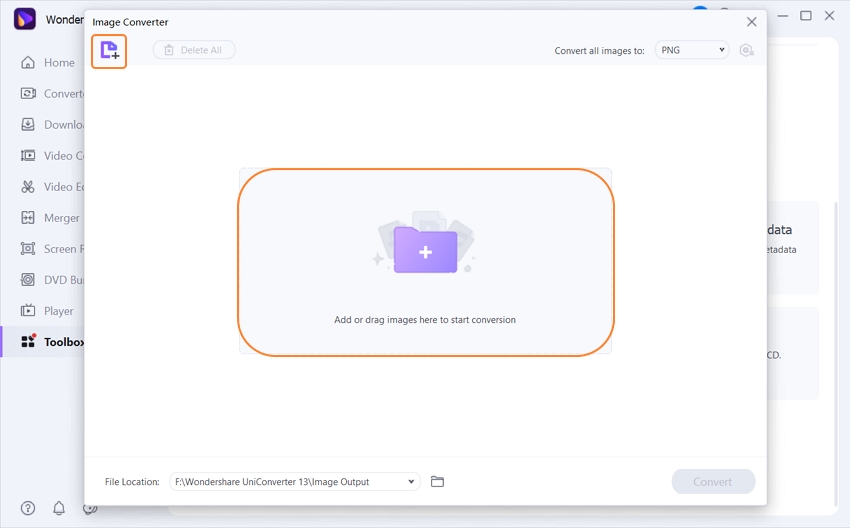 Once the images added successfully, you can see the thumbnails of your files which including image name, image size, and image format. More options can be done here:
1. + Add Images: Add more images you want to convert.
2. Delete all: Delete all images you've added to the converter.
3. Select all: Choose all added files for conversion.
4. Right-click > Preview: Preview the image.
5. Right-click > Open File Location: Open the file location on your computer.
6. Right-click > Delete: Delete the picture you choose.
7. Right-click > Clear Converted Task: Delete the picture which has been converted successfully.
8. Right-click > Attribute: View the File name, File Format, File Size, and Resolution.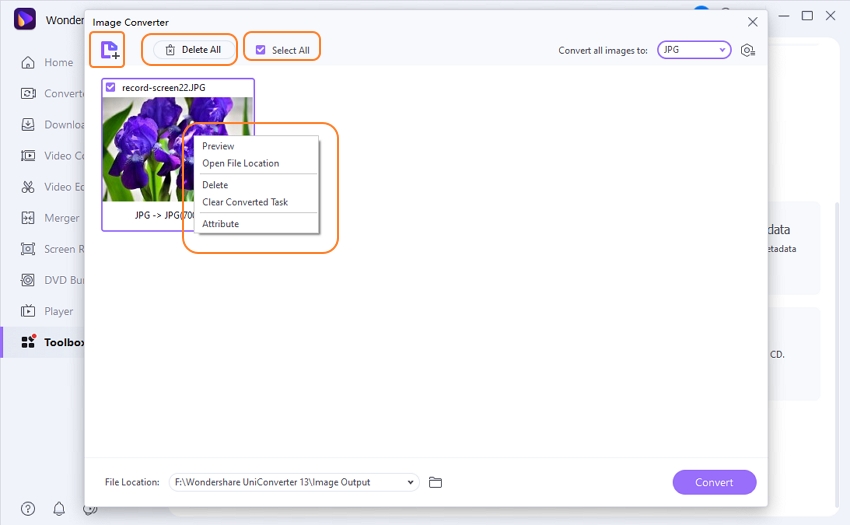 Step 3. Choose JPG Image Target Format for Image Conversion
Click on the Convert all images to: option to open the drop-down format list. From where you can choose JPG/PNG/BMP/TIFF as your needs.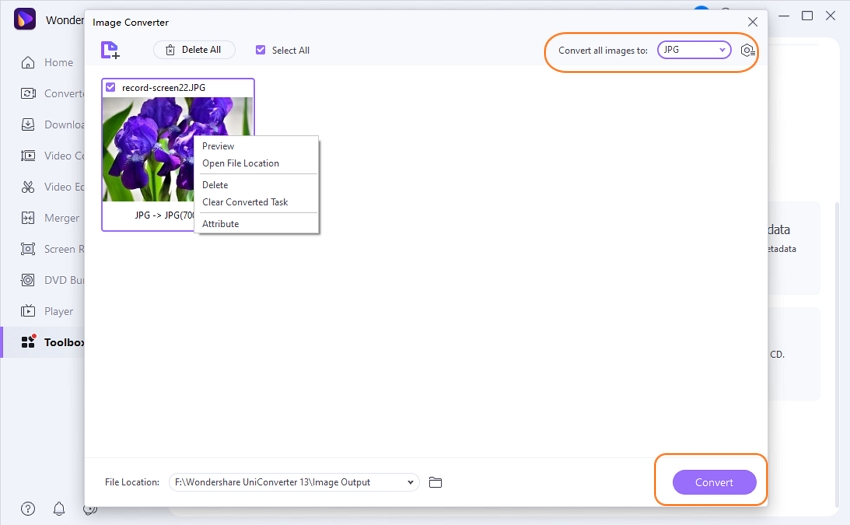 Step 4. Resize and Edit WebP Images Before Conversion (Optional)
You can change the image size and edit image if needed. Move your mouse to the picture you want to make changes, and you can see the buttons for editing and resizing. You can skip this step if you don't want to make any changes.
Crop Image:

Click the Crop button on the thumbnail, you'll get the window to crop and rotate the image. Click the OK button to save changes.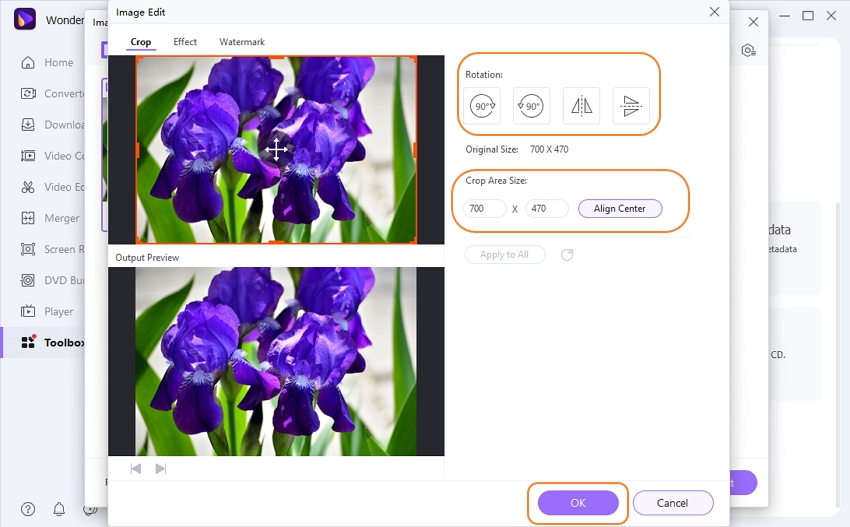 Apply Effects:

Click the Effect button on the picture, a new window will open to adjusting picture brightness, contrast, and saturation. Hit the OK button to save your changes.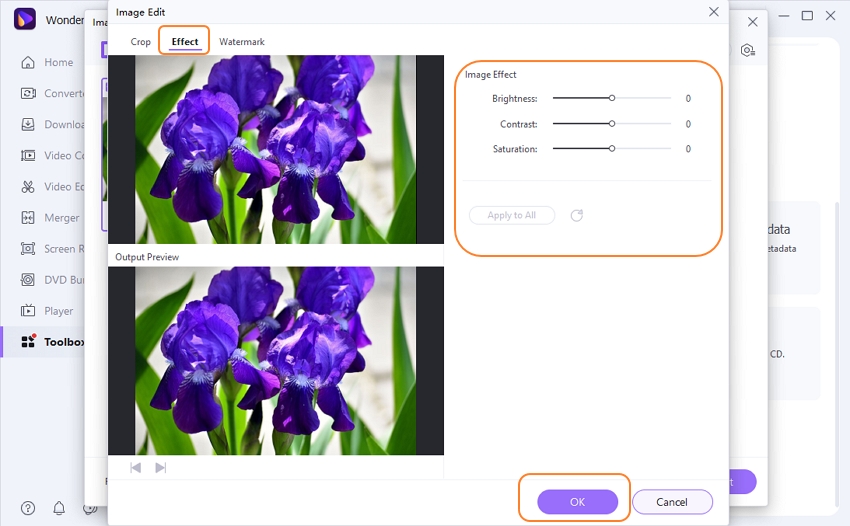 Add Watermarks:

Click the Effect button on the image to open the edit window. Click on the Watermark option and you can add image watermarks or text watermarks.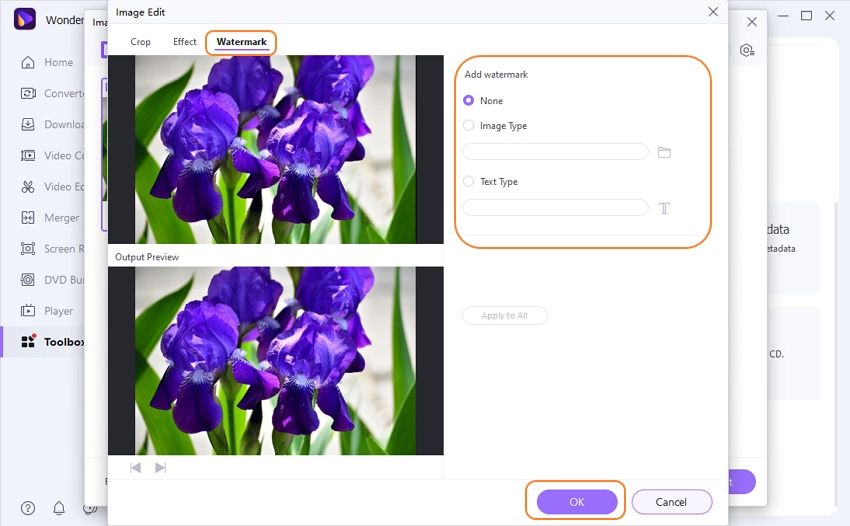 Resize Image:

Click the Setting button in the right-top corner of the interface and the Quality Setting window will open up. You can choose to Keep original size, or make the customization on the image width or height. Move the bar to change the image quality. And click the OK button to save your changes.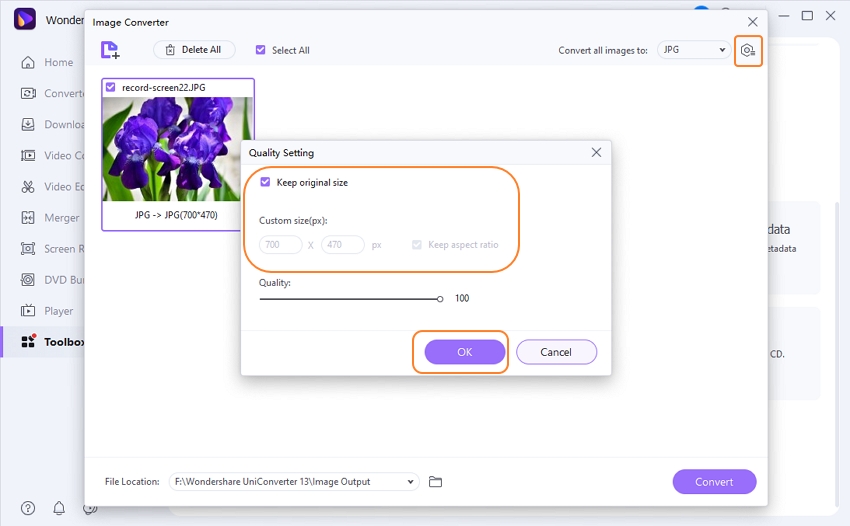 Step 5. Start Converting WebP to JPG Image Format
Before the conversion process, you can change the output file location by clicking the … button at the File Location tab. Finally, hit on the Convert button to convert PNG to JPG or any other format. The converted pictures can be found by opening the folder icon.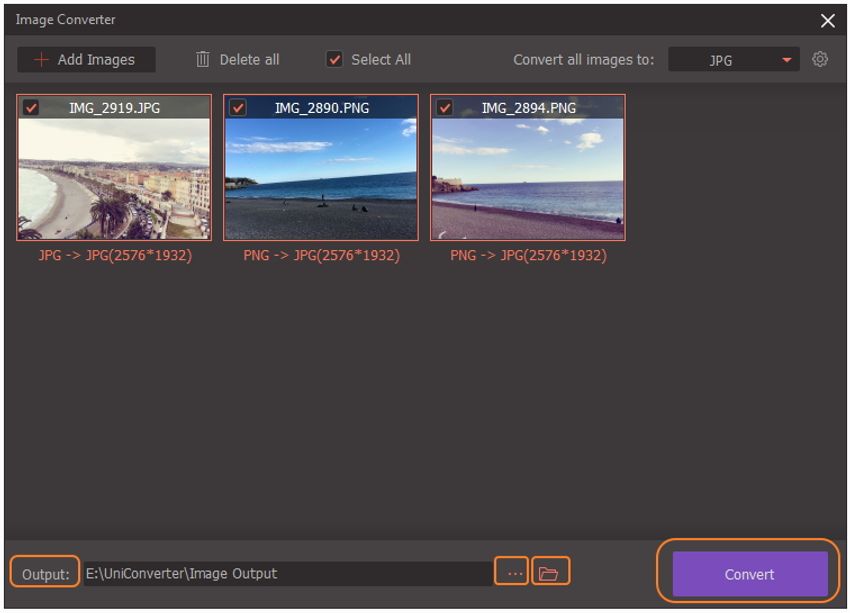 Want to know more about UniConverter, check the below.
Part 3. Software Converter vs. Online Converter
First of all, it's important to note that both types of converters should have the ability to convert documents, videos or images, as long as you pick the right one to use. The differences you will find related to the specific features of the tool you select, and those features aren't limited to one type of converter or the other.
Desktop Converter
One of the biggest benefits to using an online converter is that after you get it set up, it's on your computer and you don't need to have internet access in order to use it. If you are mobile and might need your documents in places that aren't Wi-Fi connected, this might be your best option.
Some people feel like the desktop versions are more secure because you don't have to give up control of the document you want converting in order to use a desktop Converter, you must download that software onto your computer. This is a much bigger potential risk.
Not only are you downloading software onto your computer that you don't know if it can be trusted, but you also run the risk that the software will have a bad interaction with other programs on your computer or device.
Online Converter
It's usually easier to use an online converter. You don' have the security issues to deal with that we discussed above, and you also don't have to go through the trouble of downloading and setting up the software.
However, it is important to remember that you should only use the online Converter when you know that you will have internet access when you need to convert your documents, videos or images.
Part 4. Extension Knowledge
a. WebP vs. JPEG
WebP vs. JPEG is a no-brainer.This is a new format that supports lossless and loss compression quality for images on the Internet. The main advantage is that its file size is small compared to other image formats, but similar in image quality. The only downside to WebP in this battle is that not all browsers can load.
b. Why Use WebP Today?
It will make your site load faster and look better. So, if you aren't already using WebP, try it. We're willing to bet that you will see a performance jump. .WebP lossy images are 25-34% smaller than JPEG
Summary
This article is about the WebP, whereas how it works and what it does to the images. UniConverter is used as an image converter which allows you to change images format without losing its quality. You can also convert PNG to JPG or any other formats, vice versa. In this article, steps are given for the online conversion of the WebP to PNG format. WebP is much better because it loads it much faster without losing its quality.