Do you have a lot of files with .ps extension in your phone or computer? It might be irritating at times when you are trying to open and see all those image files but couldn't see because it doesn't support any of your image viewer software or application. In that case, the best solution is to convert those PS files into PNG format. Since it is easy to access files with PNG format in any device so you can convert all your PS files online for free with any good PS to PNG converter.
There are a lot of these converters available on the internet that you can browse from any of your devices and easily convert PS to PNG format. Check out the best converters that provide free services and amazing features online.
Part 1. Top 5 PS to PNG Online Converter
URL: https://www.zamzar.com/convert/png-to-ps/
This is one of the most popular websites on the internet to convert all kinds of the file in their feasible formats. So, you can also use it as free online PS to PNG converter to convert all your PS files into PNG format which you can access in all kind of devices easily.
This website also allows you to convert your PS files into other image formats in which you want to convert them and all this can be done in very simple and quick steps. This website processes a lossless conversion whose quality won't be hampered between the process of uploading, conversion and downloading.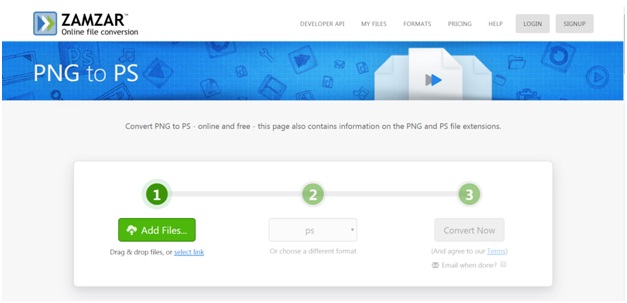 URL: https://cloudconvert.com/ps-to-png
Among various kinds of online tools to convert PS to PNG format, you can visit the website of Cloud Convert if you want to covert the files from any of your cloud stare platform. This feature is what makes them different from other converting websites because you can not only upload the files from your computer but also directly upload your PS files from Dropbox, Google Drive, One Drive or any other cloud storage services and then easily convert them. You can also make conversions between 218 other formats of images, documents, videos, etc.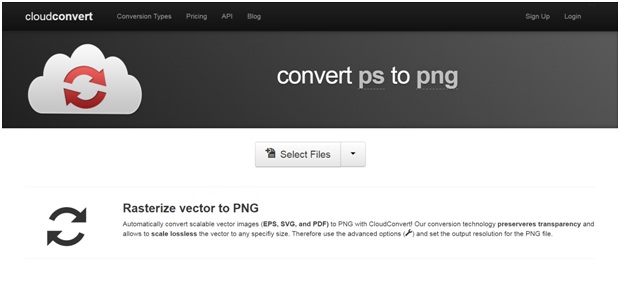 URL: http://psviewer.org/convertpstopng.aspx
If you are looking for the best as well as free online PS to PNG converter, then you can check the website of PostScript Viewer. With this website, you can easily convert the PS files into PNG files on your computer, tablet or even on your laptop. You just have to browse their website, upload your PS files and then convert it into PNG format. You can download and view of the file in PNG format in any of your devices.
The PostScript Viewer offers you to upload the PS files of up to 100 MB which you can not only convert into PNG files but also in other useful image formats like JPG, GIF, BMP and, TIFF.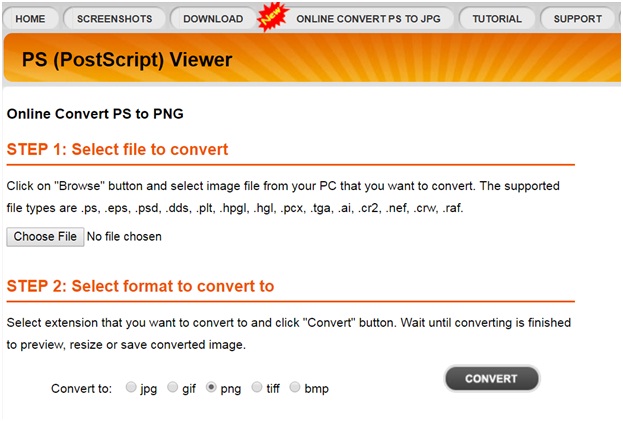 URL: https://www.docspal.com/convert/ps-to-png
If you are looking for a website where you can convert various files at once then you should visit the website of DocsPal. Here you can upload up to 5 files to convert PS to PNG. Thus, it could be a very beneficial option for people who want to convert various files quickly. Also, you can upload up to 200MB of files and that is enough to convert large or high-quality image files.
Apart from converting, you can also use this website as a file viewer. Since not every operating system supports PS files so you won't be able to open them easily. In that case, you can use the Viewer feature of the website where you can upload a PS file and view it online.
URL: https://www.aconvert.com/image/ps-to-png/
This website also allows asynchronous conversions of image files. You can convert PS to PNG easily and you can upload various files at once up to the size of 200MB. This website is popular for its fast processing and you can upload, convert and download images within seconds. This will make things easier for you if you have lots of PS files to convert and it also gives the option of selecting the image size before the conversion. You can also use it as it is a free online converting service which has lots of editing features given on the website like crop, compress, rotate, effects, merge, etc. So, it will be like your complete one-stop solution to convert and edit images for free.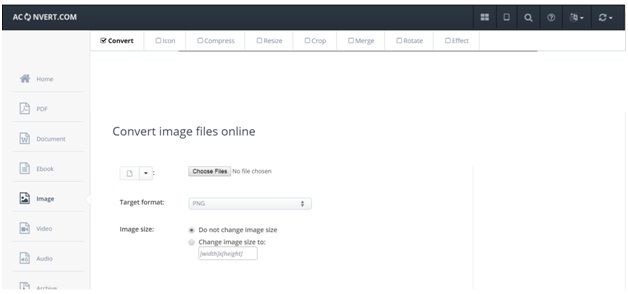 Comparison Table
| Online Converters | Zamzar | Convert Cloud | Post Script Viewer | DocsPal | AConvert |
| --- | --- | --- | --- | --- | --- |
| Cloud Files Conversion | YES | YES | No | YES | YES |
| Free and Unlimited | YES | YES | YES | YES | YES |
| Online View | NO | NO | YES | YES | YES |
| Editor | NO | NO | NO | NO | YES |
Part 2. More Information about PS
PostScript or PS, represented by the extension .ps, is a programming language that is used to describe the layout and appearance of a printed page. It was first discovered and developed by Adobe in the mid-1980s as before this was done manually and it took a lot of time and effort. But after that, this language became an industry standard which was used for imaging and printing.
A PostScript file i.e. with a suffix .ps describes the graphic and text elements on any page to a colored or black & white printing or imaging output like printer, recorder, screen display, etc. With its different subformats, PS maintains the quality standard of the files. Apart from converting the PS file into a PNG format, users can also convert it into other formats like PDF, JPEG, TIFF, BMP, etc.
| Format | PS | PNG |
| --- | --- | --- |
| File extension | .ps | .png |
| File category | Misc file/Image File | Image File |
| Useful Link | https://en.wikipedia.org/wiki/PostScript | https://en.wikipedia.org/wiki/Portable_Network_Graphics |
| Developer | Adobe Systems | PNG Development Group |
| Associated Programs | Adobe Acrobat, Libre Office Draw | MS Windows Photo Gallery Viewer, Apple Preview, Coral Paint Shop Pro, Safari, GNU Image Manipulation Program |
Summary
As you can see how potential a postscript file is and it is one of the standard formats preferred by designers and developers, but when it comes to regular use then it becomes very difficult for common people to access these files. Thus, PS to PNG converter is a very beneficial service by online platforms which you get for free. You can also use various other advantageous features when you convert PS to PNG format as they are given in the websites mentioned above.
Looking for batch images converter? Wondershare UniConverter could convert images to any format that you want.
Wondershare UniConverter
· Support batch processing of image conversion.
· Convert photo to over 1000 formats, including JPG, PNG, BMP, TIFF, GIF, and others.
· Convert to JPG or specific devices formats without any trouble.
· Versatile toolbox combines Image Converter, GIF maker, video compressor and screen recorder, and others.