GIF is an acronym for Graphics Interchange Format. It is an image format that was developed more than three decades ago. GIF has taken the internet by storm as more people continue to make it part of their daily communication. The GIF format is usually used to create brief animation mainly for entertainment or communication purpose. To view the animation properly, you will need to use a GIF viewer. Many open-source GIF apps can be used for this purpose.
Part 1. Best GIF Viewer to Play GIF Animation on Mac
No application gives you the freedom to watch gif animations than QuickTime Player. Most video players can open a GIF animation, but it will play unsynchronized with audio. That can never happen with QuickTime player. It is not just your ordinary video player, besides playing GIF, the application allows you to edit and convert video. But that is not all; the app also works seamlessly with other video formats such as AVI, MKV, and DivX, among others.
How to Use QuickTime Player on your Mac Computer?
Step 1: The first step is to launch the application. Click on the app icon to start it.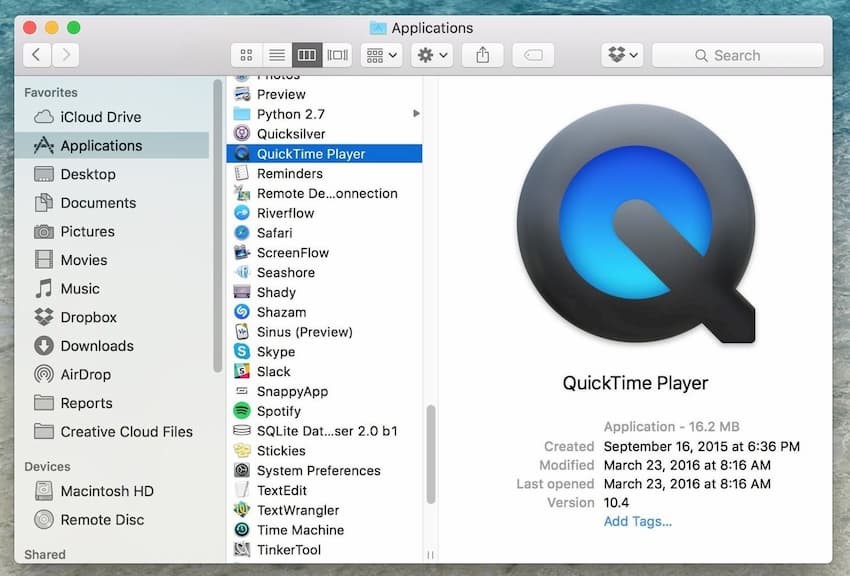 Step 2: After launching the application, the next step is to access the GIF image that you want to open. Tap on File then select Open File. You can now search the file that you want, and once you have selected click on Open.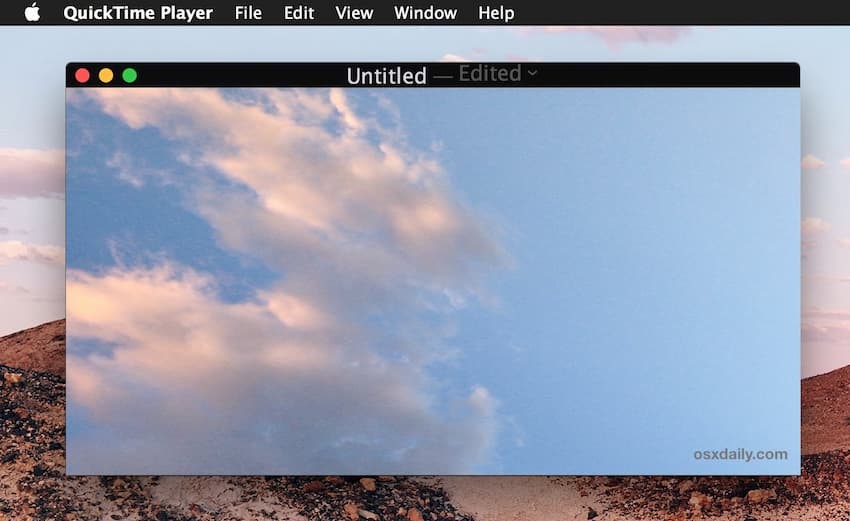 Step 3: Once you have clicked Open, the file will appear at the center of the player. Press Play and enjoy your file.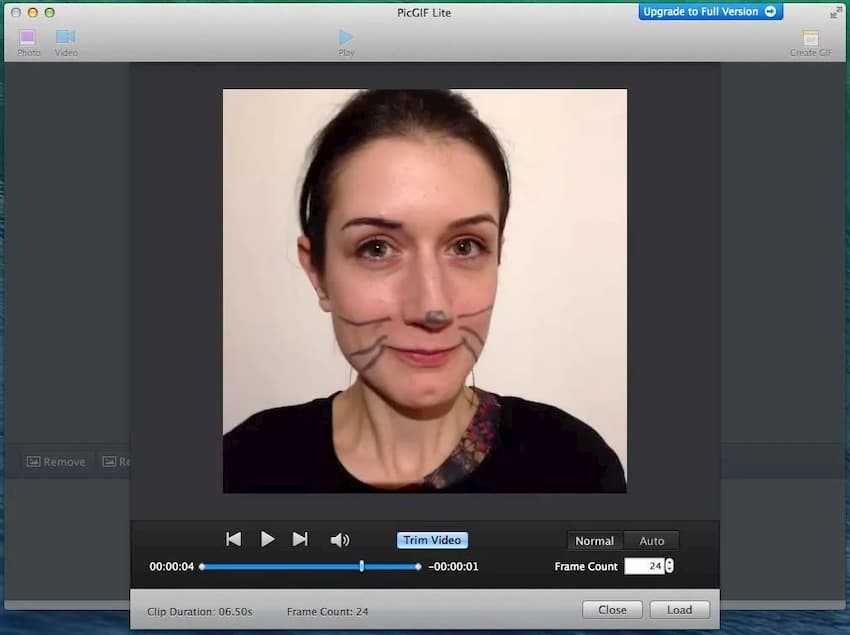 Part 2. Free GIF Viewer to Open a GIF on Windows
If you are not a mac person then don't worry, there are several open source GIF apps for windows too. Under this part, we are going to look at the best five free GIF viewer in the industry.
URL: http://www.nyam.pe.kr/dev/imagine/
If you are looking for an app that lets you view your GIF images on the go, then this is your app. The app allows you to view GIF images on your window PC but has other functions too. For instance, it has the tiled view that enables users to confirm textures for consistent tilling. This is very useful, especially for game developers.
Main Features:
You can view and save GIF animation files at an impeccable speed.
Supports several images and animation formats including, EMF, PNG, WNF, JPG, FLI, GIF, ANI, BMP, LBM, CUR, TGA, and many more.
Enables users to extract a single frame or multiple frames from the animation files.
Supports raw image that is obtained from a digital camera. The file format supported included: RAW, CR2, ERF,3FR, SRW, RAF, KDC, NEF among others.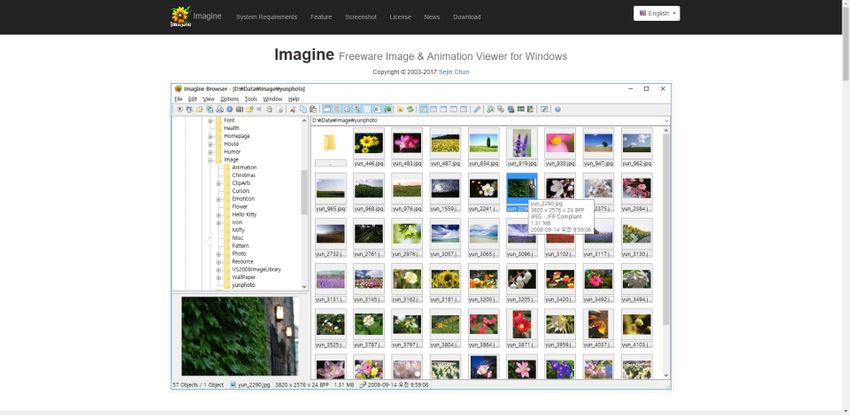 URL: https://www.irfanview.com/
This app was designed with simplicity in mind. Its simplicity, however, is accompanied by compelling features. It is one of the best open source GIF viewers that is readily available. The program comes in two versions, the 32-bit version, and the 64-bit version.
Main Features:
Optimize images to suit your needs.
View and convert images and GIF animation on the go.
Scan and print your images with ease.
Batch processing.
Enables you to create slideshows.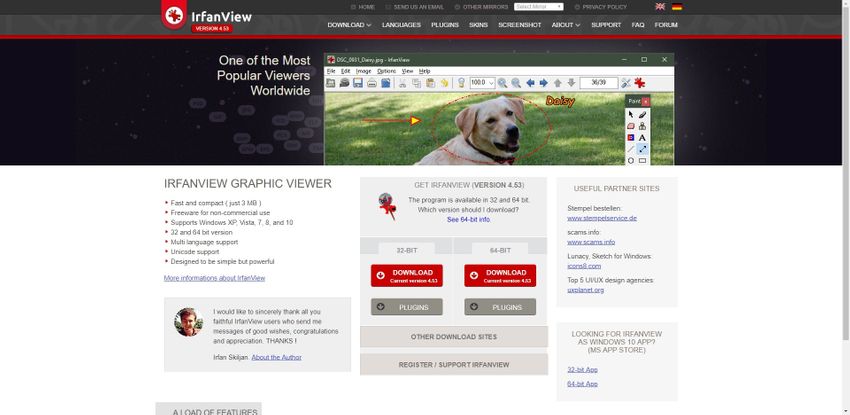 URL: https://www.faststone.org/
If you are looking for an innovative open source GIF viewer in the market, then this is your ultimate product. The application is very compact and robust; hence will not consume much of your space. It has an incredible user interface that is very intuitive and helps you with the image tasks you want to perform. What makes this software unique besides its array of features, is that it lets you view password-protected images.
Main Features:
Compatible with the main graphic formats such as JPEG 200O, TGA, GIF, BMP, JPEG, ICO, PCX, and others. It also supports raw images extracted directly from the camera.
Is comes with a potent screen capture tool that allows you to take and annotate screenshots.
Direct and instant image viewer to password-protected images in files such as 7-zip, RAR, and ZIP.
Has a batch mode that allows for conversion and renaming of multiple files at once.
Supports red-eye removal as well as color adjustment, cropping, and resizing of images.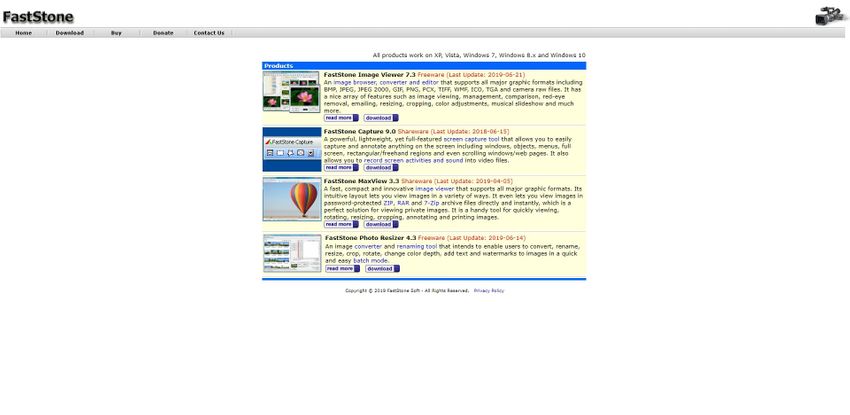 URL: https://www.fmjsoft.com/imageeye.html#main
This is not your ordinary image viewer; it is more than that. The software was designed for speed and practicability when it comes to handling GIF images. Even though several impeccable features allow you to play with your picture, the toolbar will not show on the screen unless you need it. The software enables you to view your image without the frustrating clutter of menus and unnecessary toolbars. This makes the software simple and easy to use, especially to people who are not tech-savvy.
Main Features:
Has an extraordinary image indexing feature that contains a robust thumbnail-icon creation.
Enable you to edit images by allowing functions such as rotate, zoom, mirror, and pan. You can also modify image brightness and contrast. Change hue, brightness gamma, image sharpness, and even saturation.
Supports multiple languages.
Supports all the major image formats.
High-quality dithering.
Supports deep color and HDR functions.
URL: https://www.softpedia.com/get/Multimedia/Graphic/Graphic-Viewers/GIF-Viewer.shtml
This outstanding software was previously known as GIF Viewer. The application has an array of useful features that enable you to open GIF bitmap images on the go. It works on all versions of Windows from Windows XP, Vista to the latest Windows 10. The good thing is that there is a portable version of InViewer that lets you view your GIF files anywhere and at any time. The software is mobile because it doesn't require any installation on any device.
Main Features:
Compact with a file size of 237 KB. Hence, there is no need for you to worry about your storage space, unlike other bulky software.
Supports the creation of thumbnails without losing the quality of your image.
Compatible with multiple media formats for images, videos, and audio.
Convert media formats to other file extensions such as PNG, ICO, TIF, GIF, and JPG easily and quickly.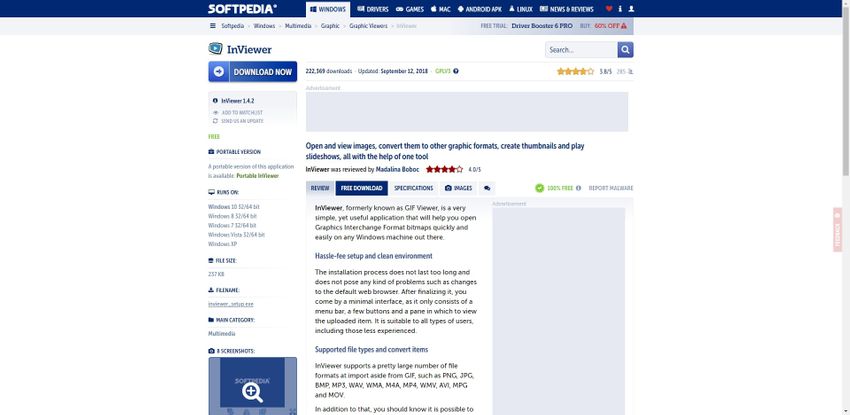 In conclusion, there are many open source GIF viewers out there. We have only selected the top five to narrow down your options and make your decision much more straightforward. The choice of which software to use will depend on many factors, such as your operating system and others. Do not limit yourself to one software. Try as many software as you can then choose the best according to your personal experience.
Wondershare UniConverter could view your animated GIF and convert your GIF to JPG, PNG, BMP, and TIFF image format. It also could convert images and videos to GIF.
Wondershare UniConverter
· Support GIF conversion.
· Convert image to JPG, PNG, BMP, TIFF, GIF, and others.
· Convert GIF to JPG or specific devices formats without any trouble.
· Transfer converted files from PC/Mac to external devices easily via a USB cable.
· Versatile toolbox combines Image Converter, GIF maker, video compressor and screen recorder, and others.