At present, you can use various file extensions to place your images and files in an efficient manner. ODT extension is one of them; this file extension is designed by OpenOffice. Since these file extensions require various sophisticated software to open thus you can also convert ODT to JPG with online software.
Part 1. 3 Ways to Convert ODT to JPG
URL: https://convertio.co/ODT-jpg/
With convertio.co you can easily convert ODT to JPG in a short time span; moreover, the site also has an excellent user interface. Thus, it is very easy to operate this online convertor. The site also uses strict confidentiality norms; thus you don't have to fret about a thing.
Key Features:
At this online converting software, you can upload a file up to 100 MB at a single time.
You can upload a file from various platforms viz. personal computer, Drop Box, URL and Google Drive.
The site also offers drag and drop facility which gives you excess speed to complete your project.
This site will provide you high quality converted file which you can store efficiently on your computer.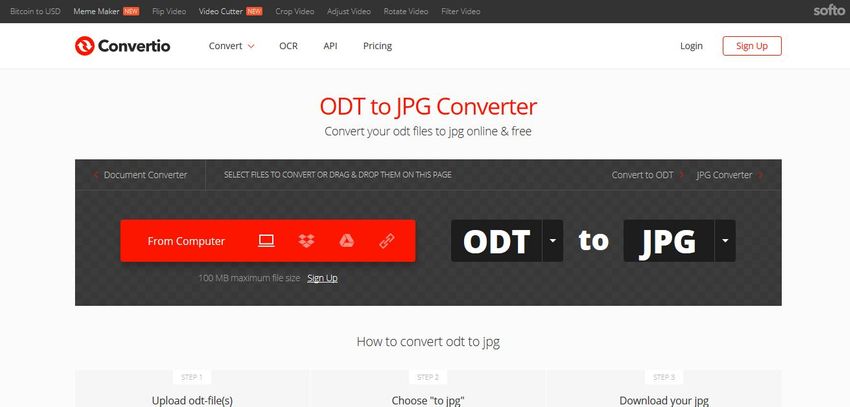 URL: https://ODT-to-jpg.file-converter-online.com
Converter-online is a site where you can convert ODT to JPG after uploading it straight from your personal computer. Since this facility is used over the internet thus you don't have to install the software on your computer system. This site is very easy to navigate and you can easily upload a file on internet.
Key Features:
You will be able to use this online software on your windows and Mac without any glitch.
Converted images do not have any watermarks, thus you don't have to fret about a thing.
To convert images, you do not have to do any registration on the site and this saves your time.
This online image converter will provide you consistent and excellent image quality.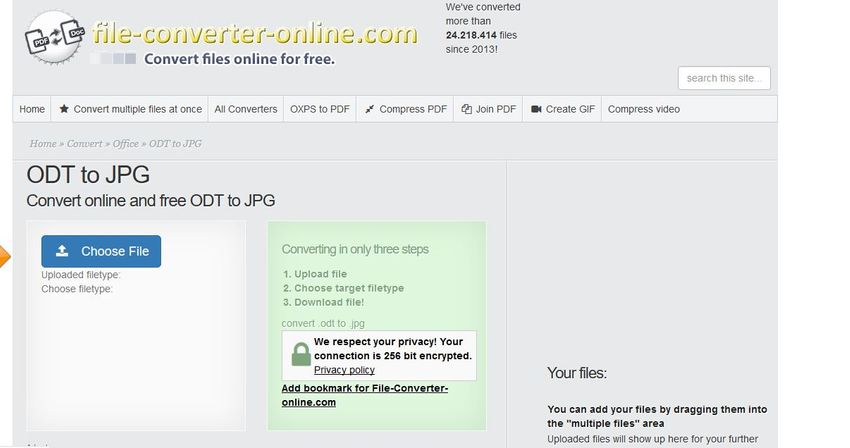 URL: https://www.coolutils.com/online/ODT-to-JPG
Through coolutils.com you will get a chance to convert ODT to JPG in just three steps. On this site, you can also get customized services which will make you get excellent results. This site follows strict confidentiality norms and you will also be able to download the image file in a safe mode into your computer system.
Key Features:
You will be able to upload files from a personal computer, DropBox and Google Drive.
This web portal basically contains excellent Graphical User Interface thus you will be able to navigate it with great ease.
You can effectively sort out your queries through voice and email as well as via web form.
You will be offered excellent quality images through this online file converting software.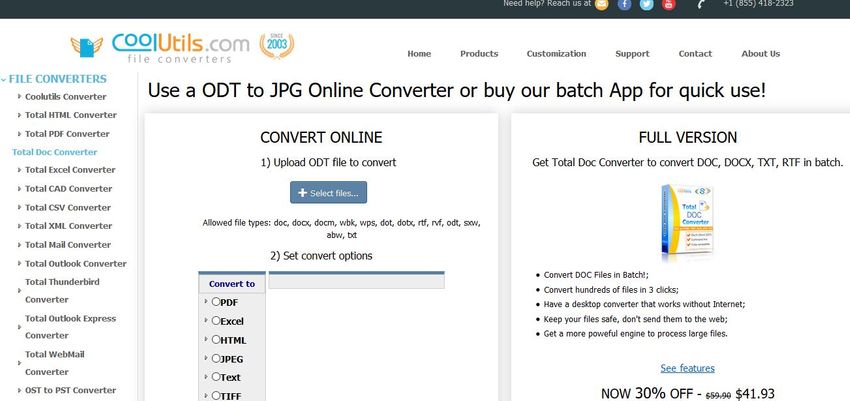 Part 2. More Information on the ODT Format
a. What is an ODT File?
An ODT extension file is similar to DOCX which is used in Microsoft office. In an ODT file, you will be able to store various files like images, styles, text, and objects and these extension files have compatibility with various programs. You will require XML program to format these files, moreover, you can also change the format of dialogue windows which will appear in the program.
b. Steps to Open ODT File in Word
Step 1: In the initial step you have to open Microsoft Word and click on the file tab and then click Open button.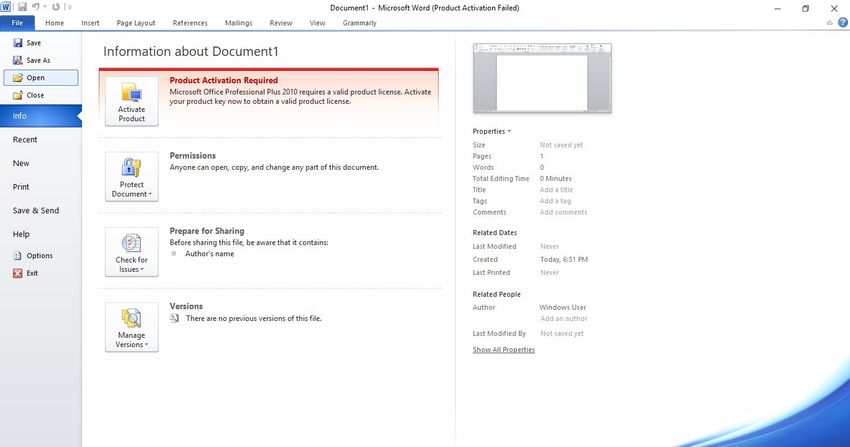 Step 2: In the new popup box simply browse the ODT file from the computer hard drive and then click on Open button.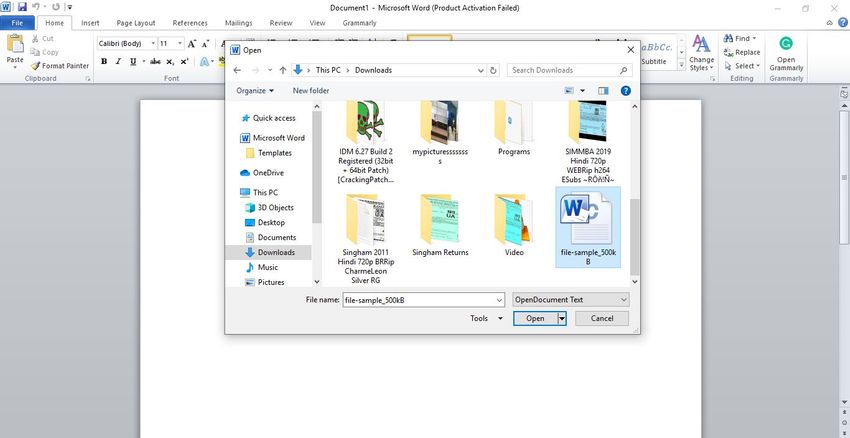 Step 3: In the next box click OK button.

Step 4: Now click on the Yes button.

Step 5: Finally, you can view available content in the ODT files now.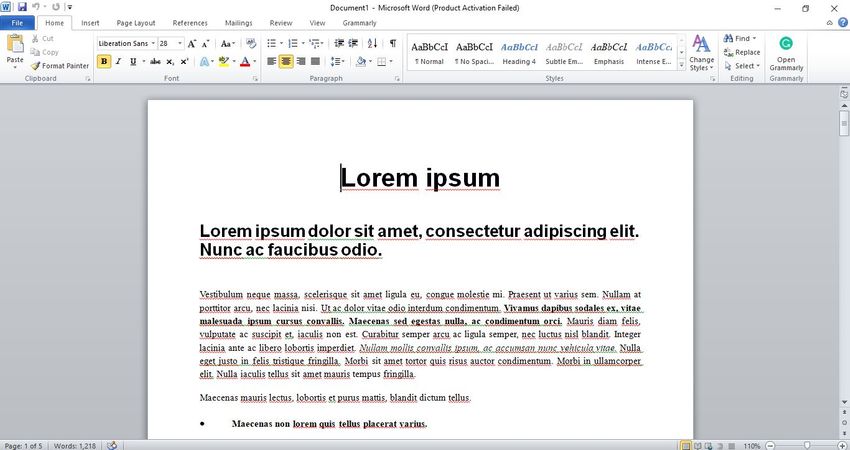 c. Still Can't Open the File?
In case you aren't able to open an ODT file with several online software or via Word, then it is recommended to check on the extension of the file once more. In several cases, you might be trying to open a file which has similar extension as that of ODT file, for instant ADT. You have to use ACT software to open files with this extension.
Moreover, there is a chance that you get confused with ODM files which basically open with Overdrive application. In many cases, you can also get access to various OpenDocument files which you can't open with above-mentioned software. Few of such files which are used in OpenOffice's calc are ODS, ODG, ODP, etc. You can easily download the OpenOffice's calc from OpenOffice suite.
Summary
Across the web, you can easily find various software with which, you can easily convert ODT to JPG file. ODT file possesses similar features like DOCX and you can open it by several online software. You can use Word, XML, etc. to open this file extension.
Various online software which is used to convert ODT to JPG requires few initial steps. You will get an opportunity to upload an ODT file straight from your personal computer, URL, DropBox, and Google Drive. That software will provide you high-resolution JPG files which you can store for future reference.
More information about Wondershare UniConverter as below.
Wondershare UniConverter
· Support batch processing of pictures conversion.
· Convert images to over 1000 formats, including JPG, PNG, BMP, TIFF, GIF, and others.
· Convert photo to JPG or specific devices formats without any trouble.
· Transfer converted files from PC/Mac to external devices easily via a USB cable.
· Versatile toolbox combines Image Converter, GIF maker, video compressor and screen recorder, and others.