NEF is a RAW image file have limited compatibility with devices and programs. Thus to facilitates opening, editing, and sharing of these images over portable players, computers, mobile phones, and other programs convert it to a popular format like JPG. A good NEF to JPG converter can look after your conversion requirements.
Part 1. NEF to JPG Online Converter for Free
Online UniConverter is compatible with all modern browsers. If you're looking for high-quality NEF to JPG converter online tool, this website is suitable for you. The downside has a function area so that you could try it directly.
Pros:
It is a multi-function online tool, which can convert and compress image, video, and audio files.
There have more features on its software version for free download and free trials.
---
Part 2. How to Convert NEF File to JPG Using Wondershare UniConverter
There is a myriad of options available when it comes to image conversion tools. Selecting the right software is important so that you get high-quality images with additional features. Wondershare UniConverter is one such software that matches up with all the requirements. This excellent program can be downloaded on your Windows or Mac system in a few simple steps and then it is ready to look after your conversion needs without any file limitation. Images in almost all formats can be converted to JPG and other popular formats. The conversion takes place without losing the original file quality and the program also facilitates editing the file size and the quality. Batch processing to convert multiple files at a time is also supported.
Wondershare UniConverter
· Allows converting single or multiple NEF files to JPG and other formats in lossless quality.
· Super-fast conversion speed supported when you convert NEF to JPG.
· File size and quality can be customized as required.
· In addition to images, the software also works as an excellent video and audio conversion tool.
· The program is available for download on all latest versions of Windows and Mac system.
· Additional features include video editing, video download, DVD Burning, compression, GIF making, and others.
Guide on How to Convert NEF to JPG Using Wondershare UniConverter
Step 1: Load NEF Videos to the Software
Run the Wondershare UniConvertr software on your PC. Select the Toolbox section and then select the Image Converter option. A new pop-up window will open that can be used to browse and add NEF files on your computer by clicking on the +sign. Alternatively, you can also click on the +Add Image button to add the files.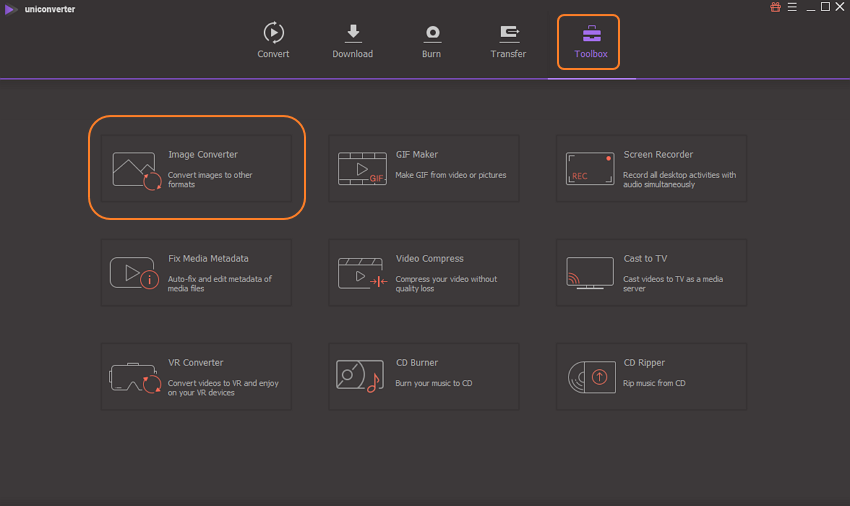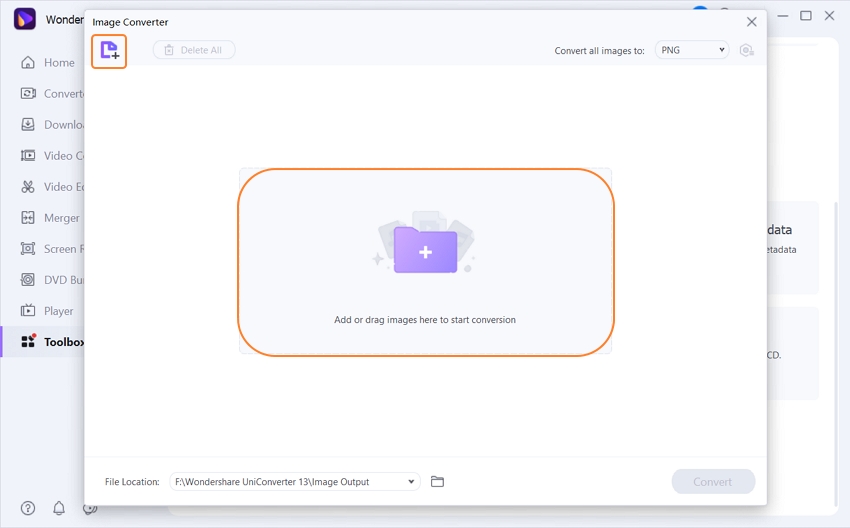 Step 2: Choose JPG Format
At the top-right corner expand the options at Convert all image to: tab and select JPG as the target format. The added images file size and quality can be customized by clicking on the settings icons.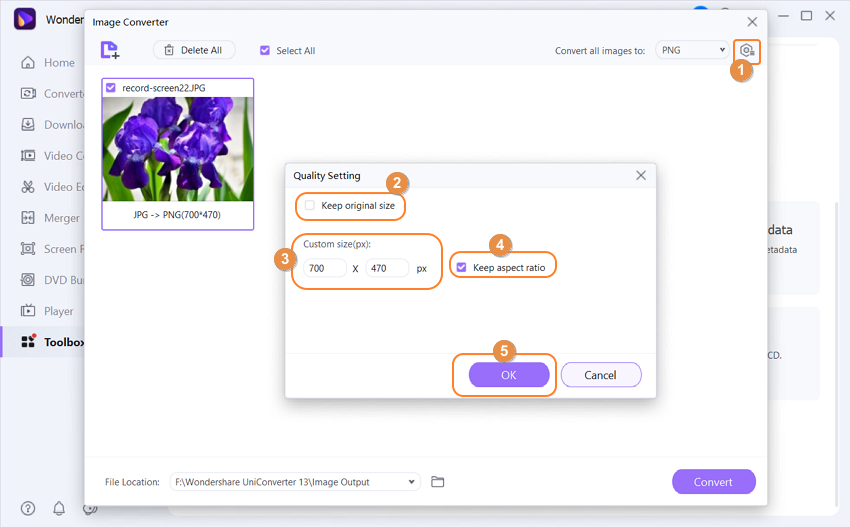 Step 3: Convert NEF to JPG
Click on the Convert button to start with the conversion process. File Location tab can be used to select the location where converted files are saved on your computer.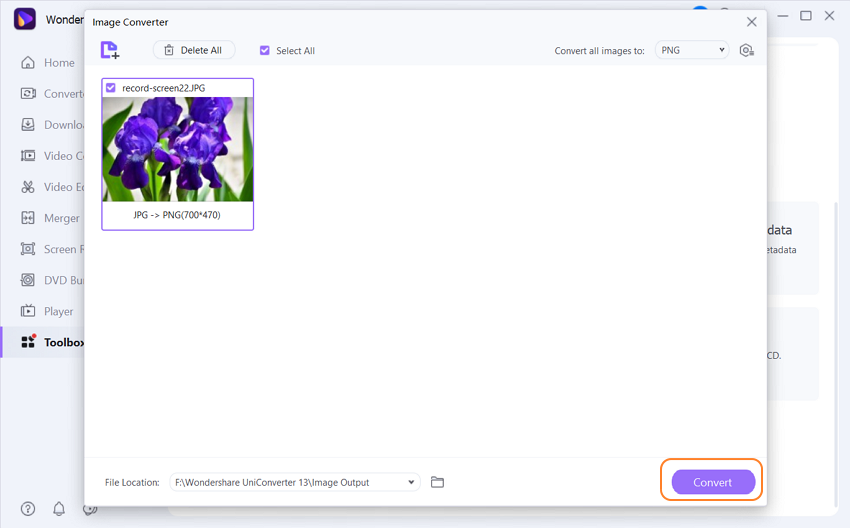 Install Wondershare UniConverter on your PC and convert NEF to JPG in high-quality, at super-fast speed and with an option to customize its size and quality.
Here is the way to free download Wondershare UniConverter. You could either choose Windows or Mac system as below:
Part 3. Basic Information of NEF
a. What is NEF?
Standing for Nikon Electronic Format, NEF is basically a Raw Image file from the Nikon cameras. Just like any other RAW file, NEF is also an unprocessed image that contains the information captured by the camera including metadata like settings, lens, camera model, and others. The NEF file is based on TIFF and saved in lossless or in an uncompressed format on the memory card of the camera.
b. How to Open and View a NEF File?
NEF file on your Windows PC can be opened and viewed whether the right codecs are present on the system. Additionally, there are a few programs like Adobe Photoshop, IrfanView, GIMP, AbleRAWer, and a few others that allow opening a NEF file. These files can also be accessed by CaptureNX2 and ViewNX2 which are the software from Nikon.
To make NEF files accessible to other devices and players, either you need to install the compatible program or convert the file to a popular format.
c. NEF Pros and Cons
There are a number of pros and cons associated with using the NEF format. Listed below are some of the major ones.
Pros:
In comparison to JPG and other image formats, NEF contains a lot of file information and metadata like white balance, temperature, and others.
The format retains all the information of the image as it was captured by the camera's sensor.
Being a Raw file, there is no loss of quality or details while storing the image in NEF format.
Cons:
Being an uncompressed and unprocessed file, NEF is very large in size.
Special programs are needed to access, view, and edit NEF files.
These files being unprocessed cannot be printed.