Converting JPEG to WebP is not as difficult as it sounds. It is a simple process you can run online and receive the desired results. The best part is that you have a series of free online tools to use as we shall discuss below. However, let us first familiarize ourselves with the two formats, and that is JPEG and WebP. The former is used for the lossy compression of digital images. By lossy compression, we mean the use of various techniques in various data to represent the content. In this case, it involves reducing image sizes for storage, handling, and transmission. WebP is a modern representation of JPEG which we shall explore in part two extensively.
Part 1: The Best Online Converter for JPEG to WebP
URL: https://image.online-convert.com/convert-to-webp
Online-Convert is a user-friendly platform equipped with everything you need to convert images from JPEG to WebP. It is a free converter which allows you to turn your pictures into better-looking images from Google. All you need is to upload your file to the 'drop file' section highlighted in green or enter your URL. You also have the 'dropbox' or 'Google Drive' options available. It all depends on where your file gets stored for retrieval. Once you have selected your image and filled in the 'start conversion' section with the relevant details, the platform will convert your image to WebP automatically. You can then download the updated results and enjoy the outcome.
Pros:
Online-Convert has advanced features for manipulating data into something attractive, vivid, and personalized such as an unlimited DPI option.
The platform's color-coding element is beneficial to those who want colors based on the year.
It converts uploaded images automatically.
Con:
One of its limitations is that you have to be a member to use the platform's tools. Some people prefer a webpage that does not require log-in details, and therefore, this feature can be an inconvenience to them.
Its conversion features are limited to size, color, DPI, and pixel.
It does not guarantee privacy for images after conversion.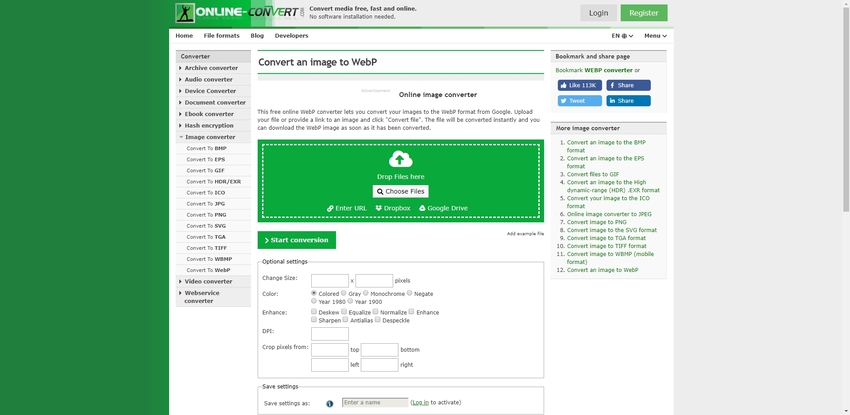 URL: https://ezgif.com/jpg-to-webp
Ezgif is a simple and free image converter with a wide range of conversion options, including JPEG to WebP. You easily select a file from your desired source and upload it or alternatively, use a link to upload your image. Note that the platform supports GIF, JPG, and PNG images and a maximum size of a file up to 35MB. Once you select and upload, the platform will provide you with different features to re-adjust your image to your specifications. You can then click the convert to webp tab and complete the process by saving which downloads it automatically.
Pros:
The platform is easy and straightforward. It does not require sign-in details to convert images to any format.
Apart from having a collection of features, you can reconvert your image to other available formats like GIF.
Its interface is user-friendly such that every tool is on display for you to select and use.
Con:
The platform's reversal feature is selective that is, for PNG format; it supports alpha transparency (combining two colours and achieve vivid effects on an image) while JPEG does not.
It does not allow you to upload new images for conversion after completing the previous one. You have to use the back arrow and start afresh.
Each conversion opens in a different section such that you cannot make all your adjustments at a go.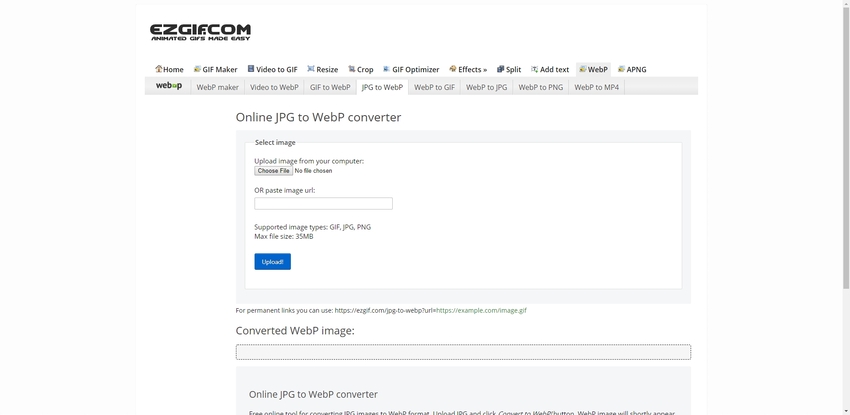 URL: https://convertio.co/jpeg-webp/
Convertio is among the best online converter for JPEG to WebP because it does the entire task for you. The user simply uploads an image from their desired source by clicking the red-highlighted section. You then click the convert tab and wait to download the generated outcome. Convertio support over 200 formats, and if you want to reverse the process, the platform has a section for how to convert WebP to JPEG. Remember that with Convertio the maximum file size for the direct conversion is 100MB; larger files require you to sign up to the website. It is also free and open to all interested parties.
Pros:
It has a direct and automatic process that cannot confuse users that is upload, convert, and download.
It has extra information regarding JPEG and WebP image formats as well as a 4.3-star rating.
Its interface is unique but straightforward.
Con:
It does not allow one to customize their images to their desired specifications.
Larger files attract a sign-up process which is exhausting.
It does not guarantee that all formats will have a similar high-quality output.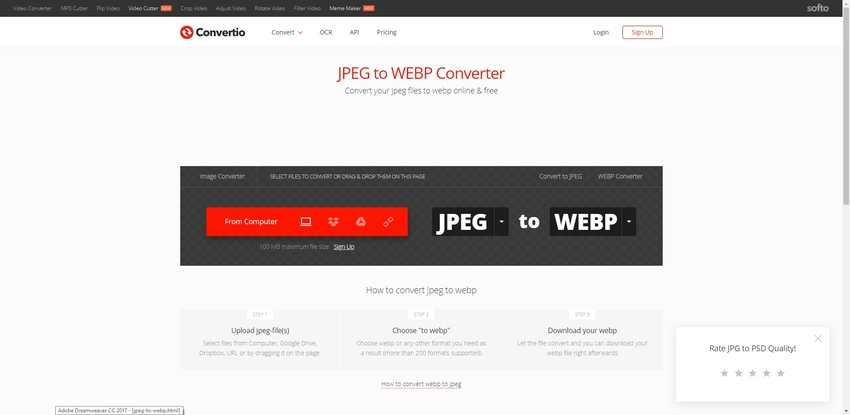 Zamzar is also an easy and free to use tool for converting JPEG to WebP. It requires you to add your image, select the format (in our case we shall use WebP), convert and download. The uploaded files remain in their servers for 24 hours, but you can also request an extension. As among the best platforms, Zamzar has unlimited daily conversions, a storage space of up to 100GB file, and you can even convert larger files of up to 2GB. The downloading speed is five times faster (which i have experienced), and you can learn about JPEG and WebP file extensions here. Zamzar has been in the conversion business a lot longer than other websites. Therefore, you can rely on its delivery.
Pros:
Zamzar has a massive storage space and supports large files.
The platform provides substantial information regarding file extensions (JPEG and WebP) accumulated over the years since its conception in 2006.
It is faster with unlimited conversions frequently.
Con:
Conversion of larger files is limited to members only (you have to sign up for a successful process).
It lacks additional information regarding JPEG and WebP.
You cannot reverse your work with Zamzar directly.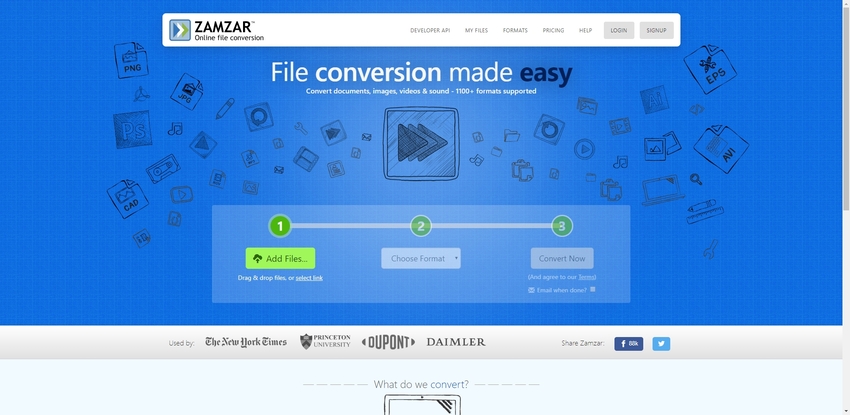 URL: https://www.ps2pdf.com/convert-jpg-to-webp
PS2PDF is also straightforward in that, all you need is to select your file for uploading and convert it. You can check whether your image is as you desire and if the results are not satisfactory, re-edit and rerun the process. Go to the downloadable files section and use the tabs at the corner to adjust generated image to your preference and download. You can also download all files in zip form under PS2PDF converter. The platform allows files larger than 100MB, but the process takes a few minutes longer. It produces high-quality material, and your files do not remain in their servers for long for privacy. Ideally, your JPEG to WebP contents will not become exposed to the public.
Pros:
PS2PDF does not require users to sign up even if they are converting large files.
The website allows you to customize your images even after it automatically generates them (that is, you can re-run the process to your satisfaction).
Privacy is guaranteed because once you finish converting, your content will be wiped out after a few hours.
Con:
Larger files convert and download at a low rate.
It is a little bit slow for massive files.
It does not support many formats.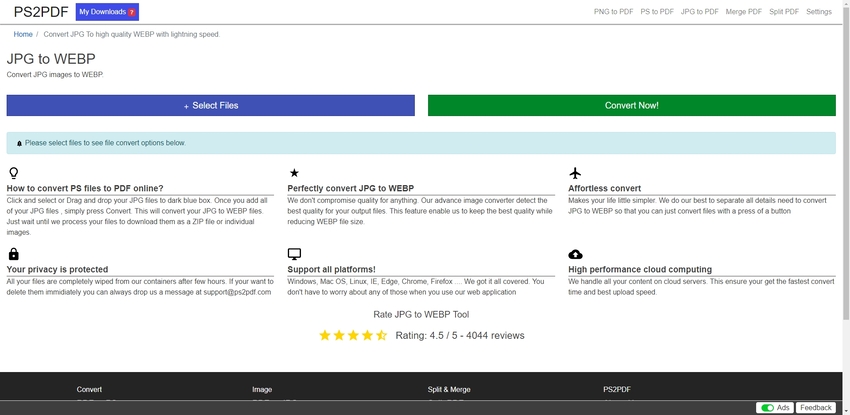 Part 2: More Information about WebP
a. What is WebP?
WebP is the modern representation of reduced image file sizes at a high quality. In the past, Google has struggled with image conversion without compromising quality. However, the company has managed to introduce effective compression techniques for editing images across different dimensions. WebP images are smaller than JPEG or PNG, but they are clear and highly digitalized. Despite having advanced image manipulation features, some tools like Adobe Photoshop do not recognize WebP. You can, however, reverse the process manually such that you image returns to its original state, either JPEG or PNG.
b. Compare WebP and JPEG
The two formats have a few things in common but they have some differing features as well. Both of them use lossy compression methods for digital images but WebP applies lossless technique as well for higher quality output. According to Google, the size of JPEG and WebP differ in that, the latter is 39.8% smaller. The two formats are good but WebP is much better and sharper than JPEG.
Summary
From our discussion, you can see it is possible to convert JPEG to WebP formats for free and easy. The websites highlighted above offer some of the best features, and if one does not satisfy you, the next one will provide you with the necessary tools. Whether you intend to convert large or small files, these platforms will cater to your needs. You can also rely on the wondershare Uniconverter which is a multipurpose platform for videos and images. Unlike most converters, this one has special features and as shown above, its reversal technique is much cooler.
Wondershare UniConverter operates as a video and image converter which transforms large files without compromising quality. It supports a wide range of formats across different devices, but you have to download the platform first. Wondershare Converter has several features including an add file tab, resize and edit section, GIF marker, conversion option, and a collection of formats.
Wondershare UniConverter
· Add file tab allows you to select images from your desired sources like your computer, Dropbox, Google Drive, or a link. Here you can also select, delete, preview, or open file locations for single or many files.
· The resize and edit area gives you a chance to customize an image to your specification.
· The conversion slot transforms picture from one format to another. it can either be JPG to PNG/Webp or the vice versa.
· Format tab has a series of file extensions supported by Wondershare Uniconverter such as JPG, PNG, GIF, and etcetera.
· GIF marker offers animated images as well as text, which people use to make small presentation videos.