Are you having difficulty trying to view your GIF image on your Windows phone or computer? Worry no more. GIF is a bitmap file format that usually contains an animated image or video clip. After you have downloaded the GIF file from let's say social media platforms, viewing them on your phone or PC can be difficult. You will have to employ the services of professional software to convert GIF file to WMV easily.
Part 1. Top 5 GIF to WMV Converters to Convert GIF to WMV Video
If you have previously been left in limbo trying to convert GIF to WMV the following online tools will be able to help. We have sampled many online solutions and compiled the top five. So that does not have to go through the tedious work again. The following are some of the best tools when it comes to changing files from their original GIF format to WMV format. We have also looked at the pros and cons to enable you to make a more informed decision.
URL: https://convertio.co/gif-wmv/
Nothing converts GIF files to WMV quickly and seamlessly than convertio. The online software has a brilliant user interface that makes the conversion simple and straightforward. The site's load time is also minimal, and once you have uploaded the GIF file, it will convert it within seconds. Follow the simple steps below to change your data from GIF to WMV.
Step 1. Once you have opened the website, the next step is to upload your files. You can easily do this by choosing files from your computer, Dropbox, or Google Drive. You can as well copy-paste the URL of the file or drag and drop the file on the webpage.
Step 2. In our case the output format is WMV. Click on to WMV then proceed to step three.
Step 3: Once you have selected your output format like WMV, the site will convert your GIF files within seconds, and you can now download the converted file.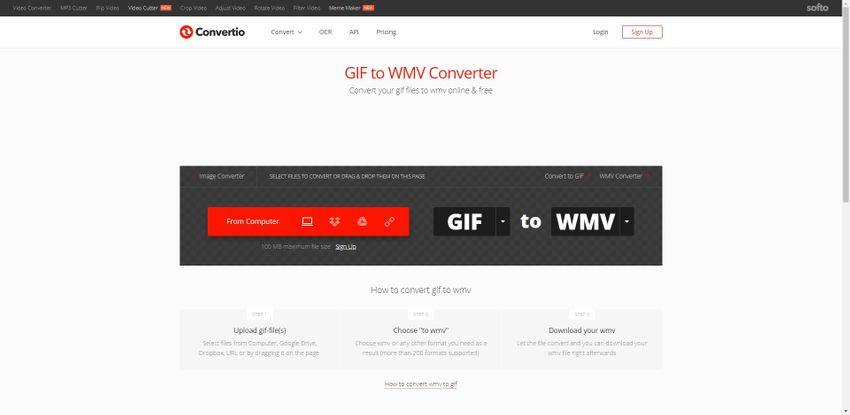 Pros:
Supports multiple file formats conversion.
You can use the site to convert videos, audio, document, and image to any desired format.
Supports OCR capabilities.
Cons:
You cannot use the site to edit your files.
Can only convert files with a size of up to 100 MB.
URL: https://cloudconvert.com/gif-to-wmv
When it comes to professional file conversion, none of the software can rival with cloud convert. It is not only a file conversion software but also a file and document management system. The online tool also contains an advanced API that can also be modified. You can follow the below steps to convert your GIF files to WMV.
Step 1. On the website, you will find an icon Select Files click on this file and select the location of your GIF image from the drop-down menu.
Step 2. After uploading the file on the site, a red icon labeled Start Conversion will appear. Click on this icon, and your file will be converted automatically.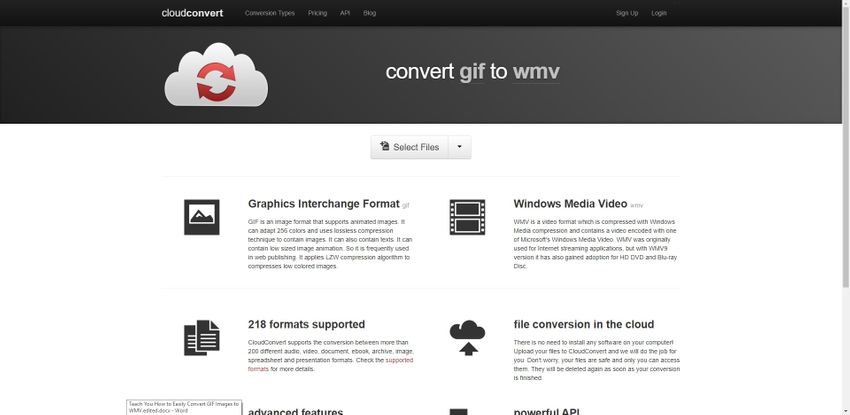 Pros:
Supports more than 200 file formats.
Offline access is available.
Document archiving, indexing, and assembly.
Cons:
The free version has limited features compared to the paid version.
URL: https://www.filezigzag.com/gif-wmv-en.aspx
This is a one-stop-shop for all your conversion needs. The site allows you to convert and store documents and other files such as images, videos, and audio. It has removed all the hops associated with file conversation and made the process very simple to the average internet user. The following steps are applicable when you want to convert your files through the website.
Step 1. Upload your GIF file
Step 2. Select WMV as your desired file format
Step 3. Conversion from GIF to WMV. Click on Convert.
Step 4. Download your file. After the file has been converted, you can easily download it instantly or download it via email.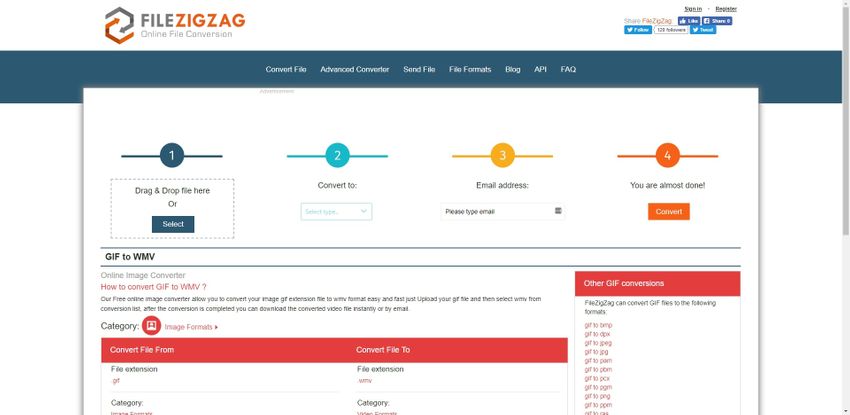 Pros:
Free file conversion from one format to another.
Supports files that have a size of up to 180 MB.
No installation required.
Cons:
Slower than other online tools.
You have to wait for the email to view the converted file.
URL: https://video.online-convert.com/convert-to-wmv
Online convert tops the list because of its safety and security measures. The site also contains other software for other conversion needs such as eBooks conversion among others. Besides the typical conversion of GIF files to WMV, the tool has even an advanced option that you can utilize for your other conversion needs.
Step 1. Upload the GIF file you want to convert. This can be done by selecting the file from either your computer, Dropbox OR Google Drive, among others.
Step 2. Click on the green icon labeled Start conversion. Your file will be converted and will be ready in a matter of seconds.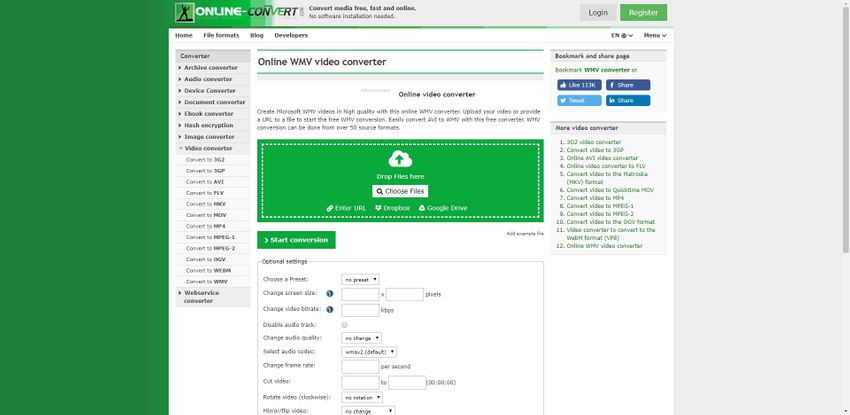 Pros:
Safe and secure compared to other sites.
Produces high-quality output after conversion.
Convenient as the conversion is done at a very high speed.
Cons:
There is no mention of OCR anywhere on the website indicating that OCR is not supported.
URL: https://www.files-conversion.com/
This software has been in the industry since 2014. Its developers have continued to re-invent it and make it better and more effective. The free online tool allows you to convert your GIF file to other formats such as WMV instantly without any obstruction.
Step 1. Select the file you want to convert
Step 2. Choose the output format as WMV
Step 3. Modify the quality of your output file by selecting the desired options available
Step 4. Adjust the size you want your converted file to have
Step 5. Click on "Convert" your files will be ready within a few seconds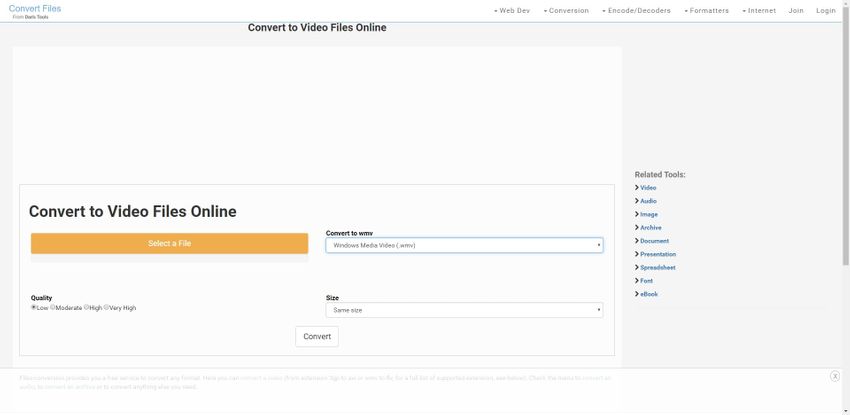 Pros:
Intuitive user interface.
Supports multiple file formats.
Allows for several modifications such as size and others.
Cons:
Does not permit batch conversion of files.
Part 2. The Third-party Application for Convert GIF to WMV
This is one of the most sort after GIF to WMV converter. Third-Party software is easy to use. It is also very robust in terms of its application as well as practicability. Furthermore, it is across platform tools that work well with both Windows and Mac OS. The software does not require an internet connection to function, making it even more convenient.
URL: https://filmora.wondershare.com/
Pros:
Supports several functions such as editing, cutting and merging files.
Has voice over features.
Allows users to export finished file with different frame rates.
Cons:
The free version has limited features compared to the paid version.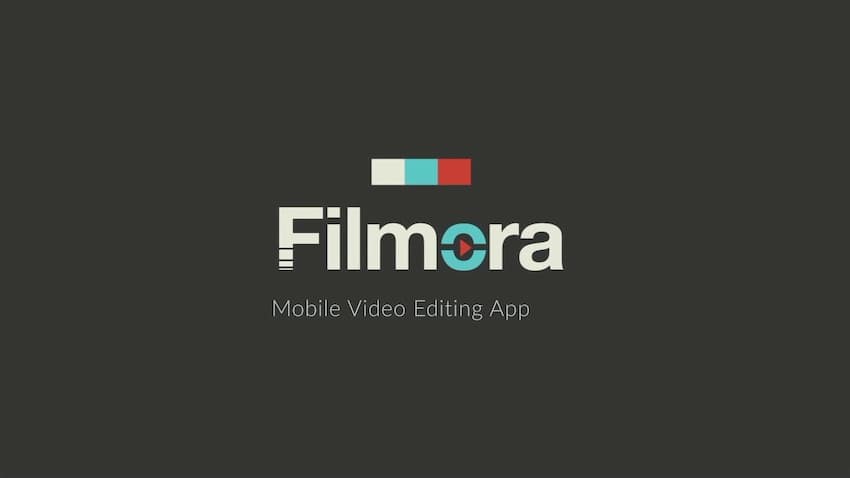 If you have a social media profile, then you might have interacted with a GIF image. You might have tried to open the picture, but it failed to open. Whether is work or just having fun, all of the above platforms will come in handy whenever you want to convert GIF to WMV. All solutions provided in this article are online, and hence you don't have to worry about system requirement or other specifications. The site you choose will depend on many factors, such as the image size. After you have selected your preferred venue, follow the step-by-step guideline provided above for high-quality results.
Wondershare UniConverter
· Wondershare UniConverter is the easiest to use software that can adjust video brightness in just a few seconds only.
· With the software, you can download videos from over 10000 video sharing websites, or you can also record the videos or system screen.
· It allows you to transfer videos from computer to iPhone or Android mobiles without using iTunes.
· Using UniConverter Toolbox function, includes convert images, create GIF, burn CD, rip CD, cast to TV, and fix Meta tags with just a few clicks.
· Wondershare UniConverter allows you to burn video and other media files to DVD as well.