Using a GIF file can be tricky as it does not open with the programs that are normally on the system. To make it more user friendly, now you can convert it into your desired file format using online converters. The best way is to convert it into PSD file so that it can be easily used and edited using different photo editing software. to convert GIF to PSD, you can use any of the several online converters available for free.
Part 1. Best 5 Animated GIF to PSD Converter for Free
URL: https://convertimage.net/convert-a-picture/to-psd/?s=gif-to-psd
Convertimage is an online tool which allows you to convert the GIF file to PSD file extension for free. With the help of this free converter, you can not only save your GIF file extension in PSD but also crop your picture, rotate your image, and create effects on your desirable photos. There is no need to install it on your computer; you can use it online. You can convert your helpful GIF image file in some easy steps with this converter.
Step 1. In the first step, you have to choose the output format of the image, which in this case will be PSD.
Step 2. You can click on the select your image button to upload the GIF image for conversion. Also, agree to the conversion step by clicking the Yes button.
Step 3. Now, click on the Convert this image button for starting the conversion process. After the conversion process, you can download the converted image file to your system.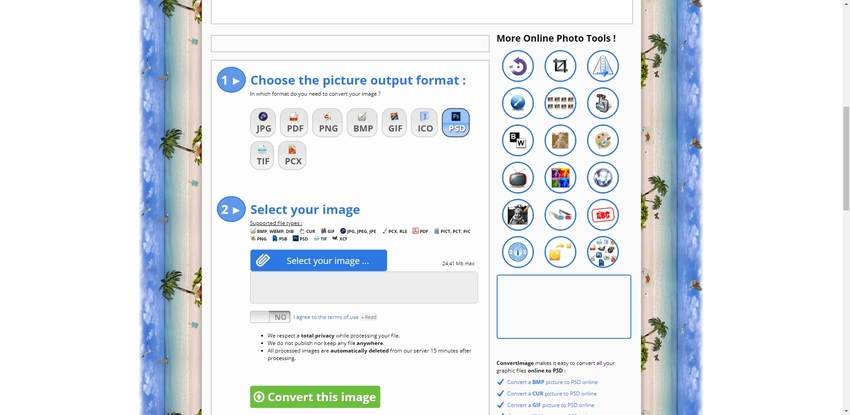 URL: https://www.aconvert.com/image/gif-to-psd/
If you are looking for an online GIF image converter, then Aconvert is the best option. This conversion software converts your GIF image file in PSD file extension without any cost. It not only turns your image file but also converts document, icon, audio, video, and archive files free online. It supports approx 255 formats for converting your desirable file. If you want to turn your GIF image file in PSD, then you can follow some easy steps which are given below.
Step 1. Click on the Choose File button to select a GIF file from your computer.
Step 2. You should also choose the target image file size and format in which you want to convert your image file. You can use the original size of the selected file or click on change image size to button for changing the size of the selected folder. Select the output file format to PSD.
Step 3. After selecting the image file and size of the data on your computer, you should click on the convert now button. You can download output files from the Conversion Result section.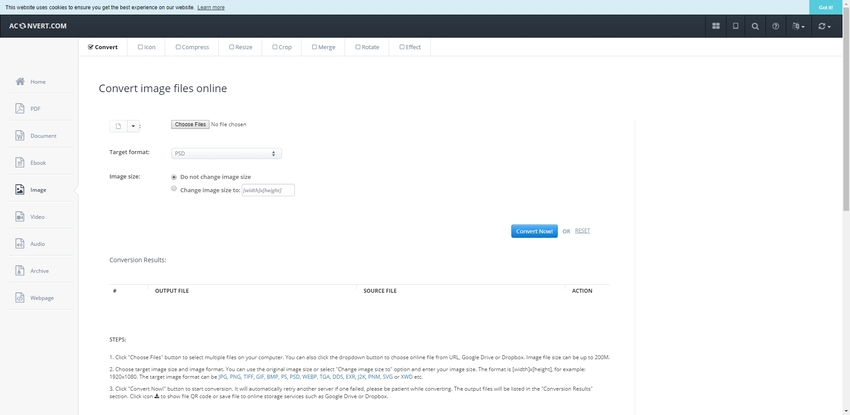 URL: https://www.freefileconvert.com/gif-psd
Free File Convert is one of the best online tools to convert images and other files in different formats to your desired size. You can compress a PDF, Split PDF, encrypt it, convert audios, videos, archives, documents, ebooks and several other files with just one click of the mouse. The user-friendly interface makes the process of conversion very easy and straightforward. The site also allows you to convert files in a vast number of formats. Thus, it is a one-stop solution to your needs.
Step 1. or choosing input files, you should click on Choose File button and can select a maximum of 5 data for converting. You can also select a file from URL by clicking on the URL option. You can also choose a file from cloud storage for converting quickly.
Step 2. Select the PSD as the output format from the option convert files to.
Step 3. Click on the Convert button for starting the conversion process.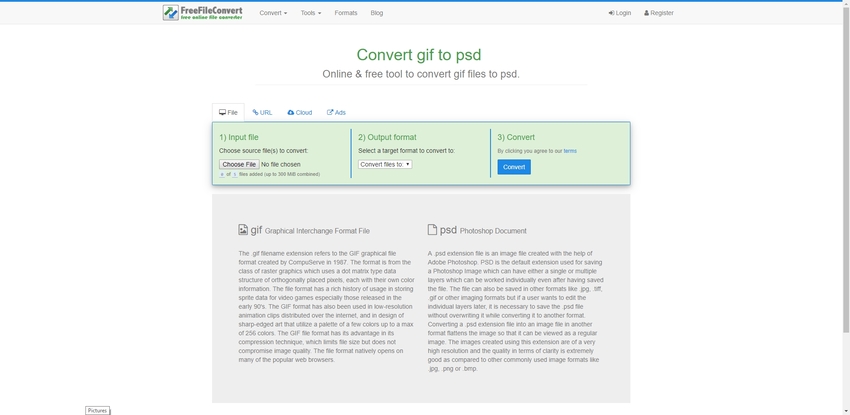 URL: https://convertio.co/gif-psd/
Convertio is an online converter platform that only allows you to convert images in different formats but it also allows you to convert videos, flip videos, cut MP3, crop video, cut video, rotate and adjust videos, makes memes and several others. The interface is user-friendly and anyone without having technical knowledge can also use it with ease. The best thing is that it is totally free of cost and you can use it anytime to convert your desired files.
Step 1. You can select files from the computer, google drive, dropbox and URL. Click on your desired option for uploading your file.
Step 2. Select the PSD format as the output.
Step 3. Click on the Convert button to start the conversion process after which you can download the file.
URL: https://cloudconvert.com/gif-to-psd
Cloud Convert is one of the best online converter tools. It supports 218 formats, including PSD format for converting the different file formats. With this platform, you are not required to download any software as you can easily carry out the conversion process on the cloud and also save the converted images on the cloud. You can also use the API services to use the conversion services with your applications. There are advanced options as well that allow for folder monitoring and batch conversion.
Step 1. By clicking on the Select File option, you can upload the image that you want to convert.
Step 2. Choose PSD format for converting your GIF file extension.
Step 3. When the conversion process is complete, then it saves your converted file in cloud account.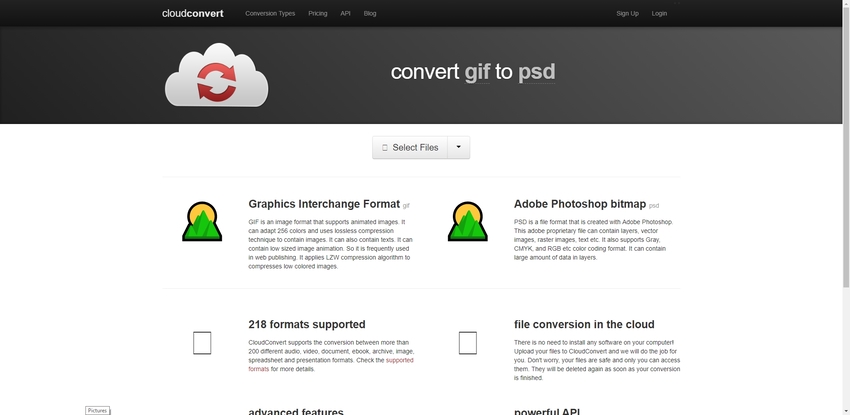 Part 2. More Information about GIF and PSD
a. What is GIF?
The full form of GIF is a graphics interchange format. This file format was used for a long time online, but it has gained immense popularity and has surpassed PNG. The popularity of this file extension is that it offers support for transparent and animation. Now, it is used for only simple animations on the web pages.
b. What is PSD?
PSD stands for Photoshop document, and it is a layered image format that is mostly used in Abode Photoshop. It is also the default file format in which Photoshop saves its images. If the file in this format, then users have the flexibility to work on different layers of the data even after collecting the data.
Summary
There are a lot of online GIF image file converters available free of cost. You can choose your popular conversion tool for converting your GIF image file in PSD format. With the help of some easy steps and high conversion speed, you can get your output results as soon as possible on your computer.
A useful image convert application is called Wondershare UniConverter. It could help you convert images fast, keep it quality in high, and super easy to learn how to use.
Wondershare UniConverter
· It supports multiple images to convert at a time.
· Convert Animated GIF to JPG, PNG, BMP, TIFF, GIF in high quality.
· Convert specific devices formats without any trouble.
· Fast upload files, fast conversion, and download quick.
· Versatile toolbox combines Image Converter, GIF maker, video compressor and screen recorder, and others.