There was a time when you would need another software tool to be installed in your computers to convert even small files. But now, the conversions are easily possible without any such hassle. The converters don't need any external software to convert files. The applications have secure servers with powerful interfaces that allow conversions or even huge files very quickly, and they are also less time-taking. Most of the converters are free, but some of them need to be paid for after a few trials. This might look expensive, but if you have work where you need to convert files, it is an economical method. Now, you can convert GIF to MPG files which are very hard to view with other applications.
Part 1. Top 7 Converters to Convert Animated GIF to MPG
URL: https://cloudconvert.com/gif-to-mpg
The application allows you to convert 200+ video, audio, ebook, image, archive, document, presentation, and spreadsheet formats. You will not need to install different software to save your files. You can upload the data on your id of cloudconvert where you can convert them and access them safely. No one else can see/access your data; when the conversion is done, the files will get deleted. Both GIFs and MPG formats are supported and that too, with high-quality results. Texts and animations are also in-built in the feature. The application has a powerful API which allows full use of all the functions of cloudconvert.
Pros:
Supports most file formats.
Does not cover ads.
Corrupt-free conversions.
Con:
Internet connection is needed to run the website.
The interface is hard to figure out.
It does not allow conversion of several files at once.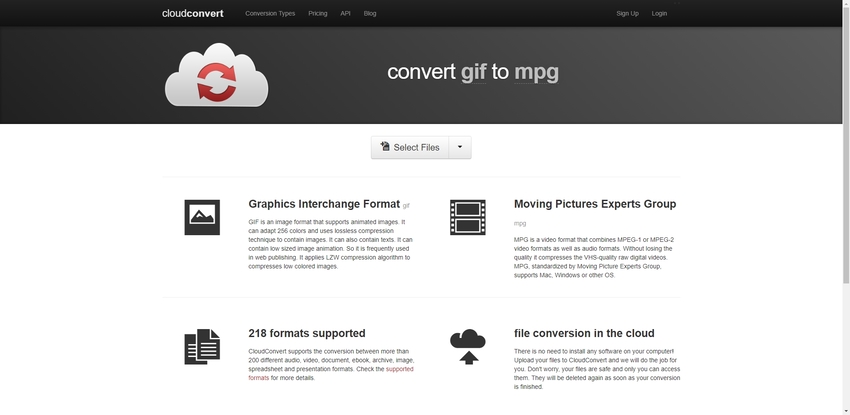 URL: https://convertio.co/GIF-MPG/
A versatile converter that allows various GIF formats from multiple sources to any MPG format or vice versa. The converter supports more than 200 formats. Easy conversion of GIF to MPG files is possible. You can upload the data from any source like from your computer, Dropbox, URL, Google Drive, or by dragging. Then choose the format that you want your file to be in, as a result. The forms include vector, image, audio, video, presentation, font, ebook, or archive. Click on the upload button and let the file convert. After the conversion, you can download it directly to your system.
Pros:
Very easy to use with the versatile interface.
It is freely available.
Gives business-level results without watermarks.
Con:
The interface lacks encryption.
You cannot merge or append PDF files.
The PDF files do not support digital signatures.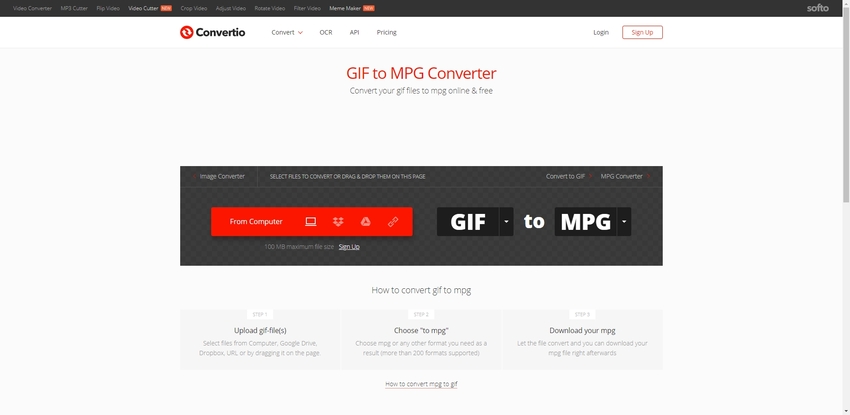 URL: https://www.filezigzag.com/GIF-MPG-en.aspx
This online image converter allows you to convert GIF image files to various formats. The process is straightforward and fast. You need to upload your image to the converter by dragging from the source to the website. Then you will have to choose the file format to which you want to convert your image to. The interface will ask for your email address. After the conversion, you can download the file directly or from your email. You will have a backup of your data on your mail id if you ever lose your actual file. You will not need any other software because the converter will do the conversion without any outsourcing.
Pros:
Unlimited file conversions.
You can access it from anywhere and any system.
The backup file is available at your email address.
Con:
You need to have the internet to be connected.
Only one conversion at a time is allowed.
The source file should be less than 2 GB, and it should consume just 180 MB/day.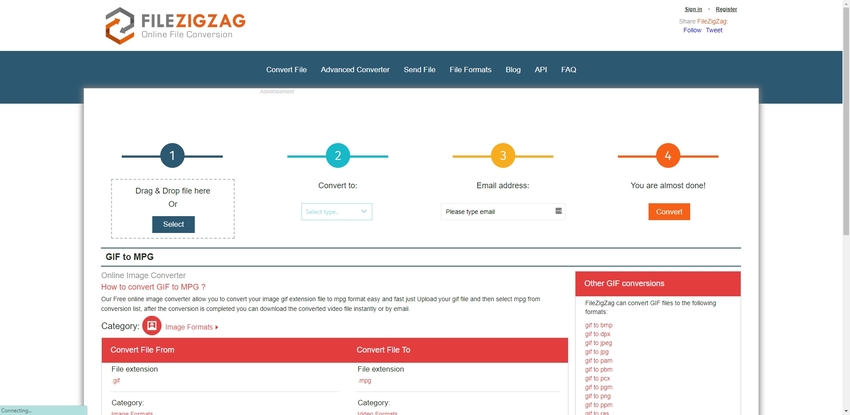 URL: https://www.files-conversion.com/video/gif
The converter is from Dan's Tools and has a user-friendly interface. The application allows a wide range of formats video, audio, image, YouTube, and many more. It is free, and you can also create an account if you think that file conversion on this platform is very beneficial for you. You can also select the quality of the file when uploading it on the converter. The size of the output file can also be determined so that you can get a high resolution or low-resolution format as you wish for. You need to select the data from its source, enter the quality and the output resolution and then click on the 'convert' button. It would just take seconds to convert your file.
Pros:
Quality of the file can be entered.
The output file resolution can be determined.
Sources other than from your system are also supported like YouTube.
Con:
Huge files take time to get converted.
After a few conversions, you need to pay for accessing it.
Not every resolution quantity is given.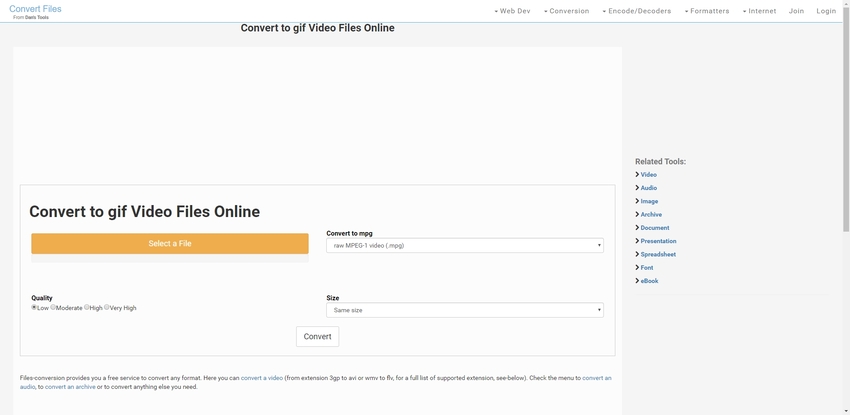 URL: https://onlineconvertfree.com/convert/mpg/
This online converter supports GIF file format to be converted to any size with just three steps. You can drag and drop the file on the converter, select from the source like computer, Dropbox or Google drive and upload it on the converter. Then select the MPG format or any other format you want your file to be in and click convert; lastly download your MPG file to your computer. It is a free converter that allows a hassle-free conversion of files and also supports animated images and videos. The output file is of high-quality.
Pros:
Free conversion of files.
Versatile and easy to use interface.
Supports more than 200 formats.
Con:
Only 256 colors are available.
No size or resolution is specified; you have to make do with whatever you get.
Internet connection is compulsory.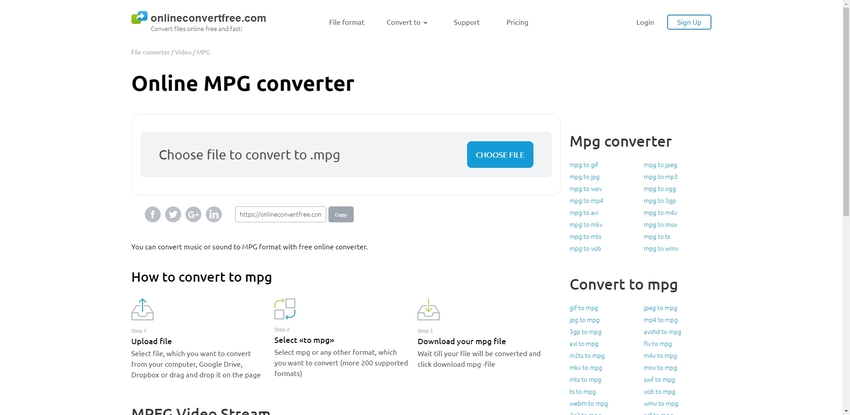 This converter, with its recently launched new version, is free for those who have already purchased the original one. With its unique designs, it adds refreshment to the old interface. New features like added currencies and other formats have only broadened its use. The users can convert their files in free from any form to any size. The conversion is effortless. You have to click on the option of 'Choose file' and select the GIF file you want to convert. Next click on the 'convert' button and your data would be transformed. Download the MPG file directly to your computer.
Pros:
Around more than 400 formats supported.
Categories for selecting currency, length, size, etc.
A new and refreshing design.
Con:
Allows only up to 50 MB image size.
The old and new version has to be bought by the new users.
Crashes a lot.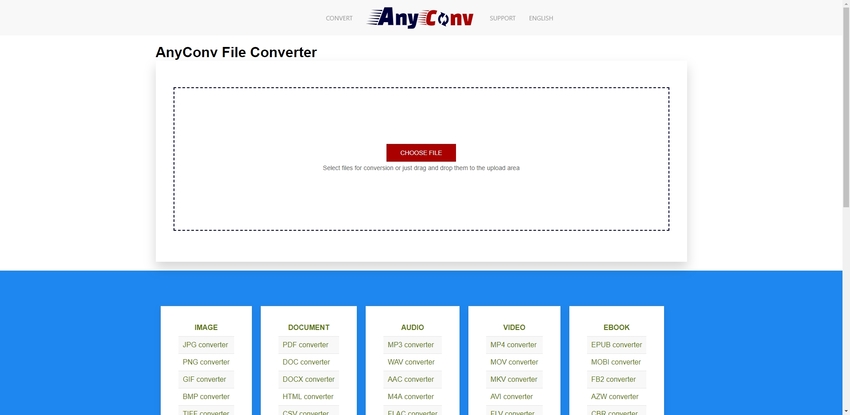 URL: https://offdrive.com/convert/GIF/MPG
Now convert document, archive, image, presentations and spreadsheet files to any format. Copyright files are not allowed to be converted through this converter. Just upload your file and click on 'convert'. The application will automatically convert the files. The files that are safe and encrypted do not go public on the internet nor are saved by the converter. The conversions are free and does not require any other software downloads or installations. Also, the files are deleted immediately after they are converter, thus giving you a secure platform.
Pros:
Convert as many files as you want.
Automatic conversion of files.
Safe and secure downloads.
Con:
Cannot convert copyright files.
Does not have any track of your conversions.
Takes time for long conversions.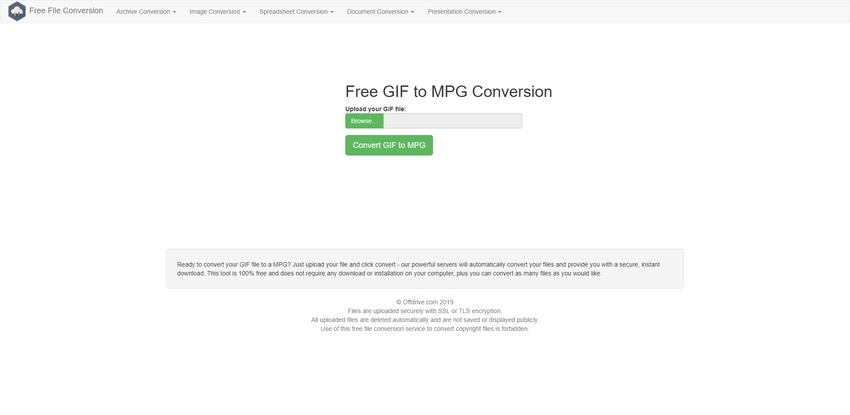 Part 2. Details Information on the MPG File
a. What is MPG File?
MPG files are data files that are different from media or document files. They are not supposed to be viewed at all. MPG files are video files enclosed with MPEG video data encoding algorithms and data compression specifications. The video files are merged with.MPG extensions. The MPEG-1 and MPEG-2 formatting standards are incorporated into MPG files; they are digital video data algorithms and compression specifications developed by Moving Pictures Experts Group. Generally, these MPG files are distributed on the internet as digital videos content materials, streamed videos, and video downloads that are enclosed in web pages. Windows Media Player is combined with playback functionality and compatibility support for the MPG files; it means that the application of this media player can be used for viewing and running the video contents with.MPG extensions. Apple QuickTime player is also embedded with the MPG standards. It means that both Windows and MAC users can open, view, and run the files with MPG format.
b. Programs That Open MPG Files
File viewer Plus
Microsoft Windows Media Player
VideoLAN VLC Media Player
Nullsoft Winamp
CyberLink PowerDirector 15 Ultra
CyberLink PowerDVD 17
CyberLink PowerProducer 6
Xilisoft Video Converter Ultimate
Apple QuickTime Player
Eltima Elmedia player
Adobe Flash Professional CC
c. Make a Specification Table
| File extension | .MPG |
| --- | --- |
| Category | Video File |
| Developed by | ISO, IEC |
| MIME Type | AUDIO/MPEG |
| Useful Link | |
Summary
Thus, with so many applications in option, you can easily convert your GIF animation files to any format. MPG file conversion is also possible with these converters. Most of them are really easy to use and have a user-friendly interface. They support a variety of file formats and even download media files from outer source like YouTube. These applications are safe to use and do not allow your files to be displayed publicly. Most of them are strictly encrypted and are free to use. The versatile nature of these converters can be easily available in your computers and some of them can even run on your mobile phones and tablets.
Do you want to convert and edit your image files? Wondershare UniConverter supports several standard image format conversion, such as JPG, PNG, BMP, TIFF, and GIF. It also has a video converter, video compressor, audio converter, and other functions could be used.
Wondershare UniConverter
· Support batch processing of photos conversion.
· Convert images to JPG, PNG, BMP, TIFF, and GIF format.
· Convert specific devices formats without any trouble.
· Transfer convert files from PC/Mac to external devices easily via a USB cable.
· Versatile toolbox combines Image Converter, GIF maker, video compressor and screen recorder, and others.