Creating funny GIFs or any other GIFs for entertainment, educational, or marketing can require some editing to make it perfect or to meet the desired outcome. Editing GIFs can be for several reasons, such as to resize, to crop out, add borders, add or remove the watermark, add filters, captions, stickers to your GIF. The internet is loaded with lots of apps, software, and websites that support the editing of GIF from minimal to complicated editing. We understand it can be overwhelming searching for the best editing apps or software for a newbie or a professional. We have highlighted the two best ways to edit animated GIF offline or online.
Part 1. Top 2 Online GIF Editors You Must Know
URL: https://ezgif.com/effects
EZGIF is a free online tool with powerful features. It helps edit animated GIF to achieve the intended outcome. User can add effects/filters, crop, resize, rotate to GIF. All user needs to do is in three simple and easy steps to customize your GIF. Upload your GIF or paste URL (maximum size permitted is 35), edit GIF, and apply selected.
Pros:
Easy to use.
Supports many features, such as crop, rotate, resize, cut, add effect to GIF.
Con:
Maximum size permitted is 35.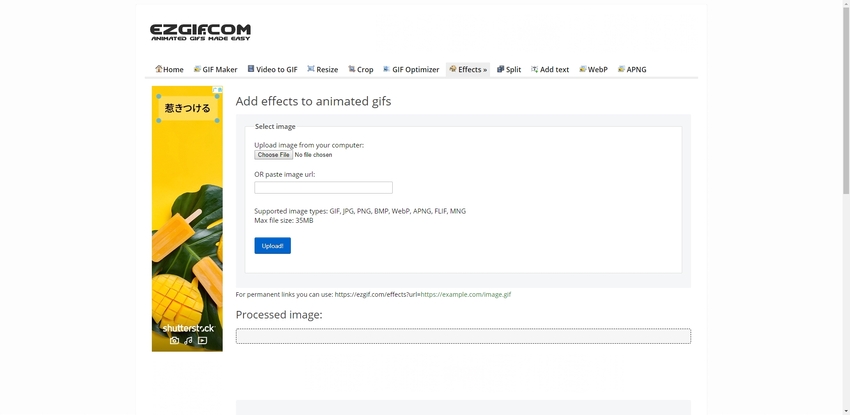 URL: https://www132.lunapic.com/editor/?action=border#
LUNAPIC can customize and edit animated GIF based on the user's preference. In simple steps, the user can add effects, such as borders, filters, and add a frame to GIFs. The user only needs to upload GIF files. There's also the option of uploading multiple files. There is also the preview box that allows you to view your edits while editing the animated GIF until you are satisfied with the editing. If edited to satisfaction, click on the Apply button.
Pros:
Easy access and free to use.
Easy to navigate/ beginner-friendly.
Can be shared directly to other social networks e.g. Pinterest.
Con:
Limited editing features.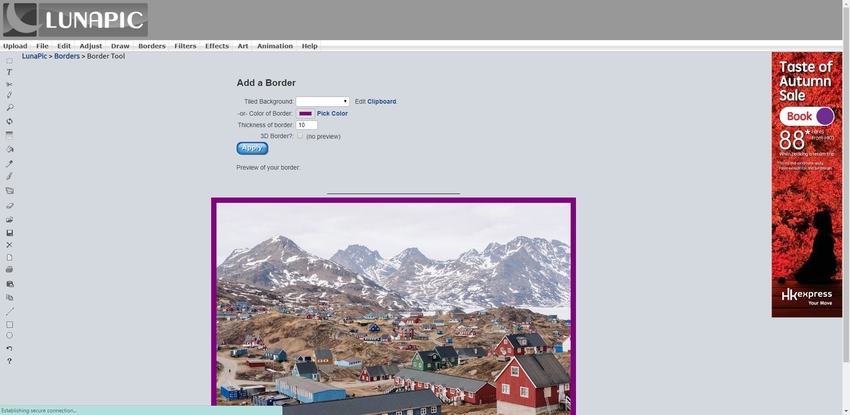 Part 2. Very Useful GIF Editor to Edit a GIF
Easy GIF Animator is a Windows-supporting GIF making software/. It helps create, edit, manage and transform images into GIF, as well as edit animated GIFs. Easy GIF Animator allows 30-days free trial with which after the trial period it goes for $29.65. Easy GIF animator software has advanced editing features such as high image quality, web optimization, animation effects, etc. Most importantly, it is effortless to navigate for beginners. Easy GIF animator is an amazingly powerful GIF editor which is mostly used in creating animated GIF videos, pictures, buttons, as well as banners.
https://www.easygifanimator.net/
Key Features:
User can easily create cool text animation effects.
Built-in image editor: Easily modify animation frames or draw new pictures
Easily create and edit animated clips from video files.
Easily resize entire animation without compromising on quality.
Transparency management: Easily create and manage transparent areas of your image.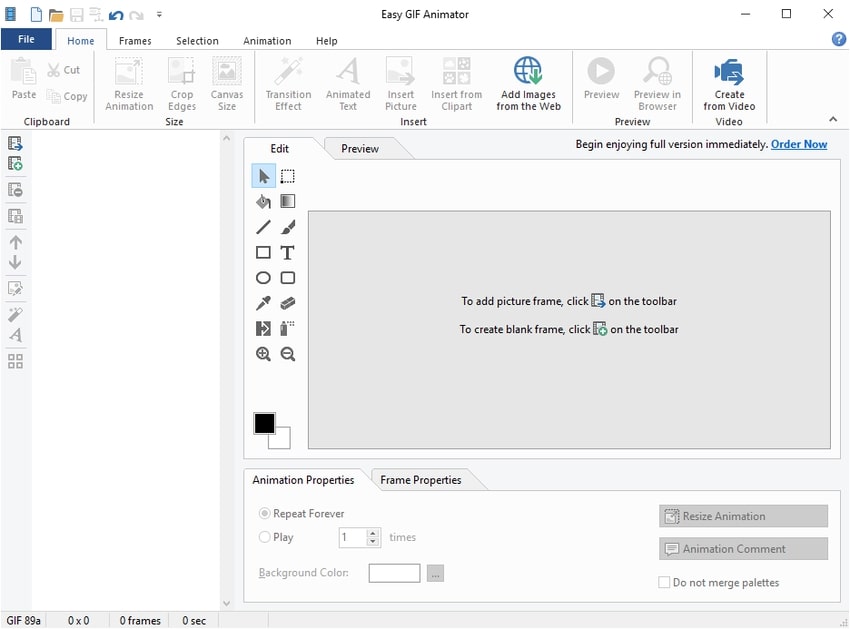 Summary
Although most online GIF editing tools are accessible, free, and simple to use, there are quite a lot of limitations to using this program. One of the most common restriction is the limited size of file uploads supported by these online tools. Therefore, if your file is more than 100-300MB in some cases, the online tools cannot edit large files. Online tools being free has limited features and functions. Also, the image quality of the converted file is not as well defined as that of advanced programs (paid version). Online tools are dependent majorly on the secure connection of the internet. Also, some online tools only support modern browsers. Besides, the speed of conversion is determined by the availability of a quality network. Hence, we recommend using Easy GIF Animator Software, this software allows a 30 –day free trial, and you are sure to enjoy it. If you love the software enough you want to pay for it, you can purchase it for $29.65. It supports lots of image and GIF formats as well as quality HD resolutions. It loads GIF, PNG, JPEG, BMP and ICO files, convert Video to animated GIF, save as animated GIF, save as SWF with background sound, Save as video, and also Unicode text support. Final output also offers editing features like trimming, cropping, resizing, etc. GIF files, user can also export edited GIFs to several formats at high resolution to online video streaming platforms like Vimeo and Social media platforms, e.g., Twitter.
Wondershare UniConverter is one of the best video, image, and audio editor/converter/compressor. A powerful all-in-one software.
Wondershare UniConverter
· Wondershare UniConverter is the easiest to use software-beginner friendly.
· With the software, you can download videos from over 10000 video sharing websites, or you can also record the videos or system screen.
· It allows you to transfer videos and pictures from computer to iPhone or Android mobiles without using iTunes.
· UniConverter supports convert images, create GIF, burn CD, rip CD, cast to TV, and fix Meta tags with just a few clicks.
· Wondershare UniConverter allows you to burn video and other media files to DVD as well.